Vancouver Canucks D Troy Stecher's First NHL Goal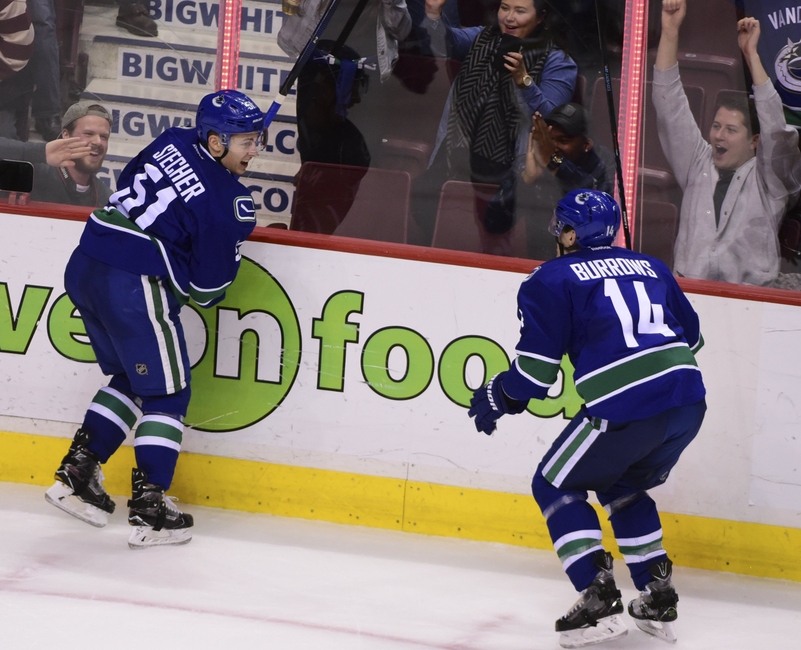 In his seventh game in a Vancouver Canucks uniform, defenseman Troy Stecher scored his first NHL goal to tie the game late against the Dallas Stars.
The Vancouver Canucks managed their second win in three games on Sunday afternoon.
As usual, the other guys scored first. Patrick Eaves made it 1-0 for the Dallas Stars five minutes in.
Unlike usual, the Canucks buried enough of their chances to tie the game. In fact, they tied the game three separate times.
The first came just 22 seconds after the Stars opened the scoring, as Bo Horvat scored off a lead pass from Alexandre Burrows.
After the Canucks surrendered two more, Loui Eriksson and Brandon Sutter both scored their second goals of the year to tie the game for the second time.
A New Comeback Kid in Town:
Once again, Dallas gave themselves the lead. Luckily for Vancouver, the team saved their best tying goal for last:
With Ryan Miller on the bench, Troy Stecher made an excellent play at the blueline to keep the play onside. After this, he stepped and fired a slapshot past goaltender Kari Lehtonen.
Rogers Arena erupted into a deafening cheer.
Stecher could not have drawn up his first goal any better. He scored it at home, in the final two minutes with the goalie pulled. The game went to overtime, where his teammate Markus Granlund won it.
Can there be a better story?
If there was any doubt whether Stecher belongs with the big club, this goal should erase them. He paced the Canucks for six shots in their last game versus the Detroit Red Wings, and tied for the team lead again this game with four.
Troy Stecher brings something that the Canucks are lacking: a offensive threat from the blueline. Since he joined the team he has not merely held his own. He has actually driven Vancouver's offense.
There are few offensive defensemen on the Canucks. And none of them look to shoot the puck at every opportunity like Stecher does.
He hasn't just made the team; he has made the better.
The goal-starved Canucks can use whatever spark they can get. Stecher is providing that, and then some.
At 5-foot-10 and 190 pounds, Troy Stecher is not a big man. But on Sunday, he was big enough to carry the Vancouver Canucks to a win.
This article originally appeared on