Vancouver Canucks D Philip Larsen Needs to Revitalize Power Play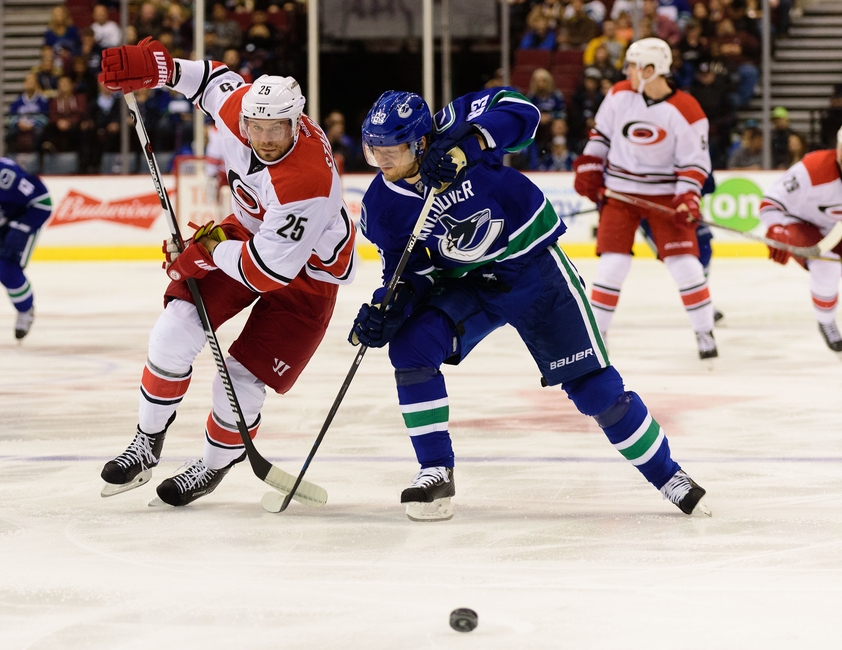 Philip Larsen was brought in to boost the Vancouver Canucks' power play but it hasn't happened yet.
When the Vancouver Canucks first signed defenseman Philip Larsen, there was a ton of hype surrounding him. Everybody saw his numbers from the KHL and thought he would be the saviour to the Canucks' power play.
However, through four games, Larsen is not living up to the hype. Sure, he's been a fine defenseman but he hasn't done anything to revitalize the Canucks power play. Through four games the Vancouver Canucks have a power-play percentage of just 6.7 percent, which is 29th in the league.
You have to take into account that it is a small sample size and things will likely improve as the season wears on, but things are not looking great. This is an issue that went back to preseason, as Larsen didn't look like the KHL defenseman the Canucks thought they were getting
So, how long can this issue persist? The answer is quite simple. As long as the Canucks continue to win hockey games, head coach Willie Desjardins is not likely to do anything significant to shake up the power play. As soon as the Canucks start to lose hockey games, you can bet Willie D will be quick to act.
If the Canucks were to shake up the power play, what options would they have? Obviously, the No. 1 choice of Canucks fans would be to bring up Troy Stecher from the Utica Comets. Stecher impressed in preseason with his obvious offensive ability and had Canucks fans salivating at his NHL potential.
At the AHL level, Stecher has produced one assist in three games. Not bad for a kid who had never played a professional hockey game. The Canucks would probably like for him to get big minutes though, so he's likely not going to fill in for Larsen as a guy who is only expected to contribute on the power play.
Another option would be defenseman Jordan Subban. Like Stecher, Subban wowed fans with his offensive ability. However, unlike Stecher, he showed obvious flaws in his game on the defensive side of the puck.
If Subban were to fill in for Larsen on the power play, it would give him the chance to get into some NHL games and show what he can do offensively, while also being sheltered defensively. It could also help him transition to a forward if that's something the Canucks think would work. However, the Canucks would likely want to try that out in the AHL before bringing him up to the big club.
Needless to say, neither of those options are going to be implemented tomorrow. Larsen is going to be give plenty of opportunities to improve the Canucks power play.  However, if Larsen is still struggling to revitalize the Canucks power play and they start to lose hockey games other options will have to be explored.
This article originally appeared on