Vancouver Canucks D Nikita Tryamking Making Strides in NHL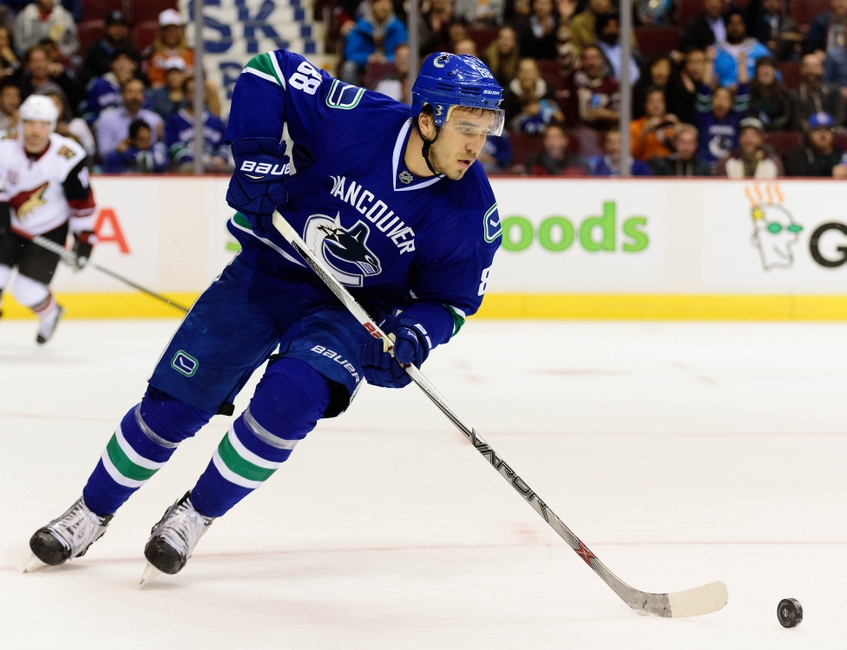 Vancouver Canucks defenceman Nikita Tryamkin had a tough start into 2016-17 season, but he is steadily improving on his way to become a full-time NHL player.
At the beginning of the season, it seemed like defenceman Nikita Tryamkin did not deserve a spot with the Vancouver Canucks. Simply said, other players were better than him. Plus, according to Canucks personnel, his fitness was not at the same level as the other players'.
Thanks to a European assignment clause in his contract, however, the big Russian got to stay in B.C. A 22-year-old with little English knowledge, Tryamkin prefers home over a small American city called Utica, and the Canucks prefer having him around over sending him back home.
It took 10 games in the press box and, more importantly, the gym for Tryamkin to get into game shape. With every one of those games, Tryamkin got closer to being ready while Danish blue liner Philip Larsen proved he isn't what the Canucks hoped he could be.
When the pairing of Tryamkin and Luca Sbisa was first announced, it sounded quite scary. Tryamkin is a promising prospect, but he a) didn't seem to be in great shape, b) doesn't have much experience, and c) didn't look outstanding in his first 13 games in the league. So, pairing him with the one D-man Canucks fans have wanted out of the lineup for at least a year now, did not seem like the greatest idea.
But it works.
Both Tryamkin and Sbisa are labelled two-way defencemen, although neither one stands out with offensive play. They are both physical players and the Canucks want them, along with Erik Gudbranson, to make the team tough to play against. So far, they have done exactly that.
On a low-scoring, bad possession team, Tryamkin ranks eighth in Corsi-for percentage, second among defencemen, at 52 percent. His partner Sbisa sits at 51.2 percent, which is good for third among defencemen.
What might be the most surprising is that Tryamkin does his best to create offence. Through seven games, he fired an average of 13.3 shots per 60 minutes at the net. Only five Canucks, including forwards, shoot more. Sbisa ranks last on the team in this category, by the way, which is clearly visible during games as well. While the Canucks want him to be physical and play strong defensively, Tryamkin is also the more "offensive" player on his D-pairing.
So far, Tryamkin has not recorded a single point. But what can we expect when he is playing on the 2016-17 Vancouver Canucks?
The future didn't look too bright for Tryamkin to start the year. But, the 6-foot-7 Russian worked hard to make his way into the lineup, and he deserves to be there right now.
Just weeks ago, writers called for him to be returned to the KHL. Today, he looks like an important piece of Vancouver's D-core for years to come.
*All stats via stats.hockeyanalysis.com
This article originally appeared on