Vancouver Canucks D Erik Gudbranson Is Exactly What We Expected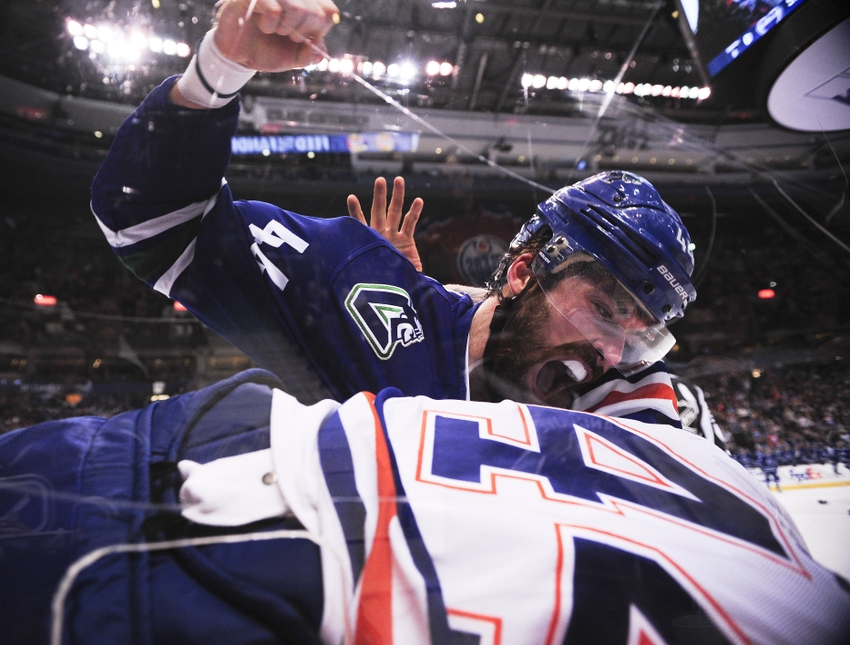 Vancouver Canucks defenceman Erik Gudbranson was supposed to be a new anchor on the blue line. He isn't really, which is what we expected.
Following the 2015-16 season, the Vancouver Canucks had to make changes to their defensive group. Dan Hamhuis, Matt Bartkowski and Yannick Weber were let go, Erik Gudbranson, Philip Larsen and Troy Stecher came in. Along with winger Loui Eriksson, Gudbranson was the biggest addition, but he has been unable to live up to the hype.
Before we get into Gudbranson's play with the Canucks, let's look at the expectations most fans and management had for him.
Be a physical presence
Stand up for his teammates
Block shots
Shut down opposing top players
As you may notice, those expectations sound good to a traditional hockey fan, but analytics supporters will say "none of this matters, except for shutting down top players — and Gudbranson doesn't do that." Which sums it up perfectly.
In today's NHL, defencemen need to be good skaters with strong positional play and defensive awareness. They don't need to be physical to be successful, as Chris Tanev proves on a daily basis. Instead, it is important for D-men to be confident with the puck and have the ability to play an accurate outlet pass, even under pressure.
Gudbranson in Vancouver
Being a Physical Presence 
When it comes to being physical, hits are the only stat we can use to measure a player's success. So, let's do just that.
Want your voice heard? Join the The Canuck Way team!
After 19 games, Gudbranson has the team lead in hits with 38. However, his two hits per game rank just fourth on the team. League-wide, Gudbranson is tied for 81st in hits per game — he does not exactly stand out as a physical presence.
Standing Up for His Teammates
We are only 19 games into the season, so we shouldn't focus on numbers here. Instead, let's take a quick look at this clip:
Gudbranson does stand up for his teammates. Good for him, I guess.
Blocking Shots
One of the biggest reasons why the analytics community says Gudbranson is not a shutdown player is that he blocks shots instead of preventing them all together. But does he at least do well at blocking them?
After 19 games, Gudbranson is tied for third on the team in blocked shots at 25. Alex Edler and Luca Sbisa have more, Ben Hutton is the one Gudbranson is tied with. League-wide, Gudbranson is tied for 160th. Again, this is nothing outstanding.
Shutting the Opposition Down
Now to the really important stuff, can Gudbranson actually shut his opponents down and prevent them from getting scoring chances? Short answer: sometimes.
The Canucks are a weak possession team overall and they often struggle to create offence while allowing many scoring chances against. So, a good defencemen — and Gudbranson was supposed to be a great top-four addition — should stand out from the group.
Per stats.hockeyanalysis.com, Gudbranson ranks fourth on the Canucks in Corsi-against per 60 minutes of five-on-five time. Only Troy Stecher, Alex Edler and Luca Sbisa are better than Gudbranson's 52.96. His Corsi-for per 60 of 52.38 ranks sixth among Canucks blue liners. Gudbranson was never supposed to be an offensive force, but even defensive defencemen have high Corsi-for numbers if they are able to keep the puck out of their own zone.
Combined, Gudbranson's numbers result in a Corsi-for percentage of 49.7, again ranking sixth on the team. By the way, that number ties for 113th among all NHL defencemen.
Conclusion
Erik Gudbranson is playing as advertised. He is not great at being a shutdown defenceman, but he can be a physical presence. He tries his best, but his best isn't outstanding.
The one thing that can "make us happy" is that Jared McCann is on pace for just five goals and 15 points. So, it's not like Vancouver lost a superstar for an average defenceman (at least for now).
Still, watching Gudbranson can be painful. Like when he gets the puck in the D-zone and dumps it out while there are several breakup options in front of him.
But, as said, Gudbranson is exactly what we expected — 6-foot-5.
This article originally appeared on