Vancouver Canucks at New York Rangers: TV, Radio, News, Predictions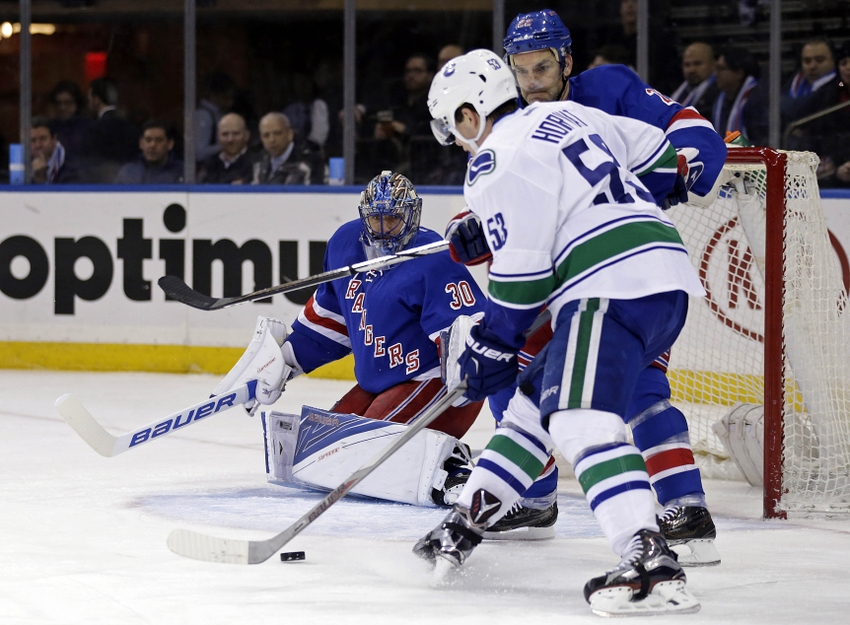 The Vancouver Canucks will try to avoid tying a franchise-record ten-game losing streak tonight against the New York Rangers
The Vancouver Canucks franchise record for consecutive losses is 10. A loss tonight will tie that mark.
The stakes are high for head coach Willie Desjardins. He may need a win tonight to save his job.
It won't be easy. Tonight the Canucks face the New York Rangers, who can claim first place in the NHL with a win.
The Rangers have scored a league-high 55 goals, and have a league-best goal differential of plus-26. Someone forgot to tell them that their Stanley Cup window had closed. They are the class of the NHL right now.
Here are your last-minute need-to-knows:


Vancouver Canucks at New York Rangers – 4:00 PM PT
Madison Square Garden — New York, NY
TV: SN Pacific, MSG+
Radio: TSN1040
Online Streaming: Rogers GameCentre LIVE, NHL.TV
Canucks Record: 4-8-1 (6th in Pacific Division, 29th in NHL)
Opponent Record: 10-3-0 (1st in Metropolitan Division, 2nd in NHL)
Gameday Notes:
Lineup News:
The Canucks will go with the same forward lineup as they did against the Islanders. This means that Jake Virtanen will sit for a second straight game. Jack Skille and Michael Chaput will both play.
Jacob Markstrom will start with Ryan Miller having played last night.
The biggest news is on defense: rookie Troy Stecher returns, while Philip Larsen will be a healthy scratch.
The Rangers are playing Antti Raanta and resting starter Henrik Lundqvist. Good news, right?
Maybe not — Raanta is 3-0 with a .930 save-percentage on the year.
Looks like the #Canucks will face Antti Raanta in net tonight against the Rangers

— Dave Tomlinson (@DTSN1040) November 8, 2016
Predictions
Jeff Godley:

5

2
Gerald Morton:

3

1
Alex Hoegler:

3

2
This article originally appeared on