Vancouver Canucks at Arizona Coyotes: Preview, Lineups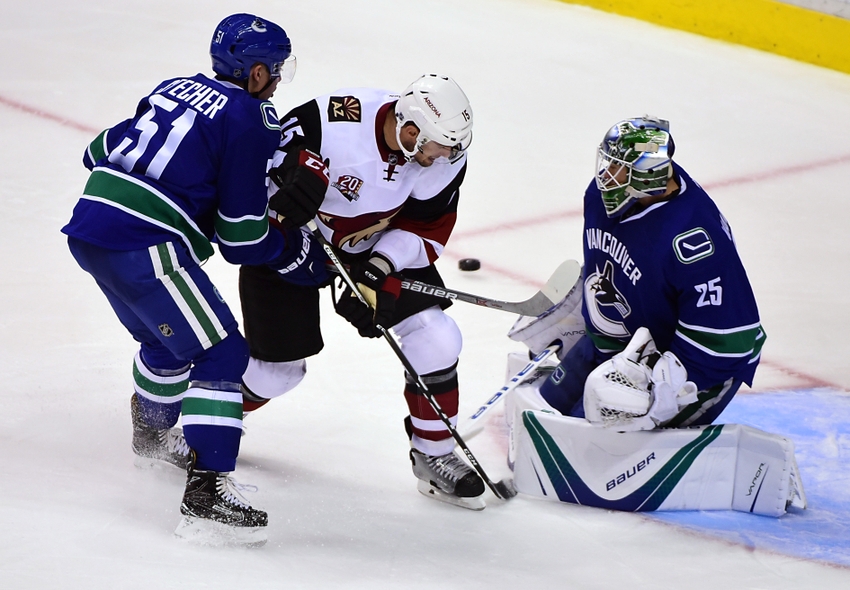 Following a strong yet disappointing game against the Chicago Blackhawks, the Vancouver Canucks will try to snag a win against the Arizona Coyotes.
Three of the Vancouver Canucks' past four games went into overtime, including a 3-2 home victory against the Arizona Coyotes. A week later, the 'Yotes are looking for revenge, but Vancouver will do everything it can to win two points.
It is a match-up between the NHL's worst two teams, with Vancouver sitting in the 29th and Arizona in the 30th spot in the league standings. But that doesn't mean it won't be an exciting hockey game.
Vancouver Canucks
OVERVIEW:
2016-17 Record: 7-10-2
Away Record: 1-6-1
2015-16 Record vs. Coyotes: 3-1-0
Goals For: 41
Goals Against: 61
Power Play: 12.3 (27th)
Penalty Kill: 83.3 (T-11th)
Leading Scorers: Daniel Sedin (19 GP –-  6 G – 7 A – –13 PTS), Henrik Sedin (19 GP – – 5 G -– 7 A -– 12 PTS), Brandon Sutter (19 GP -– 5 G -– 6 A – – 11 PTS)
Injuries: Jannik Hansen (fractured rib, early/mid-December), Chris Tanev (foot, late November), Jayson Megna (shoulder, day-to-day), Anton Rodin (knee, indefinite), Derek Dorsett (shoulder, day-to-day)
WHO''S ON OFFENCE:
Joseph LaBate: Following Michael Chaput and Jayson Megna, LaBate will be the third Utica Comets forward in Vancouver. With Derek Dorsett injured, LaBate could make his NHL debut tonight.
Sven Baertschi: The Swiss winger is a fan favourite and most fans were against the addition of another left winger in order to keep Baertschi on the second line. He is currently on pace for just 26 points, though, so the Canucks need him to step up and start producing.
Want your voice heard? Join the The Canuck Way team!
WHO''S ON DEFENCE:
Ben Hutton: In last week's overtime victory against Arizona, Hutton was the one who scored on a penalty shot to end the game. He is struggling a bit alongside Erik Gudbranson, but the two will get things sorted out eventually.
WHO''S IN NET:
Ryan Miller: Readers have gotten angry many times when our writers called the Canucks' goaltending mediocre or even mediocre-at-best. Sorry to break this to you, but it really is:
PROJECTED LINEUP:
Daniel Sedin — Henrik Sedin — Brandon Sutter
Markus Granlund — Michael Chaput  — Loui Eriksson
Sven Baertschi — Bo Horvat— — Alexandre Burrows
Jack Skille/Joseph LaBate — Brendan Gaunce — Jayson Megna
Alex Edler — Troy Stecher
Ben Hutton — Erik Gudbranson
Luca Sbisa — Nikita Tryamkin
Ryan Miller
Jacob Markstrom
Arizona Coyotes
OVERVIEW:
2016-17 Record: 6-9-2
Home Record: 4-3-0
2015-16 Record vs. Canucks: 1-2-1
Goals For: 44
Goals Against: 56
Power Play: 13.7 (24th)
Penalty Kill: 76.5 (28th)
Leading Scorers: Max Domi (17 GP -– 2 G -– 11 A -– 13 PTS), Radim Vrbata (17 GP – – 6 G  – 6 A – 12 PTS), Jordan Martinook (17 GP – 5 G – 5 A – 10 PTS)
Injuries: Brad Richardson (leg, indefinite), Dave Bolland (lower body, indefinite), Chris Pronger (concussion, out for season)
WHO''S ON OFFENCE:
Anthony Duclair: In 2015-16, Duclair looked like a future star player for the Coyotes, scoring 20 goals. So far this year, he sits at three points and there have been rumours that he could be available for trade. Should the Canucks take a look?
Lawson Crouse: Many fans and writers predicted an exciting season for the Coyotes, mostly thanks to the large number of rookies on their roster. Unfortunately, they haven't been too successful so far, and Crouse is the perfect example: 13 games, one goal, no assists.
WHO''S ON DEFENCE:
Jakob Chychrun: The Canucks wanted a D-man at the 2016 NHL Entry Draft and went with Olli Juolevi of the OHL London Knights. While Juolevi is still there, 16th-overall pick Jakob Chychrun is a regular on Arizona's blue line.
WHO''S IN NET:
Louis Domingue: Domingue has been the Coyotes' starter this season, thanks to an early injury to Mike Smith. With a .902 save percentage, he hasn't been very successful, but his defence isn't exactly supporting him either. Smith is back now and could be in the crease against Vancouver.
PROJECTED LINEUP:
Max Domi — Martin Hanzal — Radim Vrbata
Jamie McGinn — Christian Dvorak — Anthony Duclair
Tobias Rieder — Jordan Martinook — Shane Doan
Lawson Crouse — Laurent Dauphin — Ryan White
Oliver Ekman-Larsson — Connor Murphy
Alex Goligoski — Anthony DeAngelo
Jakob Chychrun — Michael Stone
Louis Domingue
Mike Smith
This article originally appeared on