Vancouver Canucks Are Better Than We Thought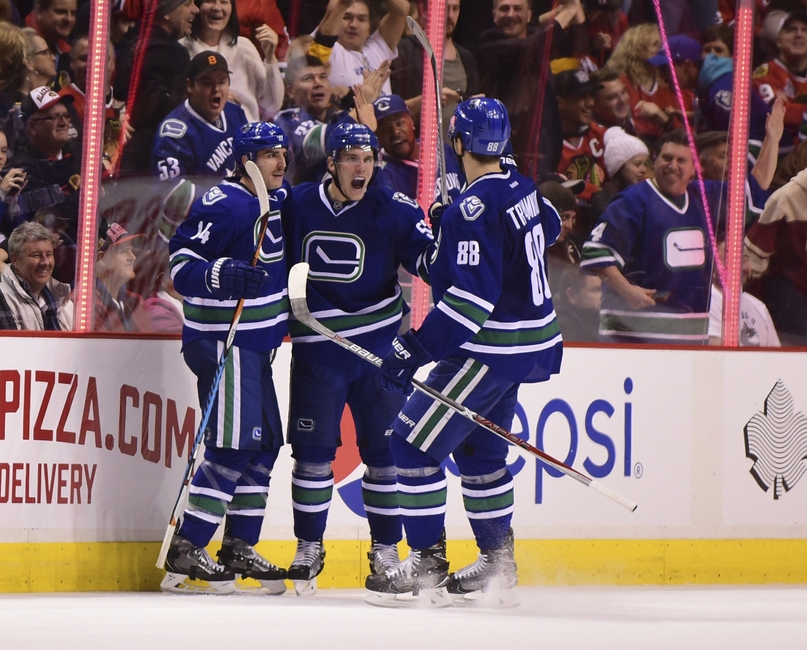 The Vancouver Canucks are in the playoff picture a quarter of the way through this season despite being pegged by many to be the NHL's worst team, including yours truly.
Remember when some folks considered that Vancouver Canucks 4-0 start a mirage? When they started hot only to lose their next nine games and be written off by many the rest of the season?
Well, I'm not saying that you should plan a playoff party, but any Canucks fan should think twice about hosting a draft party.
As it turns out, this team might not even come close to the Nolan Patrick sweepstakes. At least, not if their recent play is an indication of what's to come.
You see, this "basement team," isn't really in the basement. They're three points out of the final playoff spot in the Western Conference. In case you didn't know, the Western Conference always features four-to-six juggernauts and two or three very solid second-tier teams.
The Canucks have been bitten by the injury bug. Jannik Hansen is out four-to-six weeks with a fractured rib, Alexander Edler is out the same time period with a broken finger and Chris Tanev hasn't played since Nov. 2 with a foot injury.
Despite all of this, the Canucks are hanging on. Their blue line seems to have more youth than a grade eight birthday party. Troy Stecher (22,) Erik Gudbranson (24,) Nikita Tryamkin (22,) Ben Hutton (23,) and Luca Sbisa (26,) now face a daunting task of carrying a unit that wasn't that strong to begin with.
The Canucks are fourth-last in goals per game with 2.26 and allow the sixth-most goals per game with 3.00.
Yet, this team is three points behind the Los Angeles Kings for the final wild card spot and just five behind the San Jose Sharks for the Pacific Division lead? That's not bad at all.
Pleasant Surprises in the Forward Group
Meanwhile, the Canucks actually have more scoring ability than you think. Using ESPN.com's projections, it turns out that Brandon Sutter, and the "bust" that is Loui Eriksson are actually on pace to score 21 goals apiece this season. A multi-goal game will change those numbers drastically.
Markus Granlund, who sees extremely limited top-six forward minutes, is on pace for 18.
Fans have been screaming for Bo Horvat to finally show he was worth it after they gave up Cory Schneider to draft him.  What if I told you he's leading the team in scoring and is on pace to finish with 29 goals and 57 points?
And to think that Sven Baertschi is bound to come around sooner or later and than when Hansen returns, the Canucks will have one of their top-six forwards back.
You just have to evaluate the Canucks right now. They play in an extremely tough conference, have had their top pairing on defence sidelined and guys not named Daniel or Henrik Sedin are actually contributing some offence.
The Canucks entered 2016-17 with nothing to lose. Even if they end up finishing at the bottom of the standings, nobody will hold it against them.
At this point, fans should be happy that this team has been more competitive than you actually think.
So competitive, in fact, that the Vancouver Canucks might even be a playoff contender in April.
This article originally appeared on