Vancouver Canucks and Detroit Red Wings: Rivalry Renewed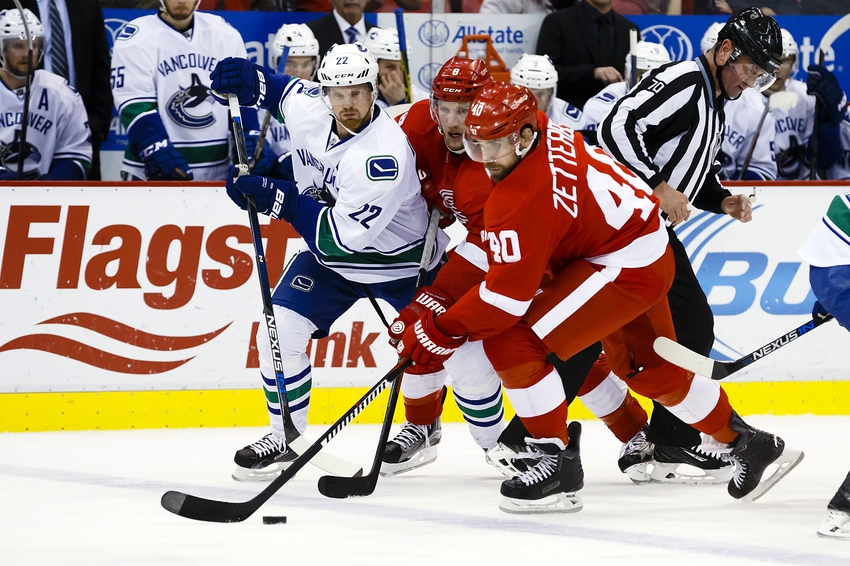 The Vancouver Canucks and Detroit Red Wings were once Western Conference powerhouses, but the competition has died down over the years.
The Vancouver Canucks will make their final visit to Joe Louis Arena tomorrow night, when they play against the Detroit Red Wings.
Both teams snapped long skids on Tuesday night and will try to gain some momentum after mediocre play.
From 2002-2013, these two were among the top teams in the Western Conference. Detroit won two Stanley Cups, the Central Division every season from 2002-2011 and four Presidents' Trophies.
Though the Canucks certainly didn't have the glamorous success of the Wings, they did win seven Northwest Division titles from 2004-2013. They reached the Stanley Cup Final in 2011 and won two Presidents' Trophies during that span. But they never reached the perennial dominance of the Red Wings.
These two weren't bitter rivals, but the competition was fierce. Detroit overcame a 2-0 deficit in the opening round of the 2002 playoffs to eliminate Vancouver in six games, en route to their third Stanley Cup in six seasons.
Unfortunately, these teams wouldn't meet in the playoffs again. Detroit moved to the Eastern Conference in the 2013-14 season as part of league realignment, putting the end to a great rivalry.
Intense rivalries usually have a handful of playoff matchups, but these two didn't face off in the postseason when they were elite teams in the West. But the Canucks and Wings rivalry reached its highest point on Feb. 23, 2012.
The Red Wings had set a record of 23-straight home wins, and led the West with 85 points. The Canucks were breathing down their necks at 84.
Detroit had leads of 1-0, 2-1 and 3-2, but Daniel Sedin scored this epic goal in the final seconds to force overtime:
That set the stage for Alexandre Burrows to end a streak for the ages:
This led to Wings' goalie Jimmy Howard taking a shot at the Canucks:
They've got a bunch of idiots over there. There are only several good guys on that team, and they know who they are.
That seemed to be the last time this minor rivalry was heated. The Wings would win four of the next five meetings over the 2013-14 and 2014-15 seasons, when neither team was a juggernaut. They split the season series last year.
So when the Vancouver Canucks meet the Red Wings at the Joe on Thursday, it'll rekindle an old rivalry again, though it may not be as special and intriguing as it once was.
This article originally appeared on