Tuukka Rask Earns Third Shutout Of The Season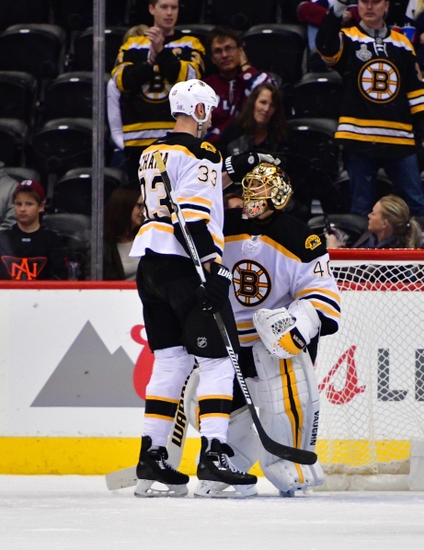 If the Boston Bruins have any chance of making the 2016-17 postseason, they needed Tuukka Rask to be playing at a Vezina-winning level. So far, the Finnish goaltender is living up to that expectation.
Tuukka Rask had a terrible season for the Boston Bruins last year. The former Vezina winner had sunk to one of the worst active primary goaltenders in the league with a disappointing 2.56 goals against average and an underwhelming .915 save percentage. Those numbers were good enough for a backup goaltender, and he was part of the reason the Bruins didn't make the playoffs last year.
Rask started out this season by letting the very first shot on goal get past him. The fans weren't thrilled, but Tuukka quickly proved that it was just a fluke. He earned his first win of the season that night, and he's been powering through general soreness and defensive breakdowns to be among the best goaltenders in the league this year.
Tonight was no exception for Tuukka Rask. He stopped all 21 shots put on him. Thanks to some solid scoring from forward David Krejci scored in the first period, the Boston Bruins were able to get another important two points, beating the Colorado Avalanche 2-0 on Sunday night.
If the fans had any concerns about having Rask in the net for a second straight night, the B's goaltender alleviated them. The 29 year goaltender has had an incredibly strong weekend for the team. Against the Coyotes, he made 31 saves in a 2-1 win in Arizona on Saturday.  Tonight, he made 21 more saves, and earned his third shutout for the season. This gives Rask his 33rd career shutout and makes the Finnish netminder 7-0 on the road this season.
Tuukka Rask now has 10 wins in net for Boston. He's tied with Carey Price for the most wins this season, and the rest of his numbers are just as impressive. He's second in goals against average with a 1.54. He's third in save percentages with a rock-solid .945. He's been the Bruins most reliable player so far, and his success has helped a team full of young players stay competitive in the NHL. The Bruins have gone from near the bottom of the standings to find themselves second in the Atlantic division and fourth overall in the Eastern Conference.
This article originally appeared on