Trevor Linden's Words About Sedins Unfair to Vancouver Canucks fans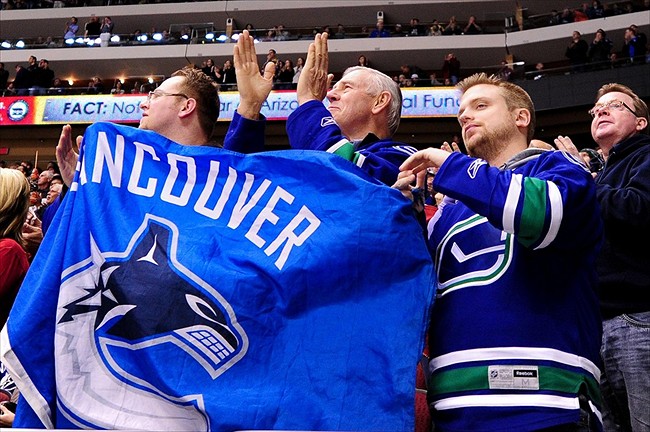 The Vancouver Canucks appear poised to finish at the bottom of the Western Conference standings for the third time in four years, yet Trevor Linden and management aren't doing what's fair to the fans.
Let's be honest, the Vancouver Canucks are not going to be a playoff team in 2016-17. Relying on aging veterans Daniel and Henrik Sedin (both 36), and Loui Eriksson (31), as your top line isn't a recipe to win in today's NHL.
Even though the Canucks were the NHL's third-worst team last season, president of hockey operations Trevor Linden and general manager Jim Benning refused to rebuild. They're following ownership's wishes of putting together a competitive team to try to make the playoffs in order to enhance ticket sales.
Here's the deal: It hasn't worked. The Canucks are 11-13-2 and are once again near the bottom in both goals scored and goals surrendered. There are 64 players in the NHL with more points than the Sedin twins.
Linden had the chance  to talk with Sportsnet last week about the Canucks direction. His words regarding the Sedin twins and the team's goals were not fair to Canucks fans:
"We have Daniel and Henrik Sedin here, who are very important to this organization and icons in the city. They're not going anywhere. I don't know how I walk into the room and tell these guys, "Strip it down." I'm not sure it's fair to these guys."
So the Canucks are refusing to do what's best for the franchise and the fans because of two 36-year-olds?
The Province recently reported that tickets for Canucks games are "at an all-time low," with tickets going for $35 if you were to purchase from a third party. So much for the Canucks trying to ice a competitive team to sell tickets.
At the end of the day, it's the fans whose opinions mean most. It's clear the fans have given up on this team's idea of trying to sell a possible playoff team with aging veterans.
You look at the Calgary Flames, who selfishly refused to rebuild from 2010-2013. Finally, they restarted. Next thing you know, Johnny Gaudreau (23), Sean Monahan (22), Sam Bennett (20), Dougie Hamilton (23), and Matthew Tkachuck (19), give this franchise a ton to be excited about.
The Toronto Maple Leafs play in one of the most demanding markets, but they tore it all down two years ago. Last time I checked, Auston Matthews (19), Mitch Marner (19) and William Nylander (20) are going to be really good, if they aren't already.
So, why are Linden and co. refusing to give fans what they want? At this point, the city of Vancouver just wants to see a Stanley Cup. They made the playoffs all but two seasons from 2001-2013, and no championship came of it.
Making the playoffs is one thing; 16 teams do it each season. But there's only one Stanley Cup winner. Until the Canucks commit at least two seasons to a full-on rebuild, there's not a huge reason to believe the fans will go on board with what Linden and Benning are doing.
What Linden said about refusing to rebuild because of the twins isn't fair to the Vancouver Canucks fans, who have gone through enough frustration with a franchise that's lacking the right direction.
This article originally appeared on