Travis Konecny dekes Frederik Andersen out of his pads (Video)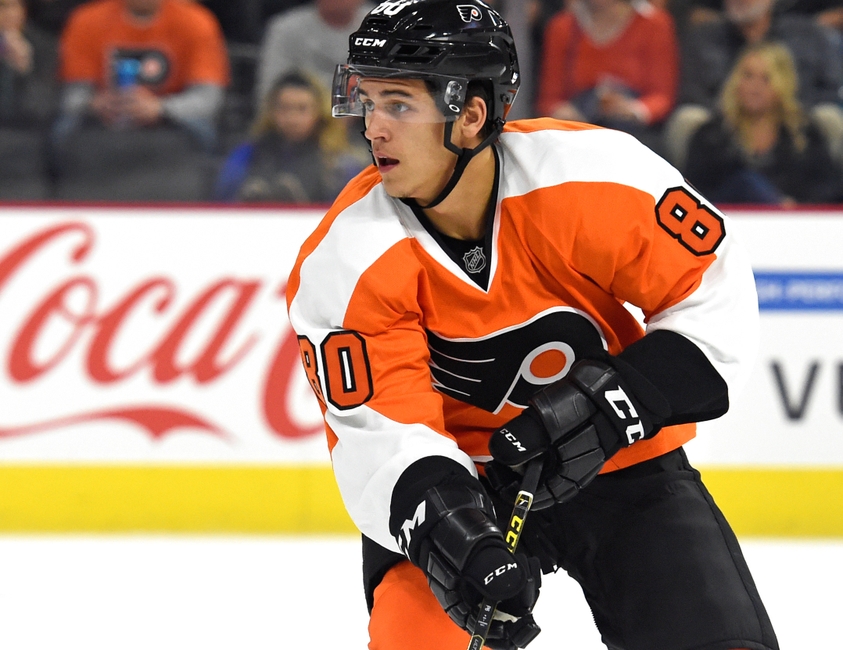 Travis Konecny scored an impressive goal on a breakaway after deking Frederik Andersen out of his pads. 
Philadelphia Flyers rookie forward Travis Konecny has not gotten the acollades of Auston Matthews or William Nylander or Patrik Laine. However, the first year forward has given Philly a spark with his ability to make plays. Konecny's passing abilities are well known and respected. However, he put his scoring ability on display against the Toronto Maple Leafs on Friday after getting on a breakway. Thanks to a beautiful pass from defenseman Radko Gudas, Konecny got on a breakaway and scored.
A lot of credit goes to Gudas for making the play happen. He got the well earned primary assist on the play. Defenseman Michael Del Zotto got a secondary assist for getting the puck to him. While Gudas is often known more for his dirty hits and physical play than his passing, he's one of the better defensemen in the NHL.
This has to be a bit heartbreaking for Leafs fans. They could have had Konecny in the 2015 NHL Draft. However, Toronto decided to trade down instead. While their prospects have been impressive, it would be really nice if they could have another talented forward like Matthews and Nylander. Konecny would have given them arguably the most impressive young forward trio in the NHL. The Flyers are quite happy that the Leafs decided to trade up because the rookie forward has been a blessing to them.
Konecny has been a huge reason for the Flyers' high octane offense so far this season. In his first 15 games this season, he has four goals and six assists for 10 points. While Konecny trails both Nylander and Matthews in points for rookies and Laine in goals, the Flyers rookie has done a lot to energize a previously stagnant offense.
This article originally appeared on