Trade Report: Blue Jackets' Top Prospect Pierre-Luc Dubois Traded in QMJHL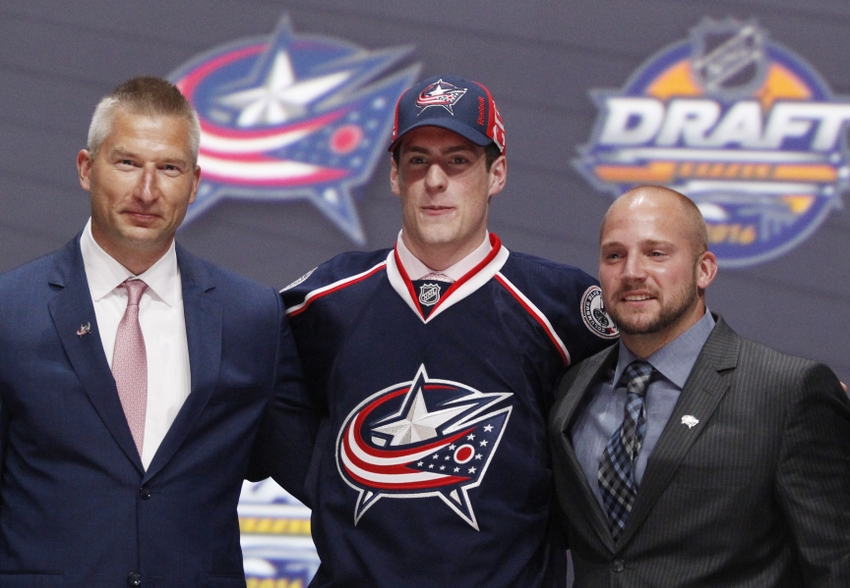 The Columbus Blue Jackets' Top-Prospect and Third Overall Pick in the 2016 NHL Draft, Pierre-Luc Dubois, Has Been Traded in What Will Likely Go Down As One of the Biggest Deals the QMJHL Has Seen in a While.
TVA Sports reporter Mikael Lalancette reported that Columbus Blue Jackets' prized prospect Pierre-Luc Dubois has been traded. Dubois went from the Cape Breton Screaming Eagles to the Blainville-Boisbriand Armada in a trade that created a major power shift in the QMJHL.
The Blainville-Boisbriand Armada is currently tied for first in the QMJHL with an impressive 20-7-4 record. The addition of Dubois will undoubtedly improve their chances of winning the QMJHL and advancing to the Memorial Cup.
According to Lalancette, the trade will officially be complete once the QMJHL trading period begins on Dec 18. Until then, we can only speculate what Blainville-Boisbriand gave up in return. Whatever (and/or whoever)  it is, it is sure to be a big return.
Don't be alarmed by Pierre-Luc Dubois' trade today. The entire QMJHL saw this one coming, apparently, including PLD. #CBJ did too.

— Aaron Portzline (@Aportzline) December 11, 2016
Pierre-Luc Dubois
The Columbus Blue Jackets drafted Dubois third overall in the 2016 NHL Draft. Since then, he has been playing with the Cape Breton Screaming Eagles of the Quebec Major Junior Hockey League.
Let's take a look at how Dubois himself has been performing this season. After posting 99 points in 62 games in his draft year, Dubois had a fairly underwhelming year with 18 points in 20 games with Cape Breton. An interesting fact is, after being a +40-point player last year, Dubois is just +4 this season.
Many believed that Dubois would carry the team after Cape Breton lost Evgeny Svechnikov to the AHL this year. Just something to think about, as fellow forward and sixth overall pick Matthew Tkachuk is doing great in the NHL with the Flames.
Regardless, it is still too early to call Dubois a win or a bust. There is still time for Dubois to improve his season; he could easily find better play with the Blainville-Boisbriand Armada and all of this doubt will be forgotten.
So what do you think? Will the trade to the Blainville-Boisbriand Armada help Dubois get back on his game? Feel free to comment your opinion down below.
This article originally appeared on