Toronto Maple Leafs: Three Takeaways From Win Over Oilers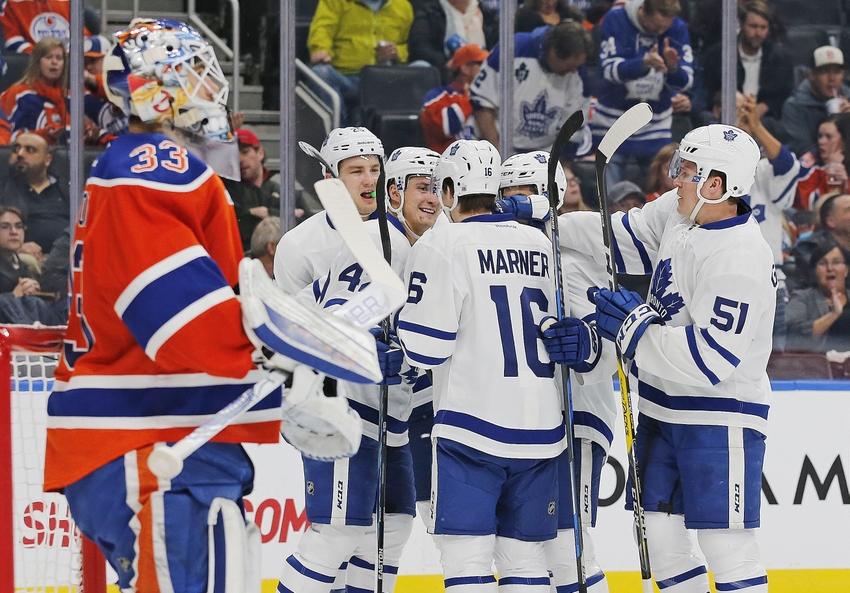 In their final meeting of the season, the Toronto Maple Leafs were able to sweep the season series with a 4-2 victory over the Edmonton Oilers.
The Maple Leafs have struggled on the road this season, going 1-5-4 away from the Air Canada Centre. However, they felt right at home amongst the sea of fans in their first visit to Rogers Place.
After taking a hooking penalty, Auston Matthews continued his newfound scoring streak. The 19-year-old would tip-in the pass from William Nylander giving the Maple Leafs the early lead. Then James Van Riemsdyk would have all day to beat Cam Talbot to extend the lead to 2-0.
Then James Van Riemsdyk would have all day to beat Cam Talbot to extend the lead to 2-0. Toronto had all the momentum and it looked as though a long night would be in store for Edmonton. Despite all that, they were able to cut the lead to one with a one-time blast from Andrej Sekera.
Nonetheless, they could not get any closer. With two more goals from Nazem Kadri and Zach Hyman, they were able to distance themselves. Connor McDavid's third-period goal would not be enough as the Maple Leafs start their Western Canadian trip on a winning note.
Here are the three takeaways from their win over the Oilers.
Nazem Kadri Continues To Get Under The Opponents Skin
In their first meeting at the ACC, Kadri garnered praise for his defensive play versus McDavid. Nevertheless, with the Oilers having the last change, Kadri did not see much ice time when he hopped over the boards.
However, tonight he got under the opponents skin. For him to be effective, he needs to throw his opponents off their game. Thus making him a key component in their win afterRattling the cages of various Oilers and even an Edmonton media member.
Kadri's $4.5MM salary goes even further when you consider he can live rent free in seemingly anyone's head he chooses.

— Dank Williams (@ryantologist) November 30, 2016
Kadri has always lived in the gray area and this game would be no different. After Adam Larsson tried to play the puck with a broken stick he stepped in to lay a hit which caused a scrum to insinuate, further garnering the hate.
When he did not get under their skin, Kadri would chip in offensively. In the second period, he would receive a pass from Leo Komarov to score the eventual game winner.
Zach Hyman's Motor and Never Quit Attitude
Hyman will never have the skill to beat the opponent, but he has heart and a motor that never quits. For the most part, he has the task of retrieving the puck for the likes of Matthews and Nylander. He never gets the recognition, but his play does not go unnoticed.
In their win over the Oilers, Hyman had his best game as a pro. Not only did he do his usual hard work and grit, he had a game-high five shots on net.
If you throw a puck into a dumpster in a foreign country Zach Hyman will still find it.

— Steve Dangle Glynn (@Steve_Dangle) November 30, 2016
His hard work paid off in the second period when he added the fourth goal of the game. Giving the Maple Leafs a much-needed insurance goal to help stave off the Oilers. However, it his defensive game deserves praise as well. On the penalty kill, Connor Brown and he wrecked havoc as they were close to scoring while short-handed.
Hyman has become the unsung hero on this team, but tonight he stood out. Going forward if he can add some consistent offense he will not be going unnoticed anymore.
Auston Matthews Is Not A Robot
In their first tilt, Matthews stayed off the scoring sheet as he battled through his drought. Nevertheless, he showed up for round two of this media-driven rivalry, silencing the crowd in the first period.
According to TSN's Mark Masters, Matthews gave a glimpse of what can motivate him after being heckled by a fan while in the penalty box.
Since being drafted, Matthews has rarely shown emotion. Thus hearing how the trash talk from opposing fans fuels him, goes to show how much he enjoys playing on the road.
So, probably not a good idea to heckle Auston Matthews pic.twitter.com/TzN5BiRtYa

— Mark Masters (@markhmasters) November 30, 2016
He rarely shows emotion, so hearing how the trash talk from opposing fans fuels him, goes to show how much he relishes playing on the road. Furthermore, it gives the fans a glimpse of his competitive attitude and what can motivate him throughout the game.
Now that he has put his drought behind him, Matthews now has four goals in his last three games. Also, it makes him the first rookie to score 10 goals since the 2008-2009 season.
He will look to continue his hot streak against the Calgary Flames as the Maple Leafs continue their Western Canadian road trip.
This article originally appeared on