Toronto Maple Leafs: Three Takeaways From Loss To The Canadiens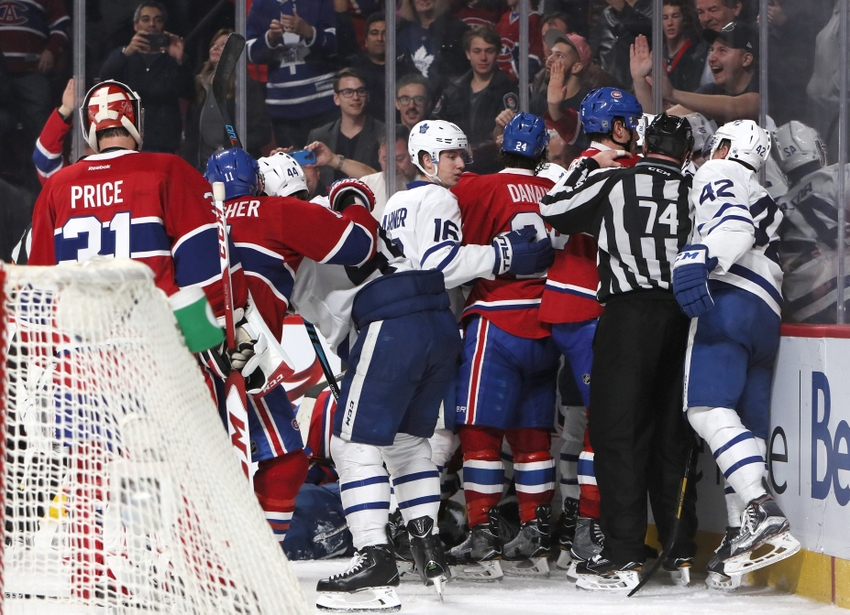 For the second time in three weeks, the Toronto Maple Leafs and Montreal Canadiens met in a low scoring affair.
Much like their October 29th tilt, Carey Price was a thorn in the Toronto Maple Leafs side. Their offense had some opportunities, but in the end, they were unable to figure him out as they fell 2-1.
After the Canadiens went up 2-0, it appeared that they would run away with the game. Especially since Price was in net, but the Maple Leafs showed some resilience. Thanks to a goal by William Nylander, they were able to cut the lead in half.
Frederik Andersen was able to keep them in the game after surrendering two goals. Unfortunately, they were not able to beat Price for a second time.
Nonetheless, there were some extra circular activities involving Matt Martin after his hit on Nathan Beaulieu, which cost the Maple Leafs precious time late in the third period. Then in the dying seconds before the final horn, Alexei Emelin decided to get dirty as well and hit James Van Riemsdyk from behind.
Safe to say there will be some more chippiness when these two meet again in January.
So without further adieu, here are three takeaways from Saturday night's game versus the Canadiens.
William Nylander showed toughness to go along with his skill
Much like their game last month, the Maple Leafs could only muster up one goal. Saturday it was Nylander who was able to get one past the brick wall that is Price.
Furthermore, toughness is not an adjective usually associated with the 20-year-old forward, but after Saturday night's game, it should be. After scoring the lone goal for the Maple Leafs in the second period. Nylander was able to get right back up after enduring a vicious hit by Shea Weber.
When you drive into a mountain bad things happen. pic.twitter.com/kg5Cqxz9l1

— Marc Dumont (@MarcPDumont) November 20, 2016
Weber has been punishing Nylander all night. But to Nylander's credit he stayed up and immediately got a scoring chance. pic.twitter.com/iVtsR5BKDw

— Marc Dumont (@MarcPDumont) November 20, 2016
Then if that was not enough, it happened again. Late in the third, Weber was able to drill Nylander behind the net. However, once again he was able to get right back up and even had a scoring opportunity right after that.
He may not be at the level of Darcy Tucker, but do not let his size or passport fool you. Nylander proved that he can take a couple of big hits. Even those that are delivered by a mean and rugged defenseman like Weber, so after tonight no one should question his toughness.
There were two hits that crossed the line
When two rivals like the Canadians and Maple Leafs get together, there are bound to have some chippiness. However, there were two hits from both teams that could be filed under the dirty hit file.
The first of these hits came in the middle of the third period. That's when Martin came in late and hit Beaulieu from behind. It was a bonehead decision by him as it sent the Maple Leafs on the penalty kill. Effectively taking away precious minutes off the clock as they were trying to tie the gam and with Price in net, every second is valuable.
Well that was ugly by Martin. pic.twitter.com/GtChOcOlUo

— Marc Dumont (@MarcPDumont) November 20, 2016
Speaking of ugly.

Emelin on JvR pic.twitter.com/SLM8D5iBZv

— Marc Dumont (@MarcPDumont) November 20, 2016
Then came the hit by Emelin in the final seconds of the game. As JVR was going for the puck, the Russian defenceman gave a cross-check to the back of his numbers. As a result, it sent  JVR into the boards, which could have ended up a lot worse if he had not been able to brace himself for the after effects of the hit.
Luckily, both players who were on the end of these dirty hits were not seriously injured, but do not be shocked if either of these two gets a call from the league as they could be looking at a fine, with an outside chance of a suspension.
Auston Matthews Gets On The Scoring Sheet
This story line has been beaten down like a dead horse, but until he breaks out of this scoring slump it will remain a relevant story line.
His goal drought is still continuing, but Matthews was able to register a point on the Nylander goal, which can only help him as he battles through this goal-less streak. He had some good chances to break out but was not able to finish on any of his opportunities.
At 5v5 Auston Matthews is 1st in unblocked attempts, 2nd in shots on goal and 1st in scoring chances (28, 2nd has 20). The goals are coming.

— Dimitri Filipovic (@DimFilipovic) November 19, 2016
Nonetheless, he's doing all the right things offensively by getting some of his teammates going and contributing in other ways while he's down on his puck luck.
It's a matter of time before Matthews finally breaks out, but it was a tall task for him to break his drought facing a goalie like Price. However, with a team like Carolina coming into the Air Canada Centre, the drought could come to an end Tuesday.
This article originally appeared on