Toronto Maple Leafs: Ten Point Week In Review
Tim Chiasson/FanSided via Editor In Leaf

Fansided
The Toronto Maple Leafs went 2-1-2 in the past five games, which means the sky isn't falling.
Over the past week (Saturday-Saturday this time), the Toronto Maple Leafs rode a rollercoaster at Canada's Wonderland to get six out of ten points. Let's talk about it.
1) An article from the Toronto Star after the Sabres/Leafs game about wizardry and magic suggested the Leafs need to be more physical and more gritty. That is complete nonsense. Skill wins hockey games. You win by being better than the other team, not chasing them to run them over while they have the puck. That's, generally, what out-hitting the opponent means – that you don't have the puck enough.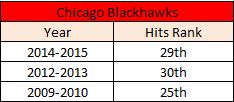 That's the Blackhawks regular season hit ranking when they won the Stanley Cup the last three times. If you want to get real picky, the Leafs are already 7th overall in the league in hits per game. So, no, hitting isn't the problem. In fact, there is no problem because it's February 12th and the Leafs are in a wildcard spot.
2) Kevin McGran suggested in his mailbag that Ken Holland is going to be the next GM of the Toronto Maple Leafs. This isn't sourced or anything, just McGran's bet. I'm not sure how I feel about this because of where Detroit is right now but there's no denying Holland's past success. I think, right now, I'd rather have Dubas or Hunter take over like the original thoughts were.
3) William Nylander's name keeps coming back in the news, but not really in trade rumors. Twice this week it's been because Elliotte Friedman thinks there's a poor relationship between Willy and the Coach. This is annoying, particularly because Nylander has been one of the Leafs best players since Christmas. I'm not buying it – and Nylander certainly isn't going anywhere.
4) Babcock stuck with Andersen after a tough first 18 minutes against Buffalo, and that's great. I wouldn't blame Andersen and it's good to see he was able to see the game through – and tighten up in the process. He's got game, and the Leafs crease is going to be fine.
5) Mitch Marner continues to be great. The kid had six points in the five games and the only game he was off the score-sheet was against St. Louis. I don't think anyone is upset the Leafs passed on Noah Hanifin anymore.
6) Alexey Marchenko still hasn't played a game as a Leaf, and that's not alright. I strongly believe that if you rip out Hunwick and Polak, and replace them with Marincin-Marchenko that the Leafs blueline is significantly better. Maybe we're getting closer, because Hunwick/Polak both played under 15 minutes Saturday night.
7) Curtis McElhinney is proving to be a safe backup. He came into the game against Dallas knowing that Toronto had been shelled for 22 goals in their past four games. He responded with a 39 save performance to calm everyone down. He was great in that game, which is more than you need from your backup – and something they never even got close to with Jhonas Enroth.
8) Two of the Leafs losses this week were in OT (NYI/STL). That gives Toronto a league-leading 11 loser points. Five of them have been OT losses, six in the shootout. This team competes, even on bad nights, and that's fun to watch.
9) Toronto is now nine back of Montreal for first in the Atlantic and seven up on Detroit for last. That's how close the division is. The Atlantic is going to go the distance this season and the Leafs are still in a good spot to push for a playoff spot as a divisional rep, not a wildcard. It's going to take the full 82 to decide this one, which means that there's less and less of a chance the Leafs do anything monumental at the deadline.
10) Jake Gardiner managed to escape the wheels of the city buses this week, so let's finish here on a positive note.
Thoughts? Let me know in the comment section.
This article originally appeared on