Toronto Maple Leafs Rumors: Peter Holland On The Trade Block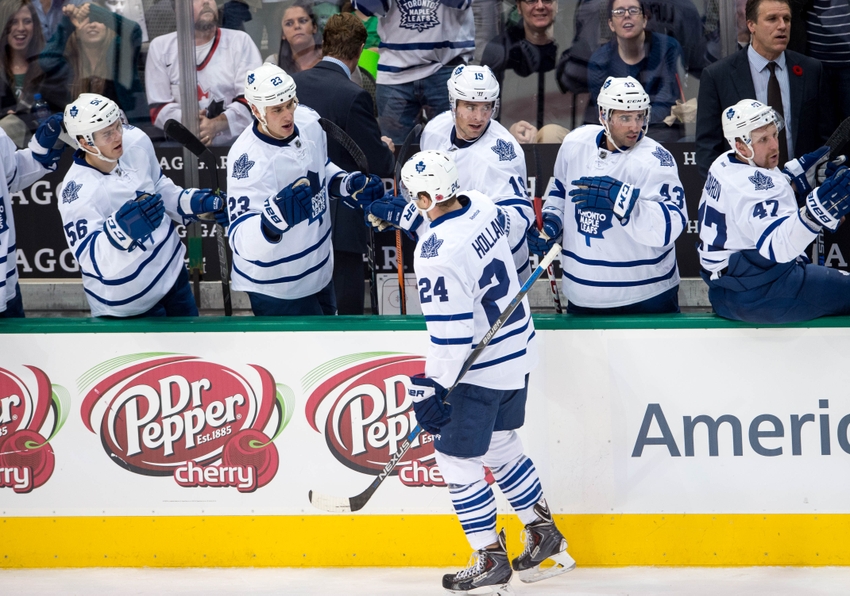 The Toronto Maple Leafs have a player on the trade block, according to TSN's Darren Dreger.
Peter Holland, the Toronto Maple Leafs fourth line staple, is available according to Dreger on Insider Trading, via MyNHLTradeRumors:
"Darren Dreger: The Toronto Maple Leafs have Peter Holland on the trade market. They are looking for a shut down defenseman." (MyNHLTradeRumors)
I'm not sure what the going rate for a marginal NHL player is these days, but Lou Lamoriello's phone certainly won't be ringing off the hook if Holland is the only player being dangled for defensive help.
The return on a Peter Holland deal will be small, and it certainly won't bring in a defender who is more capable than those the Leafs already have. Frank Corrado, Connor Carrick and Martin Marincin are the three defenders with non-locked-in spots, and all of those players would be better than whoever Holland nets in a deal.
I'd much rather see Holland dealt for a pick rather than a player, simply to free up another roster spot so another player can be given a showing.
At this stage, if the Leafs aren't willing to pony up for top four help then they are essentially wasting their own time. Wanting to improve your defensive group is one thing, adding another seventh defender is the complete opposite – and that's what a Peter Holland gets you.
There is an off-chance that the Leafs end up making a deal involving Holland where they get a steal, but that off-chance is limited to GM's who aren't good at their job.
If Holland is out there on the market, Lamoriello's phone should be dialing Jim Benning and Don Sweeney first and foremost and then move on from there.
Regardless of whether he gets dealt or not, it's seems that Holland's days in Toronto are finally numbered as the team moves forward toward the future.
This article originally appeared on