Toronto Maple Leafs Roundtable: Top Three Fantasy Leafs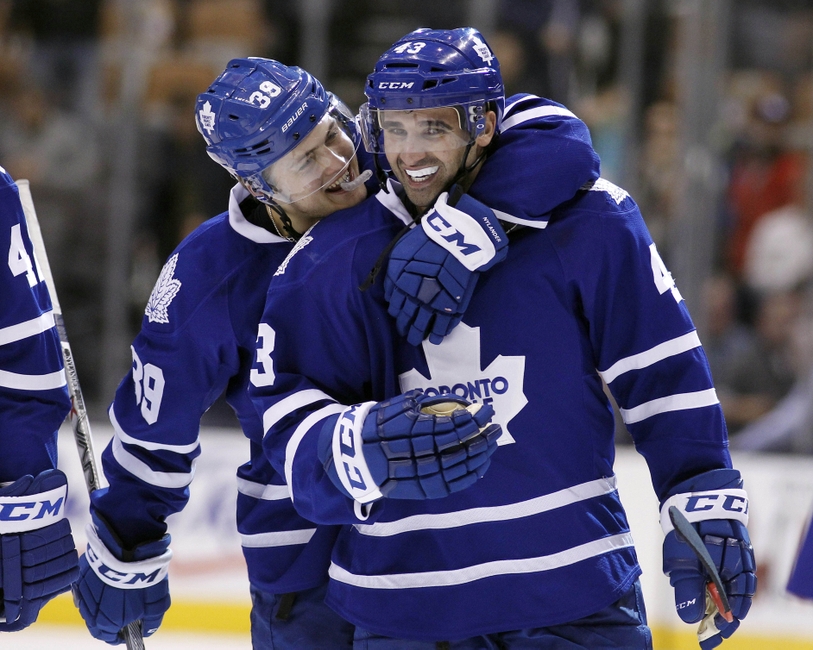 The Toronto Maple Leafs are destined for an increase in offense for the 2016-2017 season simply because certain players will be healthier.
The Toronto Maple Leafs are also getting a boost from an increase in talent thanks to the likelihood of Matthews, Marner and Nylander all suiting up on a full-time basis.
These factors make the Leafs a much more appealing destination for fantasy draft picks.
In this week's roundtable we discuss who the top three Toronto Maple Leafs fantasy hockey players will be.
Sandy Taver's Fantasy Picks
James van Riemsdyk: 27g 46a 73pts 62 PIMS
Auston Matthews: 24g 41a 65pts 28 PIMS
Nazem Kadri: 21g 37a 58pts 88 PIMS
Lauren Kelly's Fantasy Picks
Nazem Kadri
Projection: 20g 35a 55pts 64 PIMS
– He hit the 20-goal mark once in 2014-15, and with the new offensive additions in all the rookies, I believe he'll hit that again.
– Always more of a playmaker (as his stats indicate), I believe he'll surpass his career highs in assists and points.
– Kadri had only 28 PIM in 2014-15, but 73 in 2015-16, so I gave him a total less slightly less than what he accumulated last season.
James van Riemsdyk
Projection: 29g 33a 62pts 33 PIMS
– JVR reached the 30-goal plateau in 2013-14, so it's plausible to think he'll reach close to it, if not 30 goals again.
– Like Kadri, added offense to the lineup will boost his stats all around, giving him career highs in assists and points.
– The most PIMs he's ever accumulated was 50 in 2013-14, and he only sat for 6 minutes last season (despite playing 40 games), so while it's unlikely he'll finish the season with less than 10 PIMs, I can't see him surpassing 50 PIMs either.
Morgan Rielly
Projection: 15g 34a 49pts34 PIMS
– After hitting career highs in all three stat categories, I can't see him regressing, so he'll likely increase his point totals in next season.
– Rielly took 28 PIMs last season, the most in his NHL career, but had less than 15 PIMs in his other two seasons, so he doesn't take too many penalties in general. However, I do think with more ice-time and a larger role, he'll take a few more penalties as a result.
Tim Chiasson's Fantasy Picks
Nazem Kadri
Projection: 25g 39a 64pts 68 PIMS
Kadri is being set up for a big season. He's going to have more weapons, the confidence of his coach to give him real linemates on a consistent basis and better luck than last season.
I wrote a few days ago on his expectations being higher this year and I think he sets career high's in everything point related.
There's a good chance he gets to play with one of JVR, Nylander or Marner. That's going to be a great boost for a player that has suffered through bad linemates for most of his career with the Leafs.
James van Riemsdyk
Projection: 31g 31a 62pts 38 PIMS
James van Riemsdyk has already scored 30 goals in the NHL before, and I think that with a better cast around him he'll get back there.
He's going to have players to feed him the puck and to dish the puck to this season if he's lined up with Kadri again after a successful experiment last year or playing with one of the new star prospects.
He's a legitimate top line winger in the NHL and he's going to continue to produce like one in 2016-2017.
Mitch Marner
Projection: 19g 31a 50pts 36 PIMS
I'm going with Marner's NHLe totals from an earlier article I wrote in June.
The easy pick is Auston Matthews, but I think the transition to center in the NHL is harder than the wing so I'm going with the other new guy. I still think Matthews will have a great season and impact for the Leafs.
Marner has been traditionally a set-up man with a knack for finding the back of the net. It's much harder to score goals in the NHL than it is in junior, but the thought process of the game is the same – just faster.
Marner is an exceptional passer who is going to make his linemates extremely happy. He's also going to be playing with other highly talented players, so he'll have some finishers.
This article originally appeared on