Toronto Maple Leafs Player Preview: Nikita Soshnikov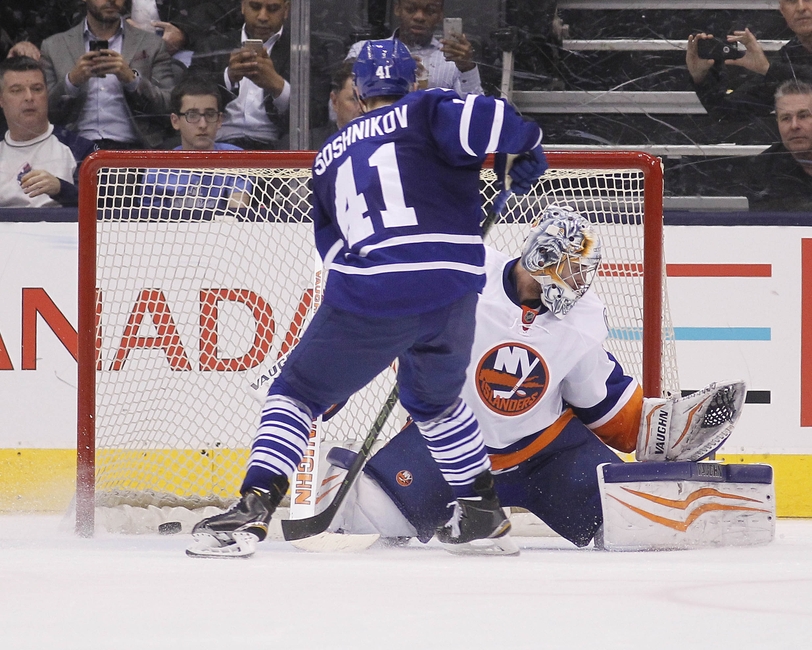 Toronto Maple Leafs forward Nikita Soshnikov was yet another young player who saw action at the end of last season and didn't disappoint.
Soshnikov had a good 11 game showing with the Toronto Maple Leafs, with his strength coming in the shot generation department. It has to be noted, though, that in his 144 minutes of 5v5 time he spent 125 of it playing with Nazem Kadri.
Kadri is going to generate chances and he's a good possession player, so Soshnikov's true value was likely boosted by his linemates – linemates he likely won't have if he makes the team in 2016-2017.
Soshnikov is going to find himself in a battle with players like Kerby Rychel and Josh Leivo for a roster spot early on. It's going to come down to what the Leafs want. If they want to go off of shot generation for last year, it's Soshnikov. If they want a more defensive player, it's Rychel.
The role Soshnikov will find himself in isn't going to be the top line, so a repeat performance of 0.45 pts/gm is going to be out of reach for the 22 year old forward.
What the Toronto Maple Leafs need Soshnikov to do – should he find his way in the lineup – is to prove that he wasn't simply carried by Nazem Kadri at even strength.
With the design of this team the powerplay isn't going to be a frequent option for Soshnikov, so he has to be able to play strong at evens.
Points aren't important in 2016-2017 for Soshnikov. It's another development year for the entire team and the youth that do make the team – and aren't in impact roles like Matthews/Marner – will need to play a good general game.
The expectation should be that Soshnikov rolls in and out of the lineup throughout the year while the Leafs sift through injured players and potential trades. With so many kids to get a look at it might be tough for any of them to truly lock down a spot in 2016-2017.
Previous Player Previews:
This article originally appeared on