Toronto Maple Leafs: Nazem Kadri Spoils Connor McDavid's Homecoming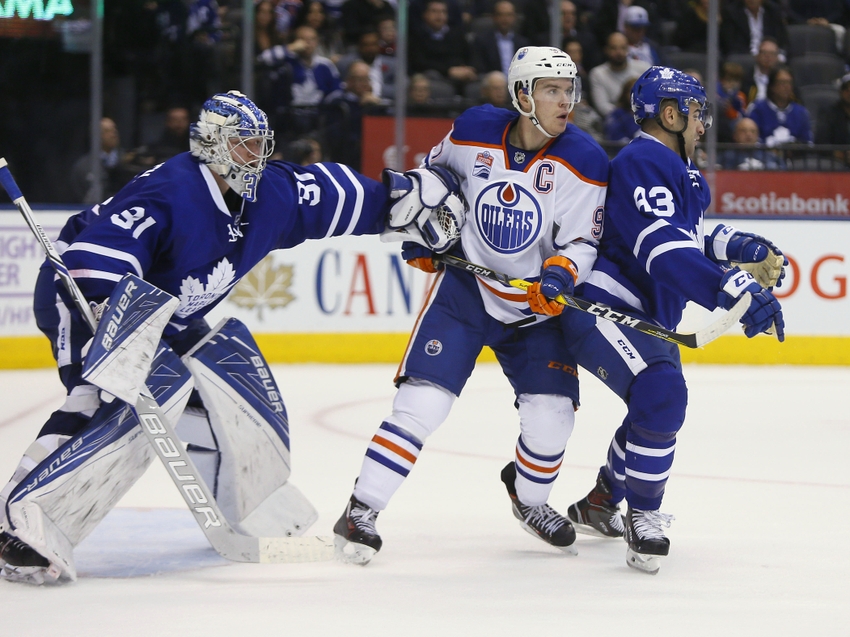 The buzz around the Toronto Maple Leafs and Edmonton Oilers matchup was simple; it was being billed as Connor McDavid versus Auston Matthews.
With it being his first game in his hometown of Toronto, it was McDavid's spotlight with Matthews co-starring. Former NHL greats like Wayne Gretzky and Paul Coffey came to see the young star take on the Toronto Maple Leafs.
From afar it appeared as though McDavid would take advantage of this match up with Kadri, who was assigned the difficult task of containing him and try to prevent him from lighting up the Maple Leafs, again.
However, that's why they play the game and Kadri was more than up to the task to stopping the leading scorer in the NHL.
For someone who wasn't used to being that shutdown center, Kadri played it perfectly. Whenever McDavid would be on the ice Kadri would follow, shadowing him to try and throw him off his game.
The goal for the night was not just to win the game, but to make the life of McDavid uncomfortable and that's what Kadri did. After every whistle, there was Kadri with a shove, jab, and poke to let McDavid know that it was not going to be an easy night for him.
Nazem Kadri's game plan for tonight is seriously just "make Connor McDavid feel uncomfortable, always" pic.twitter.com/4VNeVrjl2g

— Jeff Veillette (@JeffVeillette) November 2, 2016
Alternate angle on Nazem Kadri's overtime game winner. Just completely outmuscles Connor McDavid. Huge game for him all-around. pic.twitter.com/1uM6eBYLbt

— Jeff Veillette (@JeffVeillette) November 2, 2016
It wasn't just physical; it was mental as well with the chirping the Kadri was doing. Throughout his assignment of shadowing McDavid, Kadri used every book in the game to rattle the cage of his and for the most part, he succeeded.
However, Kadri did more than just contain and agitate McDavid all night. He chipped in offensively as well, scoring the game's opening goal with less than two minutes into the game. With all the young offensive talent, it was Kadri stealing the show from them.
Finally, when the overtime period came it was Kadri once again. Only this time he has able to fight for the puck and outmuscled McDavid to score the game winner.
Kadri may not be the center of the offense anymore, but his new role as a shutdown center with some offensive touch is something that suits him well going forward.
This article originally appeared on