Toronto Maple Leafs: Nazem Kadri Should Be The Next Captain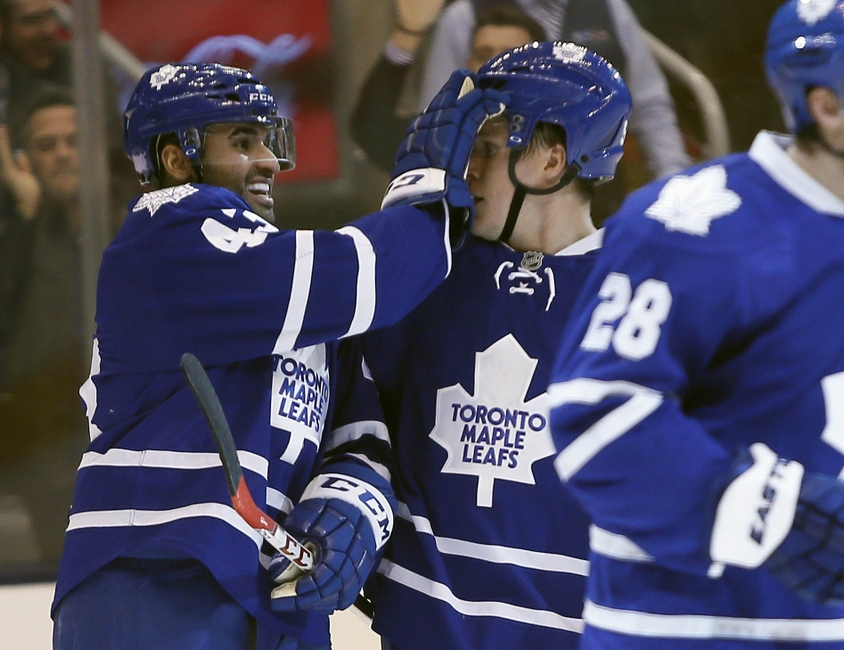 Have you ever wondered why people seem to really not like Toronto Maple Leafs pest Nazem Kadri?
I can understand why rivals don't, in a Patrice Bergeron / Claude Lemieux kind of way. Why hasn't he been truly embraced by Leaf Nation? He has demonstrated to have many similar qualities which have left former Toronto Maple Leafs elevated to legendary status.
Started at the bottom now we here, Nazem seemed to get the raw-end of the deal right from the draft. The infamous Brian Burke and Bryan Murray convo moments before Nasty Naz was drafted implied he may be open to flipping him had Murray ponied up an offer. Murray didn't, Burke drafted him, and the rest is history:
Next in the story of Naz is his first years as property of the Leafs. Fresh off of shredding the OHL with former linemate John Tavares, Kadri arrived at the Leafs' training camp. Despite scoring a hat trick vs. Ottawa, Nazem was sent down as Burke and then coach Ron Wilson did not feel he was ready to play on the top two lines.
As ridiculous as this sounds, two scoring lines were the norm at this time. We were well before the speed-first, buffet of scoring lines the NHL's collective brass currently deploy. One need only take a look at the Leafs scoring forwards, and I use that term loosely, from that time (Sorry Colby Armstrong, your tie game is still strong bro). Many felt that Kadri was far better of a player than many of the guys the team used.
Can you imagine one of the Leafs draft picks being treated how Kadri was now? I bet you cannot, as it would never happen. Please feel free to correct me if I am wrong, but didn't Dallas Eakins basically say Kadri was rolling down to Wendy's as frequently as Phil Kessel went to hot dog carts?
I can't find it online, but I know in my heart he chirped him for eating Baconators. The best part is, after so many years of witnessing the dysfunctional Leafs; I didn't even notice anything wrong with this at the time. Don Cherry sure did though, as noted in this Star article.
Now that we have waded through today's history lesson as about as succinctly as one can at Boston Pizza while cheering for the Habs to lose, let's examine Nazem's growth.
Kadri has almost always been the first person to get in line and take some flak from the Toronto media anytime things go south for Leafers, which has been a lot. You have to respect a young guy who just hops up and tries to explain why we are dealing with year 59 of misery after his team just got the crap beat out of them, often in a series of X in a row.
It hasn't been good around here the past decade, and as long as Kadri has been in the fold, he gladly will step up and take some heat.
Another thing I have liked about Naz is that he fights. I guess I just have one of those good ol' Canadian mean streaks in me and love a guy who will drop the mitts. Especially a skill guy (Anyone else thinking of Brendan Shanahan?).
We are talking about a guy who's first fight was Victor Hedman. Yes, he fought a guy who will seamlessly transition to the WWE when he hangs'em up.
I don't know for certain, but I'd wager large amounts of money that Hedman could dunk without jumping. . .on a nine foot net anyways. Nazem is listed at 6'0 190ish. No wonder Grapes loves him so much.
Then you have the Backes fights! First game of this year, Snazzy Nazzy willingly fights that bruiser in a rematch from last year, off the opening draw. You gotta love the heart! I really would like to see him punch out Crosby for all the times he gave Naz a hard time when he was younger, but maybe that's just me.
We all know Nazem has also embraced his new role as a shutdown center. God bless him. I watch how these young rookie phenoms, who we luckily have, are treated so much better in comparison. You'd have to be not human to be in Kadri's shoes and not at least notice the glaring difference between his own early days as a highly-touted prospect / saviour to Maple Leafs fans.
But he has not only taken it in stride, he signed a mega cheap deal and has so far delivered on his end, and then some (Connor McWho?).
I guess the question that is just begging to be asked is: why do Leafs fans refuse to place Kadri on the pedestal in which he seems to deserve? Even I am hard on the guy. Somewhere around game 3 I tweeted "Lazy shift by Nazem Kadri".
But for every shift I have seen him take off, I have seen him pour his heart out trying to help the Leafs win in at least a dozen. I'm not saying we start making a bust for Legends row at the moment, but I think he would be a great choice to fire the C on his chest. We have him locked up for six seasons; he can handle the market, and is a big game player.
Maybe after treating Nazem Kadri so bad to start his career, he should be compensated with a little respect now. He has definitely earned it. By all of us.
This article originally appeared on