Toronto Maple Leafs' Mitch Marner Key to Success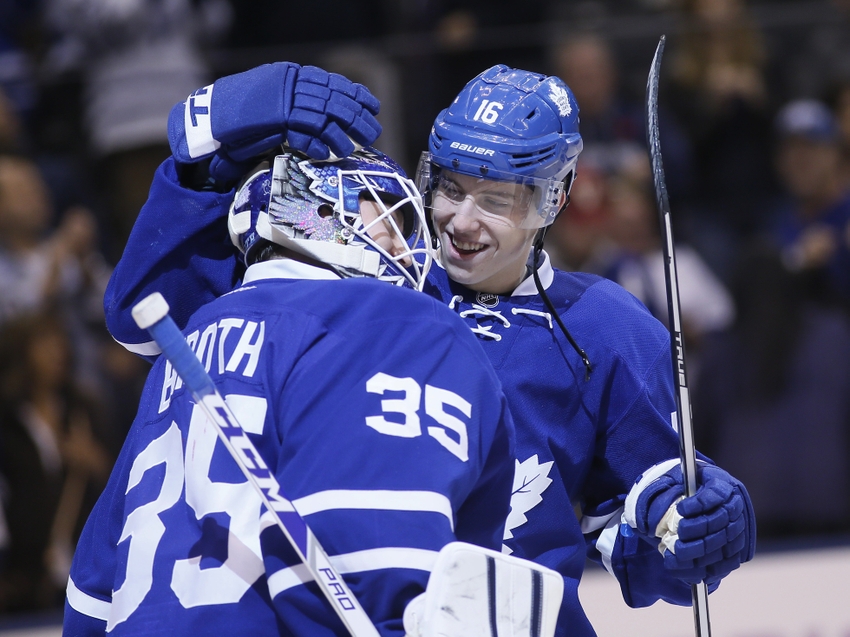 Toronto Maple Leafs forward Mitch Marner has been electrifying thus far, and the team seems to feed off his success as well
Young talent Mitch Marner has really come alive for Toronto over the past few weeks. He now has five multi-point games, including four in the last seven games. His seven goals tie him for fifth in the NHL, and second among rookies with Jimmy Vesey. He is also second in rookie scoring behind Patrik Laine, who has also played two more games than Marner.
Playing in the shadow of Auston Matthews, Marner did not take off til October 27, when he recorded three assists against the Florida Panthers. He slowed down for the next three games, but went on to record six goals and four assists over the next seven games with the Blue and White.
He is not only showing signs of more confidence, but breaking down the opposition to the point of individual dominance. His goal from last night was all the proof you need.
Impact on Fellow Maple Leafs
The most interesting part of Marner's success is his impact on the rest of the team. In fact, only a few days ago Head Coach Mike Babcock came right out and said "I've never coached a kid that good that young". Mind you, this is still the same team features the highly-touted phenom Matthews.
Get the FanSided App
When Marner scores a point, the Maple Leafs are an astounding 7-0-2. They are now one point out of the Eastern Conference Wild Card spot,  and showing signs of absolute dominance against respectable teams. While the win the against the Vancouver Canucks is not saying much, the victories over the Philadelphia Flyers, Nashville Predators, and Panthers do.
Even veterans like Tyler Bozak and James van Riemsdyk are reaping the benefits and look like newly-born players alongside Marner. With their top line having plenty of success, the depth throughout the Maple Leafs forward lines leaves something to the imagination.
The Maple Leafs are riding a two-game win streak thanks to the phenomenal play of their young squad, primarily Marner. They will take on the Montreal Canadiens this Saturday on the road, but will not play again till next Tuesday at home against the Carolina Hurricanes.
For Leafs Nation, finishing the week undefeated would be great, but beating the Canadiens to do so would be even better. Mitch Marner's play could dictate the results.
This article originally appeared on