Toronto Maple Leafs: Matt Martin, Leafs MVP?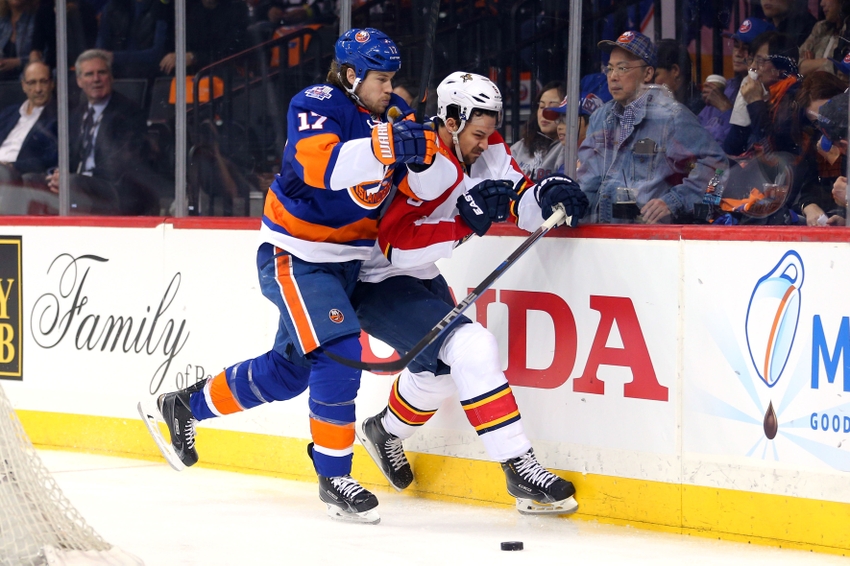 Do the Toronto Maple Leafs have an MVP that isn't consistently in the headlines?
Let's take a look at Toronto Maple Leafs tough guy Matt Martin and his value as MVP for the team.
Value:
Be honest, did you ever really think that you would see the letters "M-V-P" next to Matt Martin's name? No? Well, me neither. Yet after watching him play throughout the first eighteen games of the 2016/2017 season, it's becoming more and more clear how valuable the left winger is to the Leafs success.
Now just hear me out before you bash the above statement and start losing your mind. Matt Martin was signed by the Toronto Maple Leafs with a pretty nice four-year, $10 million dollar contract. That equals out to $2.5 million dollars a year if you do the math. Most people would say that the Leafs acquired a rather expensive goon, while others, like myself, would say that they invested in a solid enforcer to provide some insurance for the young players on the team.
Protection:
Let's look a the Leafs' current roster. There are currently seven rookies playing for the team this season. The two big names that stick out are none other than Mitch Marner, and the number one draft pick, Auston Matthews.
Let's not forget other young players such as Connor Brown, and William Nylander. You can look at these four players in particular and feel pretty confident in their hockey playing abilities, but what they need , no matter how fast or good they are with the puck, is someone to watch their backs.
Now sure, you can argue that the Leafs already have tough players such as Nazem Kadri, Leo Komarov, and Morgan Rielly. Each of these players have proven that they're not afraid to drop their gloves and go when needed.
However, these are three top line players who the Leafs cannot afford to have sitting in the penalty box. Which is where the 6'3, 220 pounder, Matt Martin, becomes a necessity.
Resume:
If you watched Martin during his time with the New York Islanders, you can see that he was no joke when it came to protecting his teammates.
During the 2014/2015 season, he set the NHL record for most hits with a total of 382 checks. Now he's no Gretzky or Crosby, but where Martin lacks in puck skill, he definitely makes up for in ice presence.
Team Player:
The fact that Martin is such a defensive forward makes him an interesting pairing for most of the team. If paired with a highly offensive right winger, and a solid back and forth forward, he can open up plays that just aren't possible with the smaller guys.
The way he jumps to protect his fellow teammates is a valuable asset that Coach Mike Babcock must appreciate since it tells other teams that they can't mess with the young guys such as Matthews and Marner, and if they do, they'll have someone to answer to.
So will #15 Matt Martin hold a valuable position in the Leafs' current rebuilding process? Only time will tell. For all we know, he may be drafted in the Las Vegas expansion draft. The main thing to take away from this is that the Leafs have him right now, and they need use him to their advantage if they want to make sure their star players are protected.
This article originally appeared on