Toronto Maple Leafs: Likes, Dislikes, And On The Fence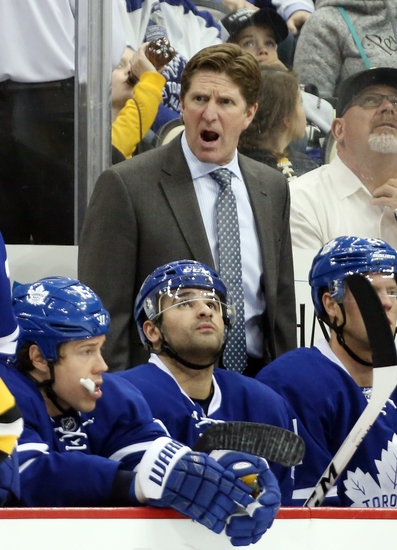 Helluva snoozer last night against Carolina! Hats off to the Canes, they played a great road game. While watching, I decided to make a short list of things I like and dislike this year for the Toronto Maple Leafs.
I'm sure there are others I am forgetting, but here is the first wave of Toronto Maple Leafs likes, dislikes and on the fence:
Like: Mike Babcock emptying his bench
Mike Babcock has been managing his rookies' ice-time in a way that would make John Gibbons proud. One of the biggest knocks against any rookie is their penchant for getting worn down as the year goes on.
This team is close to a playoff spot. Even though it is driving people crazy, those minutes could translate into some juice in the legs come crunch time. However, I can relate to those pulling their hair out when Ben Smith takes a lap while we are down 1 goal with 8 minutes to go.
Dislike: The Leafs PP zone entry
There is nothing that makes this team look more confused and full of rookies as when three of them are lined up on the blue line while a trailer pushes the puck through. I get that it is a standard zone entry, and many coaches use it, but the Leafs do not execute it well.
I am in no means keeping track of this statistic, but I have never seen a team go offside more on the PP in my life. What's worse, tonight Bozak made an ill-advised pass that led directly to a short-handed goal. Time to mix the zone entries up, because it looks weak.
Like: Morgan Rielly exploding into offensive zone
I saw at least 2 times where Morgan Rielly just kicked it into high-gear and ended up with a decent low/medium danger scoring chance.
I think the Leafs are at their most effective when their speedy d are jumping into or leading the rush. When I say speedy, I mean Zaitsev, Gardiner, and Rielly obviously. For the love of god, do not activate Hunlak!
Dislike: Auston Matthews on the point
It kills me to have to see Matthews on the point during the powerplays. Its bad enough the guy is playing centre, on a line so green it doesn't even need an outfit for St Patrick's Day.
You see Laine running away with the Calder because he plays the cushy wing to Mark Scheifele. Why not get Matthews some time in the slot to duplicate some of Marner's magic? He has so much responsibility as a rookie!
Dislike: Marner and Matthews never together
Am I the only person dying to see this? Did it happen before and I missed it? I just would love to see this line one time: Marner-Matthews-Brown. One game, that is all I ask.
Like: Frederik Andersen is a beauty
Andersen has bounced back in a big way. Oh sure, I could go look up some stats like his improved GAA and save percentage, but I don't need it.
Plus, it's a lot of work. He has been showing up every game since his rocky start and good on him. He even has been handling the puck well. For a guy resorting to the eye-test here, I like what I am seeing!
On the Fence: is Jake Gardiner a hero or zero?
OK, overall, I come out pro-Gardiner. But he has tested me. Lord, he has tested me.
The problem with Jake is his gaffes are usually so brutal that they resonate with you forever. At the same time, you take his speed for granted. In the last couple of games Riverboat Jake has been gambling on two-on-ones, and winning every time.
My Twitter feed is a daily war on his value (I'm not kidding, James Tanner will throat punch you!), I am perfectly comfortable having him as a 3-4 and Morgan Rielly as a 1-2 so that there are multiple defensive pairings with a good puck-rusher.
On the Fence: Marner, Kadri, and the Zebras
One thing I have noticed tonight is how much hooking Marner got away with! Don't get me wrong. This makes me very happy. I hope he hooks so much that he eventually moves to Central Park.
Maybe he is just great at doing it when the zebras can't see, and power to him if he is an opportunist. Im a huge Marner fan. But on the flip side, if Kadri even sings out of tune in the shower he is liable to get five and a game. Might be a situation where your reputation truly does precede you. In any event, I noticed it and wonder if anyone else does?
At the end of the day, I have copious amounts of faith in Sweet Lou and Babcock to know more than me about what the Leafs need to do, both on and off the ice, moving forward. If you have any thoughts or comments, please follow me on Twitter.
This article originally appeared on