Toronto Maple Leafs: Kadri Gets Another Chance To Shadow McDavid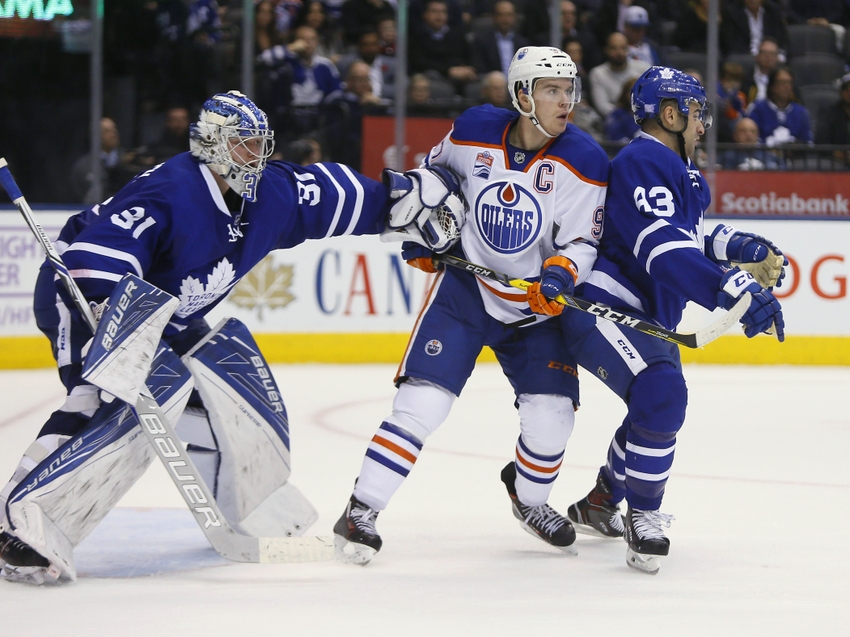 Toronto Maple Leafs pest Nazem Kadri will likely be getting McDavid-duty tonight as the Leafs play the Edmonton Oilers.
The Toronto Maple Leafs forward was hounding Connor McDavid in their earlier meeting this year, drawing the ire of Milan Lucic and the rest of the Oilers.
That's the stuff that Kadri lives for these days, though.
He may not take McDavid off of his game, but he'll shadow him very well and put the focus on himself from other players like Lucic who can also contribute offensively when they aren't distracted.
It's nearly impossible to remove McDavid from a hockey game, but you can take away the rest of his weapons by angering them – which isn't too hard in Milan Lucic's case.
Lucic is hot-head that loses his temper at the drop of a hat, which is right up Kadri's alley. Kadri doesn't have to fight Lucic, and no one should expect him to, but he should agitate him – or poke the bear if you will.
At one point in the last matchup, Kadri was jawing with the Oilers bench after a shift and Mike Babcock had to move his star pest to the center of the Leafs bench just to calm things down.
That's a win for Kadri and a win for the Leafs. Kadri's ability to bother the opposition should be a focal point for the Toronto Maple Leafs game plan tonight – and it's a very important one.
If the Oilers are focused on tearing Kadri limb from limb, they aren't focused on Matthews, Nylander or Marner as they skate through the remainder of the Oilers lineup that isn't named McDavid.
In the last meeting, the Leafs won 3-2 with two goals coming from Kadri and they'll be looking to get the same outcome on the scoreboard tonight as they continue to shock the hockey world as they sit well above last place.
This article originally appeared on