Toronto Maple Leafs: Individual Point Predictions Pt. II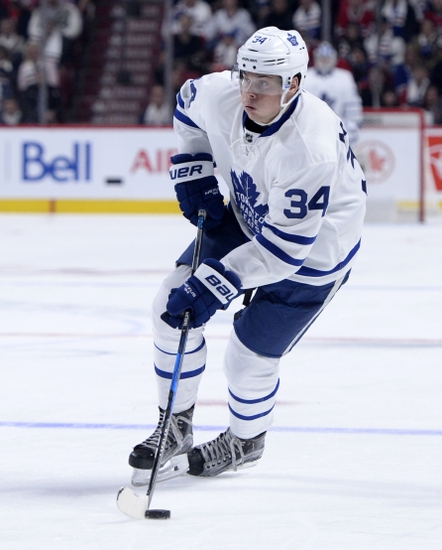 For the sake of simplicity, I am assuming each person plays a full 82 games for the Toronto Maple Leafs. While this is unrealistic for most players, it is the only fair way to compare each on the same level.
At seasons end, I will go back and review my predictions for the Toronto Maple Leafs.
I will judge it on how close I was to each player's goals, assists, and points based on a per game average.  This is the best way to take out the factor of players playing less than 82 games in the season.
In this, Part II of my predictions, I include the real top line of Matthews, Nylander, and Hyman, as well as the top checking line of Kadri, Komarov only. (Michalek has been sent to the Marlies and is expected to stay there so I am going to forgo my Michalek predictions).
Nazem Kadri
Last Season: 76 GP, 17 G, 28 A, 45 P
Prediction: 20 G, 24 A, 44 P
Kadri is fitting in nicely in an offensive checking type of role. As Babcock puts it, he seems to do better when he has a defined role.  And unmistakably, he found his role this season going up against the opposing teams top line.
With Naz playing against top opponents each night, it may be difficult for him to successfully create enough offense to lead the team but he can do a good job limiting the Mcdavid's of the NHL.
With limited skill on his wing, and a weak shot, don't expect Kadri to be much more than he was last year.
Unless he can improve on his wrist shot and start taking some shots closer to the net, and not at the top of the circle each time he enters the offensive zone, 20 goals seems like a fair prediction going up against the top offensive talent in the league. It may not be what Kadri thinks he can do, but it is still a lot without having much skilled help on his wings.
Leo Komarov
Last Season: 67 GP, 19 G, 17 A, 36 P
Prediction: 17 G, 21 A, 38 P
Playing in a checking role this year, a role in which he is best suited for, I do not expect Leo to come out blazing with assists and points as he did at the start of last year.
With a bunch of skilled rookies, Komarov can now sit back offensively and play on the PK and against other teams top lines.  Leo is a solid grinder but expecting as much out of him this year than last year is too much for a guy that will be playing hard minutes in a defensive role all season.
Expect Babcock to go to Leo many times throughout the season to help close out close games and to spark some motivation when they find themselves on their heels.  Leo will be expected to play hard against top opponents, finish each of his checks, and be a mentor in the locker room. Expect a quieter season for Leo this year.
Zach Hyman
Last Season: 16 GP, 4 G, 2 A, 6 P
Prediction: 13 G, 18 A, 31 P
Babcock loves having two skilled players and a gritty player on the same line.  Two guys to have some fun with the puck, and one guy to open up the ice and win puck battles for the two skilled guys.  We all know which one Hyman is.
Zach has a knack for coming out of corners with the puck and with Matthews always hanging out in the slot, expect Hyman to find him a few times. Expect Hyman to be a guy Babcock singles out many games throughout the season as one of the best on the ice because he seems to bring it each and every game, even if it's not shown on the score sheet.
Auston Matthews
Last Season: N/A
Prediction: 24 G, 34 A, 58 P
A player with immense talent of holding onto the puck and can stick handle in tight, Matthews is going to be the top line center on this team by seasons end.
He is expected to play with Nylander and Hyman all season, which is a perfect combination picked out by Babcock early in the preseason.  With the talent of Nylander, and grit of Hyman, Babcock gets his two talented players with an energy player that he likes to ice.
When I see Auston Matthews play, I see Toews.  I see a Selke in the not too distant future.  I expect Matthews to become the Captain of this team in two years and become a dominant player in the league. As for this season, expect sheltered minutes before Christmas and much tougher minutes after the All-Star break. Similar goals to Eichel had last year was my reference point for Matthews this season.
William Nylander
Last Season: 22 GP, 6 G, 7 A, 13 P
Prediction: 22 G, 28 A, 50 P
I have not been able to pin point exactly what I love about Nylander yet, but that may just be a sign that he is so well rounded offensively. He has the speed, the vision, the shot, and the patience to be a big league player in the NHL.  With a centerman like Matthews, Nylanders potential is exponentially higher than with anyone else.
Matthews rocket passes will serve Nylander well across ice and open up lots of room for him to fire away. I expect Matthews and Nylander to work off of each other very well for some beauty goals. I would think Nylander will be taking JVR's spot as the top scoring winger on the team in a year or two.
This article originally appeared on