Toronto Maple Leafs Having One Of Their Best Seasons In Cap Era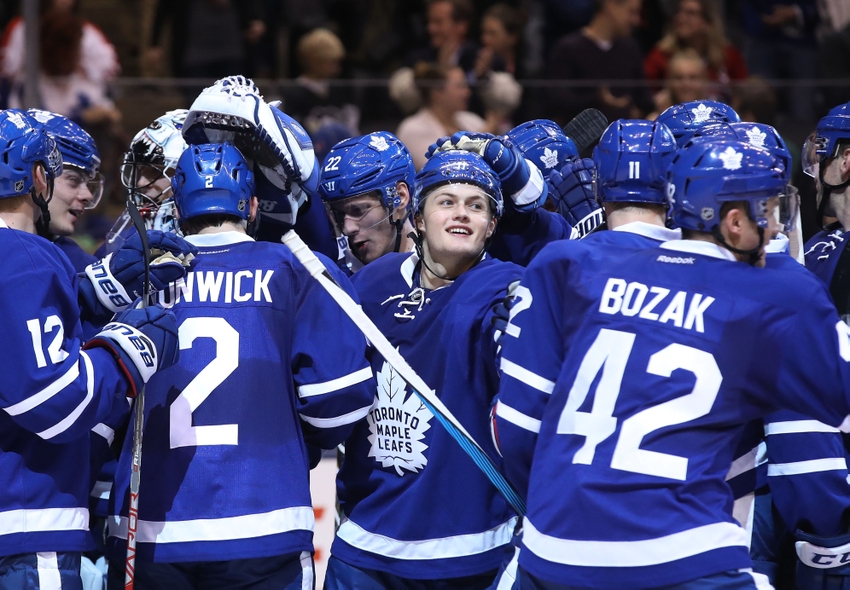 Despite the ups and downs, the Toronto Maple Leafs are having one of their best seasons of the salary cap era.
Not only are the Toronto Maple Leafs a continually improving possession team with a bevy of young superstars, their staring at one of their best modern era campaigns.
Let's say the Leafs hit 82 points, based on their point per game pace right now. Only six times in the last 11 seasons (not counting this year) have they hit that mark.
Three of those seasons were 83, 84 and 85 point years – and there were actual expectations in those seasons.
In a year where the Leafs are expected to do nothing except develop their stars at the pro level, they're making waves around the league as a fast paced, fun team who has a chance on any given night.
Frederik Andersen isn't the blame holder anymore – and rightfully so. There isn't, really, anyone to blame. The defense is what it is, and that's OK. That will get fixed.
What's interesting is that all the pre-season polls had the Leafs scavenging for points at the bottom of the NHL dumpster. That's not the case in the reality of the year.
Toronto has been exceeding expectations for some and getting the results that others could imagine them doing with an increased amount of talent and health on the roster.
Losing to the Pittsburgh Penguins is nothing but a blip on a very big radar. They are the defending Cup Champions and favorites to repeat.
Let's get crazy and imagine the Leafs get four extra points beyond their current 82 point pace. That 86 point season would be the third highest point season (not considering the point per game pace of the sham shortened season) in the entire cap era. With rookies. A lot of rookies.
This team is more than trending in the right direction – they're closer than everyone thinks they are to being a playoff team.
This is a fun team to watch, and none of the players deserve the blame on a nightly basis. Everyone knows the struggles of Polak, Hunwick and Marincin, as well as the strangeness of Ben Smith and Matt Martin. Despite all of that, they are still a point per game team nearing the quarter mark of the season.
That's impressive and humbling considering they were pegged by many to be one of the worst teams in the league.
If the Leafs can keep up what they're doing and close ranks on defense a little then they will be closer to 86 points than many want to believe – but it's certainly not impossible.
This article originally appeared on