Toronto Maple Leafs F Nazem Kadri Finally Catching His Stride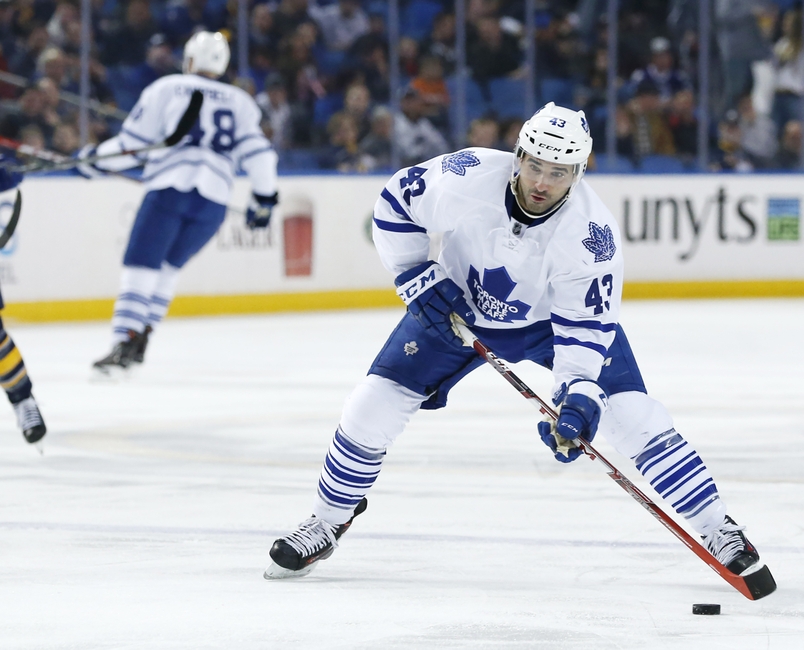 After 7 years in the league, Toronto Maple Leafs F Nazem Kadri has seemed to find his footing and is embracing the new role that helped him be so successful in his junior days.
When Toronto Maple Leafs F Nazem Kadri was selected 7th overall in 2009, everyone in the NHL thought Toronto found their man. He was originally selected to be the new face of the franchise and number one center. However, Kadri didn't catch the stride that he was expected and projected to reach. Some fans, analysts, and even management thought he was going to be the next great Maple Leafs forward.
But things don't always work out as planned.
Kadri would make a brief appearance in 2009-10. And he would only play one game before going back to London of the OHL. But in 2010-11 things didn't get that much better for Nazem. He would only appear in 29 games. During that span, Kadri scored 3 goals with 9 assists for 12 points. Due to the offensive output (or lack thereof), he spent the rest of the year with the Toronto Marlies of the AHL.
While with the Marlies, Kadri played 44 games scoring 41 points. Was this a sign of things to come or what is just AHL luck? It was AHL luck. Cause next season he would only play in 21 games for Toronto this time only scoring 7 times. And yet again being sent back down to the Marlies to finish off the year.
While back down in the AHL, Nazem appeared in 48 games having himself another 40+ point season. However, during the lockout-shortened 2012-13 season, Kadri would play all 48 contests for Toronto. And during that year, he would put up a surprising 44 points. The beginning of the season was spent with the Marlies, where in 27 games he had 26 points.
This offensive output demonstrated by Kadri was what everyone was hoping for. And in the 2013-14 season, he'd finally hit 50 points. He did so in only 78 games. But history does repeat itself and in 2014-15, Kadri went through a regression. In 73 games he only scored 18 goals with 21 assists for 39 points.
All directions were pointing to Nazem becoming a draft bust. But during the 2015-16 season, he would have a slight increase in point production. Where in 76 games he had 45 points. So maybe Kadri isn't the offensive dynamo he was expected to be. Maybe he's a different type of player.
Get the FanSided App
So far this season it seems he has finally caught his stride. Through 14 games so far, Nazem has 6 goals and 4 assists for 10 points. He's also a -2, not his best, but not his worst. So far this season he's filled more of a defensive role while playing with Leo Komarov and Connor Brown. In doing so he's given and received more hits. As well as being more active with his stick when he doesn't have the puck. So in hindsight Kadri went from an offensive prodigy to a responsible defensive center.
Watching him so far this season you can really tell he's caught his stride as a player. But under Mike Babcock, you either play the way he wants you to, or you don't play at all. So far Kadri is on pace for 57 points, which would be his highest total to date. So will he continue this sort of play? Or will he regress again? No one really knows until this season is over and next season starts. But for the sake of Maple Leafs fans and management, let's hope he continues it. Cause he's played very well this year.
What do you think Toronto Maple Leafs F Nazem Kadri will do? Do you think he will continue this upward style or regress?
This article originally appeared on