Three reasons Buffalo Sabres should trade Evander Kane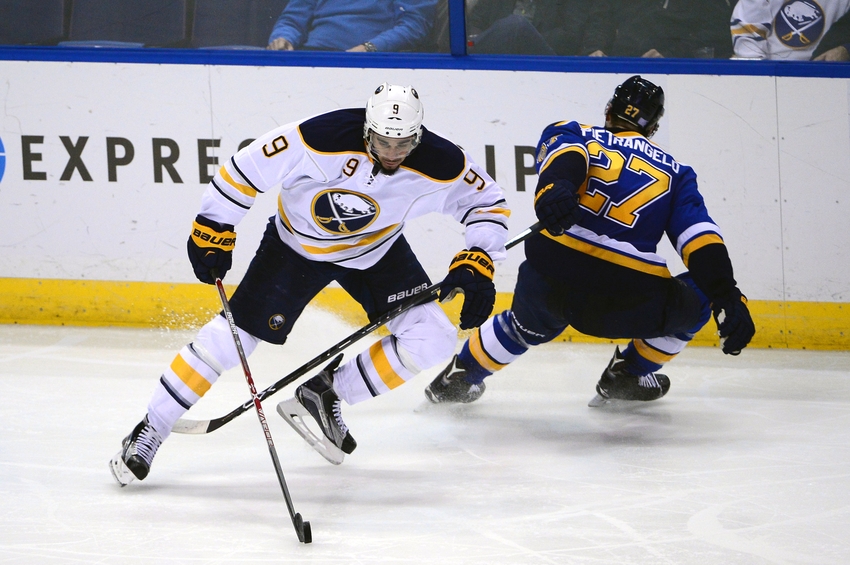 Trading Evander Kane makes a lot of sense for the Buffalo Sabres. Here are three reasons why. 
At the 2014-15 NHL trade deadline, the Buffalo Sabres made the biggest splash by trading for Winnipeg Jets forward Evander Kane. They didn't have to give up too much to get him and they even managed to pick up Zach Bogosian as well. However, less than two years after the trade, Buffalo is willing to move Kane.
When Kane returned to the lineup last week against Ottawa, attendance was high in the scouting section. Sometimes that happens when there's a light schedule. But there's little doubt Kane will be watched closely, because the Sabres are willing to move him.
Buffalo has accumulated some forward depth since acquiring him from the Jets. With the emergence of Sam Reinhart and the future emergence of Alex Nylander, Kane doesn't fit into the Sabres' future plans. They're still a rebuilding team, so it makes very little sense to keep someone if you know they'll soon be surplus.
Here are three reasons the Sabres should trade Evander Kane.
3. Off-the-ice issues
Kane has been productive on the ice, for sure. However, off the ice, he has been nothing short of a liability.
This isn't new either, as Kane had issues in Winnipeg as well. Buffalo took a chance on a troubled wing when they traded for him, and while Kane hasn't been formally charged with anything, he has been involved in several incidents. Trading him now might save Buffalo some embarrassment.
Of course, these issues might also lessen the price for Kane. However, most teams have proven they don't particularly care what a player does as long as he isn't charged and as long as he's a good player. It's rare to find a goal-scoring talent like Kane on the market, so despite his issues, Buffalo should get a solid return. And it might save them from a public relations disaster.
2. Teams are interested
Twenty-goal scorers don't always hit the market. Naturally, teams are interested in Evander Kane because he can score goals. Elliotte Friedman notes the Vancouver Canucks and Minnesota Wild are just two of the teams interested in him. Both teams are looking to add scoring and can offer the Sabres a young defenseman.
While Buffalo isn't getting a star defenseman for Kane, if they play their cards right, they can at least get a quality one. Vancouver could offer them Eric Gudbranson, who could be surplus soon. Also, they might be willing to give up Troy Stecher, a promising young defenseman who has impressed in limited playing time. Stecher might be shooting for the stars, but Canucks general manager Jim Benning is willing to pay premium prices to get what he wants.
Minnesota makes a bit more sense than Vancouver because they can afford to pay a bit more. Bruce Boudreau loves snipers like Kane. If anyone can harness the former first round pick's talent and help him realize his true potential, it's Boudreau. Buffalo would likely have to add a draft pick, but they can easily get one of Minnesota's promising defensemen for Kane.
Those are just two of the teams interested. The New York Islanders want a forward but they don't want to pay a premium. Might they be interested in Evander Kane?
1. Buffalo doesn't need him
It's always good to have forward depth. Injuries are bound to happen and having quality players to step up is never a bad thing. However, the Sabres don't need Evander Kane anymore. In fact, he might be an extra part fairly soon.
Buffalo has already committed a large sum of money to Tyler Ennis. Like Evander Kane, Ennis is a left wing. They could easily replace Kane with a free agent or they could move one of their right wings over to the left side. Sam Reinhart had success in juniors playing on the left side despite being right handed.
Also, Kane might interfere with Buffalo keeping its young stars. The Sabres must stay focused on keeping Jack Eichel, Sam Reinhart, and their other key pieces around long-term. They have enough depth that replacing Kane likely won't be an issue. He's likely gone after next season, so why not get something for him now?
Finally, Buffalo needs to upgrade their defense. Trading a young forward doesn't make too much sense. However, trading Evander Kane, who is a proven asset, makes sense. Goal scoring is at a premium in today's NHL and teams will compensate Buffalo nicely should they decide to trade Kane.
This article originally appeared on