Team Sweden: World Juniors Roster Predictions/Snubs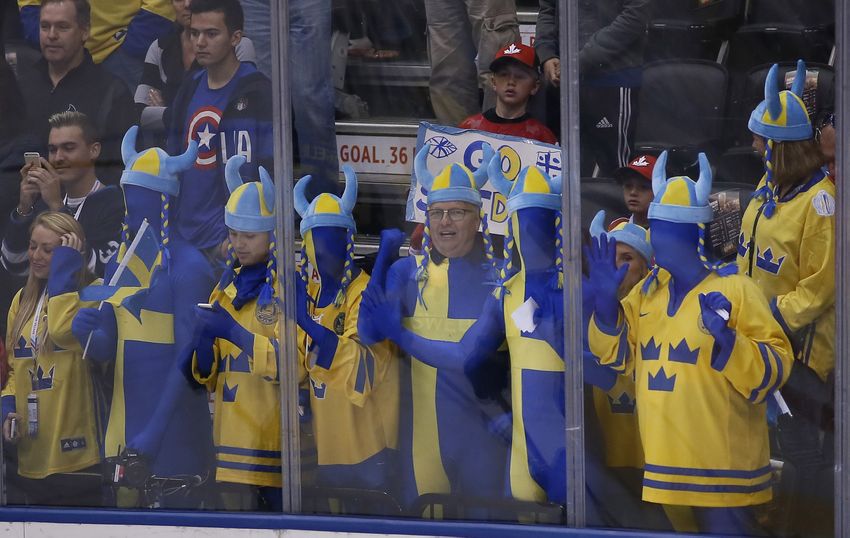 Team Sweden World Juniors Roster Predictions/Snubs: Swedes Look for Revenge After Embarrassing 8-3 Loss to Team USA in Last Year's Bronze Medal Game
Team Sweden announced its preliminary World Juniors roster earlier this week. The list contains 26 names, including a noticeable omission in top ranked 2017 defenseman Timothy Liljegren.
Coach Tomas Monten believes he has the eight defensemen he wanted in camp, but you've gotta wonder if this might work similarly to Jakob Chychrun. The Canadian was snubbed in 2016 and fell down draft boards in June. Once the dust settled, he wound up proving he was the most NHL ready defenseman of the class.
Team Sweden will open camp on December 14th in Kingston, Ontario as they look to get down to 23 players.
The Swedes will have 8 returnees in 2017: G Felix Sandstrom, D Gabriel Carlsson, D Jacob Larsson, F Rasmus Asplund, F Joel Eriksson Ek, F Carl Grundstrom, F Jens Looke, and F Alex Nylander
This year's World Junior Championship will be held in Montreal and Toronto. Of the 10 countries participating: Finland, Russia, USA, Sweden, Czech Republic, Canada, Slovakia, Denmark, Switzerland, and Latvia.
Group A (Will Play at Bell Centre in Montreal)
Finland
Sweden
Czech Republic
Denmark
Sweden
Group B (Will Play at Air Canada Centre in Toronto)
Russia
USA
Canada
Slovakia
Latvia
Team Sweden Schedule
Dec.26 – Sweden vs. Denmark (1:00pm et)
Dec.28 – Switzerland vs. Sweden (5:00pm et)
Dec.29 – Finland vs. Sweden (5:30pm et)
Dec.31 – Sweden vs. Czech Republic (1:00pm et)
The quarterfinals are set to be played on January 2nd following the first relegation game at 11am. The first QF is at 1pm in Toronto, the 2nd at 3:30pm in Montreal, 3rd at 5:30pm in Toronto, while the last will be played at 8pm in Montreal.
Game two of the best-of-3 relegation series takes places as the lone contest on January 3rd in Montreal.
On Jan.4th, semifinals kick off at 3pm in Montreal and wrap-up later that night at 7:30 (all semi and final games will be played at the Bell Centre).
The final day of action will be on January 5th beginning with game three of the relegation series (if needed). Later on, the Bronze Medal game takes place at 3:30pm, with the Gold Medal match-up taking place later that evening at 8pm.
Team Sweden Preliminary Roster
The Swedes invited four former 1st round draft picks to camp: F Joel Eriksson Ek (20th by MIN in 2015), D Jacob Larsson (27th by ANA in 2015), D Gabriel Carlsson (29th by CLB in 2015), and F Alex Nylander (8th overall by BUF in 2016).
Goalies:
Filip Gustavsson, Lulea (SWE) – Felix Sandstrom, Brynas (SWE) – Adam Werner, Farjestad (SWE)
Defensemen:
David Bernhardt, Djurgarden (SWE) – Gabriel Carlsson, Linkoping (SWE) – Lucas Carlsson, Brynas (SWE) – Rasmus Dahlin, Frolunda (SWE-jr) – Kristoffer Gunnarsson, Frolunda (SWE) – Oliver Kylington, Stockton (AHL) – Jacob Larsson, Frolunda (SWE) – Jacob Moverare, Mississauga (OHL)
Forwards:
Filip Ahl, Regina (WHL) – Lias Andersson, HV71 (SWE) – Rasmus Asplund, Farjestad (SWE) – Jonathan Dahlen, Timra (SWE-2) – John Dahlstrom, Medicine Hat (WHL) – Jonathan Davidsson, Djurgarden (SWE) – Joel Eriksson Ek, Farjestad (SWE) – Carl Grundstrom, Frolunda (SWE) – Fredrik Karlstrom, AIK (SWE-jr) – Jens Looke, Timra (SWE-2) – Alex Nylander, Rochester (AHL) – Sebastian Ohlsson, Skelleftea (SWE) – Elias Pettersson, Timra (SWE-2) – Tim Soderlund, Skelleftea (SWE) – Andreas Wingerli, Skelleftea (SWE)
Team Sweden World Juniors Roster Projection
Rasmus Asplund (BUF) – Joel Eriksson Ek (MIN) – Alex Nylander (BUF)
Carl Grundstrom (TOR) – Elias Pettersson (2017 draft eligible) – Jens Looke (ARZ)
Filip Ahl (OTT) – Jonathan Dahlen (OTT) – Jonathan Davidsson (undrafted)
John Dahlstrom (CHI) – Fredrik Karlstrom (DAL) – Sebastian Ohlsson (undrafted)
xs: Tim Soderlund (undrafted)
Gabriel Carlsson (CLB) – Jacob Larsson (ANA)
Oliver Kylington (CGY) – Jacob Moverare (LA)
David Bernhardt (PHI) – Lucas Carlsson (CHI)
xs: Kristoffer Gunnarsson (undrafted)
Felix Sandstrom (PHI) – Filip Gustavsson (PIT)
xs: Adam Werner (COL)
Top 10 Team Sweden Roster Snubs
1. D Timothy Liljegren, Rogle (SWE) – 2017 Draft Eligible
2. D Jesper Lindgren, MODO (SWE) – Toronto 4th round (95th overall) in 2015
3. D Gustav Bouramman, Sault Ste. Marie (OHL) – Minnesota 7th round (201st overall) in 2015
4. D Jacob Cederholm, HV71 (SWE) – Winnipeg 4th round (97th overall) in 2016
5. D Linus Nassen, Lulea (SWE) – Florida 3rd round (89th overall) in 2016
6. D Filip Berglund, Skelleftea (SWE) – Edmonton 3rd round (91st overall) in 2016
7. F Linus Lindstrom, Skelleftea (SWE) – Calgary 4th round (96th overall) in 2016
8. F Axel Jonsson-Fjallby, Djurgardens (SWE) – Washington 5th round (147th overall) in 2016
9. F Jesper Bratt, AIK (SWE) – New Jersey 6th round (162nd overall) in 2016
10. F Oskar Steen, Farjestad (SWE) – Boston 6th round (165th overall) in 2016
This article originally appeared on