Team Finland: World Juniors Roster Predictions/Snubs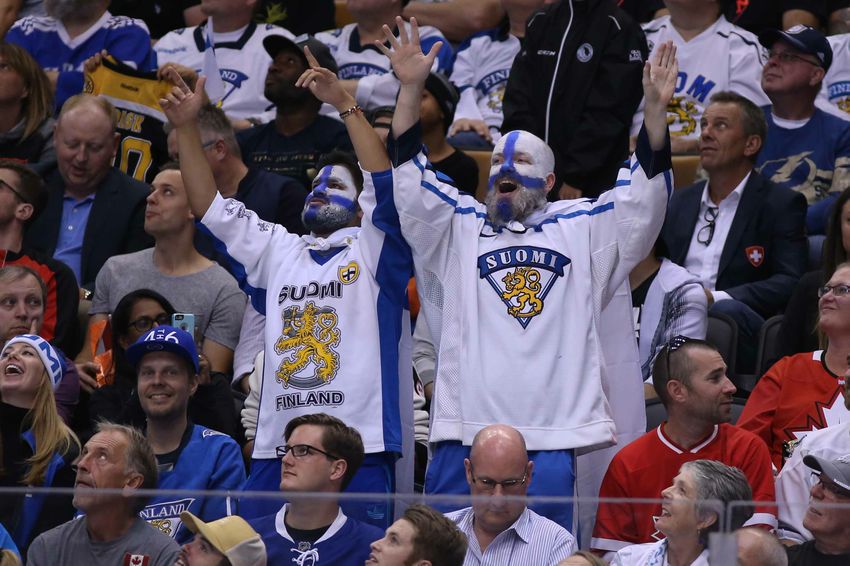 Team Finland World Juniors Roster Predictions/Snubs: The Finns look to defend their 2016 title, but they'll have to do it without guys like Jesse Puljujarvi, Patrik Laine, and Sebastian Aho
Team Finland announced its preliminary World Juniors roster earlier this week. The list contains 28 names and camp will open up on December 12th in Sherbrooke, Quebec.
The Finns have two first-round draft picks in camp. Returnee Olli Juolevi went 5th overall to Vancouver this past June and should be a driving force for the second tournament in a row. Then, they've got Henrik Borgstrom, who was a surprise selection at 23rd overall by Florida. So far in 2016-17, he's a point-per-game player at the University of Denver (NCAA).
Team Finland will have 4 returnees in 2017: G Veini Vehvilainen, D Olli Juolevi, D Vili Saarijarvi, and F Kasper Bjorkqvist
This year's World Junior Championship will be held in Montreal and Toronto. Of the 10 countries participating: Finland, Russia, USA, Sweden, Czech Republic, Canada, Slovakia, Denmark, Switzerland, and Latvia.
Group A (Will Play at Bell Centre in Montreal)
Finland
Sweden
Czech Republic
Denmark
Sweden
Group B (Will Play at Air Canada Centre in Toronto)
Russia
USA
Canada
Slovakia
Latvia
Team Finland Schedule
Dec.26 – Czech Republic vs. Finland (5:00pm et)
Dec.27 – Denmark vs. Finland (5:30pm et)
Dec.29 – Finland vs. Sweden (5:30pm et)
Dec.31 – Finland vs. Switzerland (5:30pm et)
The quarterfinals are set to be played on January 2nd following the first relegation game at 11am. The first QF is at 1pm in Toronto, the 2nd at 3:30pm in Montreal, 3rd at 5:30pm in Toronto, while the last will be played at 8pm in Montreal.
Game two of the best-of-3 relegation series takes places as the lone contest on January 3rd in Montreal.
On Jan.4th, semifinals kick off at 3pm in Montreal and wrap-up later that night at 7:30 (all semi and final games will be played at the Bell Centre).
The final day of action will be on January 5th beginning with game three of the relegation series (if needed). Later on, the Bronze Medal game takes place at 3:30pm, with the Gold Medal match-up taking place later that evening at 8pm.
Team Finland Preliminary Roster
Forwards:
Kasper Bjorkqvist, Providence (NCAA) – Henrik Borgstrom, Denver (NCAA) – Jouka Juhola, Assat (FIN-jr) – Otto Koivula, Ilves (FIN) – Janne Kuokkanen, London (OHL) – Joona Luoto, Tappara (FIN-jr) – Julius Mattila, Boston College (NCAA) – Julius Nattinen, Windsor (OHL) – Petrus Palmu, Owen Sound (OHL) – Aapeli Rasanen, Sioux City (USHL) – Arttu Ruotsalainen, Assat (FIN) – Eeli Tolvanen, Sioux City (USHL) – Teemu Vayrynen, TPS (FIN) – Kristian Vesalainen, HPK (FIN) – Aaro Vidgren, Lukko (FIN)
Defensemen:
Miro Heiskanen, HIFK (FIN) – Olli Juolevi, London (OHL) – Otto Leskinen, Kalpa (FIN) – Jesper Mattila, Boston College (NCAA) – Jarkko Parikka, Ilves (FIN) – Juho Rautanen, Jokerit (RUS) – Vili Saarijarvi, Mississauga (OHL) – Robin Salo, Sport (FIN) – Urho Vaakanainen, JYP (FIN) – Juuso Valimaki, Tri-City (WHL)
Goalies:
Karolus Kaarlehto, Tuto (FIN-2) – Markus Ruusu, JYP (FIN-2) – Veini Vehvilainen, JYP (FIN)
Team Finland World Juniors Roster Projection
Janne Kuokkanen (CAR) – Henrik Borgstrom (FLA) – Kasper Bjorkqvist (PIT)
Eeli Tolvanen (2017 draft eligible) – Aapeli Rasanen (EDM) – Petrus Palmu (undrafted)
Teemu Vayrynen (undrafted) – Julius Nattinen (ANA) – Kristian Vesalainen (2017 draft eligible)
Joona Luoto (undrafted) – Julius Mattila (2017 draft eligible) – Aaro Vidgren (undrafted)
xs: Arttu Ruotsalainen (undrafted)
Olli Juolevi (VAN) – Vili Saarijarvi (DET)
Jesper Mattila (undrafted) – Juuso Valimaki (2017 draft eligible)
Robin Salo (2017 draft eligible) – Miro Heiskanen (2017 draft eligible)
xs: Jarkko Parikka (undrafted)
Veini Vehvilainen (undrafted) – Markus Ruusu (DAL)
xs: Karolus Kaarlehto (undrafted)
Top 10 Team Finland Roster Snubs
1. D Markus Niemelainen, Saginaw (OHL) – 3rd round (63rd overall) by EDM in 2016
2. F Otto Koivula, Ilves (FIN) – 4th round (120th overall) by NYI in 2016
3. F Eetu Tuulola, Everett (WHL) – 6th round (156th overall) by CGY in 2016
4. F Markus Nurmi, TPS (FIN-jr) – 6th round (163rd overall) by OTT in 2016
5. D Niclas Almari, HPK (FIN) – 5th round (151st overall) by PIT in 2016
6. D Veeti Vainio, KooKoo (FIN) – 5th round (141st overall) by CLB in 2015
7. D Tarmo Reunanen, TPS (FIN) – 4th round (98th overall) by NYR in 2016
8. F Joona Koppanen, Ilves (FIN-jr) – 5th round (135th overall) by BOS in 2016
9. D Henri Jokijharju, Portland (WHL) – 2017 draft eligible
10. *F Jonne Tammela, Peterborough (OHL) – 4th round (118th overall) by TB in 2015
*currently injured
This article originally appeared on