Tampa Bay Lightning Re-Sign Nikita Kucherov For Three Years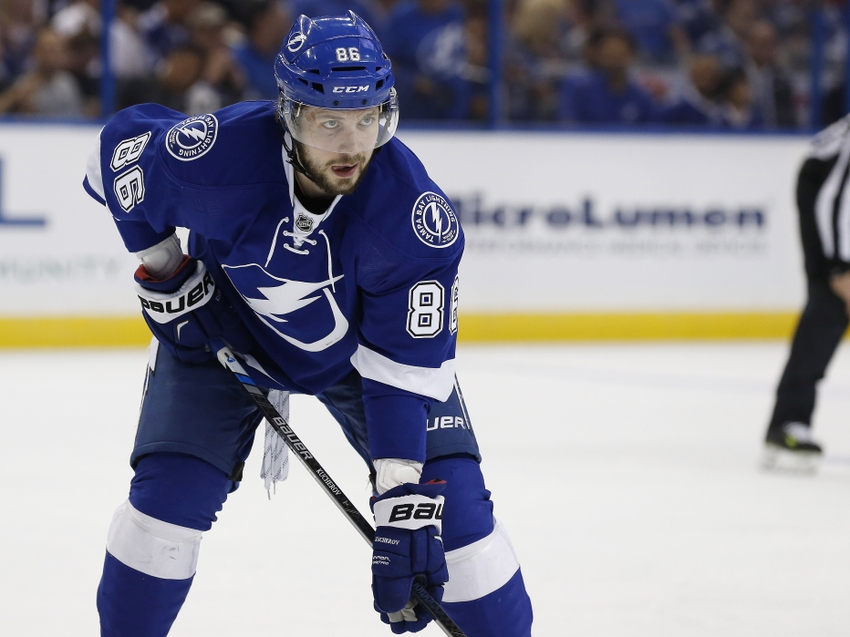 The Tampa Bay Lightning have finally sealed the deal with forward Nikita Kucherov, just two days before the start of the 2016-17 season.
The moment Tampa Bay Lightning fans have been waiting on the edge of their seats for has finally come to pass. The Tampa Bay Lightning have finally re-signed their 2015-16 leading point scorer, Nikita Kucherov.
According to a Press Release from the Tampa Bay Lightning, Lightning Vice President and General Manager Steve Yzerman has announced Kucherov' new deal is worth $4.766 million per season. In other words, Nikita Kucherov' new extension with the Tampa Bay Lightning is worth a total of $13.98 million.
The new deal will see Kucherov in a Lightning jersey through the 2018-19 season. Obviously, this is not the kind of deal fans have seen come out of the Tampa Bay Lightning camp this season.
World Cup of Hockey 2016 Final: Team Canada Vs. Team Europe – Live Stream, TV Info
Players like Lightning captain Steven Stamkos and defenseman Victor Hedman signed on for another eight years while players like Alex Killorn signed on the dotted line to remain here in the Bolts Nation for another seven years.
The reason for the short-term deal for Kucherov is glaringly obviously; money. At this particular point and time, a player like Nikita Kucherov could have demanded upside of $6 million. The simple and unfortunate truth of the matter is the Tampa Bay Lightning don't have that kind of money right now.
According to the NHL, each team must be cap compliant heading into the new season. While the Lightning do have a little bit of wiggle room with Lightning alternate captain Ryan Callahan heading into the 2016-17 season on Injured Reserve, but it's simply not enough to give Kucherov the kind of contract he deserves.
There are many bright sides to look at with this one. The most important is Nikita Kucherov is back and the Tampa Bay Lightning can enter the 2016-17 season without a giant black cloud hanging over their heads. At the same time, a lot can happen over the course of the next three years.
Hopefully, by the time Kucherov' contract is up at the end of the 2018-19 season, the Tampa Bay Lightning will have a different cap situation and can concentrate on locking the young Russian point-scorer up for many years to come.
This is definitely great news for the Tampa Bay Lightning and their fans. One of the final pieces to the complex puzzle that is the Tampa Bay Lightning have finally fallen into place and the Lightning can hit the ice with full force on Thursday night. The only question now is, are you ready to Be The Thunder?
More from Bolts by the Bay
This article originally appeared on