Tampa Bay Lightning: Former Bolts Having Success Elsewhere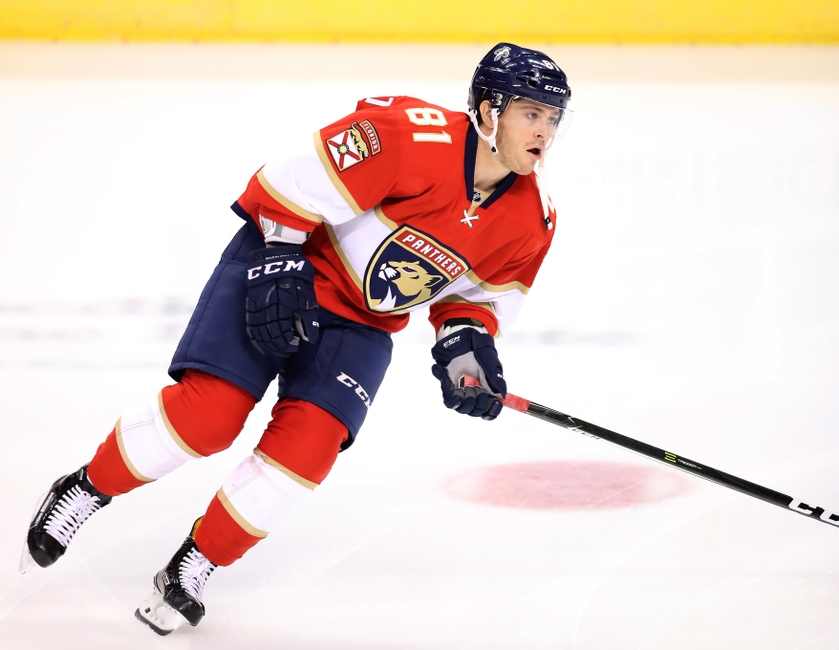 Over the years, the Tampa Bay Lightning has built a strong, talented core and acquired several key free agents, pushing some players out the door in search of new opportunities.
The Tampa Bay Lightning is one most of the talented and deep teams in the NHL and because of that, some players don't necessarily fit the system or receive as much playing time as the others. As a result, some of these former Bolts that didn't fit in were either traded to another team or they left via free agency to find a new place in the league.
More specifically, the two players that I'll focus on are center Jonathan Marchessault (Florida Panthers) and right winger Richard Panik (Chicago Blackhawks). If you've been keeping up with the league standings and top scorers this season, you'll have noticed that both Marchessault and Panik are in the top-15 in points, with the former in the top-10 overall.
Currently, Panik is tied for the league lead in goals scored with six to this point. Those also with six goals include this year's first and second overall NHL Draft picks in Auston Matthews and Patrik Laine, Philadelphia Flyers winger Wayne Simmonds, and Tampa Bay Lightning forward Alex Killorn.
Tampa Bay Lightning Suffer Second-Straight Road Loss In New Jersey
Marchessault, who is currently with the Florida Panthers, left the Tampa Bay Lightning during free agency this past off-season to join Florida, which had just come off of a franchise-record-breaking regular season.
The 25-year-old Quebec native already has 11 points in nine games and he's on pace to surpass his totals from last season (18 points in 45 games).
Originally having gone undrafted, Marchessault eventually found his way into the Tampa Bay Lightning organization after getting traded from the Columbus Blue Jackets at the 2014 trade deadline.
While he spent a majority of the time in the minors with the Syracuse Crunch, Marchessault got called up on the final day of the 2015 regular season.
On that same day, he scored a goal in the Lightning's 3-2 shootout victory over the Boston Bruins.
From there, as Tampa Bay stormed through the playoffs, he was reassigned to the Crunch to help them out during the AHL playoffs. Once Syracuse was eliminated, he was recalled and joined the team as part of the "Black Aces," which are AHL players who practice with the team and are usually scratched unless they are needed to fill in for an injured player.
And as last season progressed, Marchessault was often a healthy scratch and he found himself not receiving as much playing time as he desired, which was likely part of his thought process when deciding to seek other opportunities via free agency.
As for Panik, he's found success with the Blackhawks early on after struggling to find a consistent spot in an NHL lineup for most of his young career.
Want your voice heard? Join the Bolts by the Bay team!
He was originally drafted 52nd overall by the Lightning in the 2009 NHL Entry Draft and played in 75 games with Tampa Bay over two seasons, but from there, the young forward bounced around from the Lightning to the Toronto Maple Leafs and then to the Blackhawks.
The 25-year-old Czech Republic native has scored six goals and notched three assists thus far and has flourished on the top line with fellow forwards Jonathan Toews and Patrick Kane. As we know, those are two top players in the NHL and quite the linemates to be playing with. It's great to see that he's found some consistency and is playing on one of the NHL's more elite rosters.
While I wish these two players, and others, could have found more success with the Tampa Bay Lightning, it's nice to see them doing well elsewhere in the league.
Sometimes it just doesn't work out where you start and going to a new team can help when it comes to being more consistent or receiving some extra playing time. And though I'll be cheering for them wherever they end up, I won't be when they happen to face the Lightning.
More from Bolts by the Bay
This article originally appeared on