Tampa Bay Lightning Fan Fest: Everything You Need To Know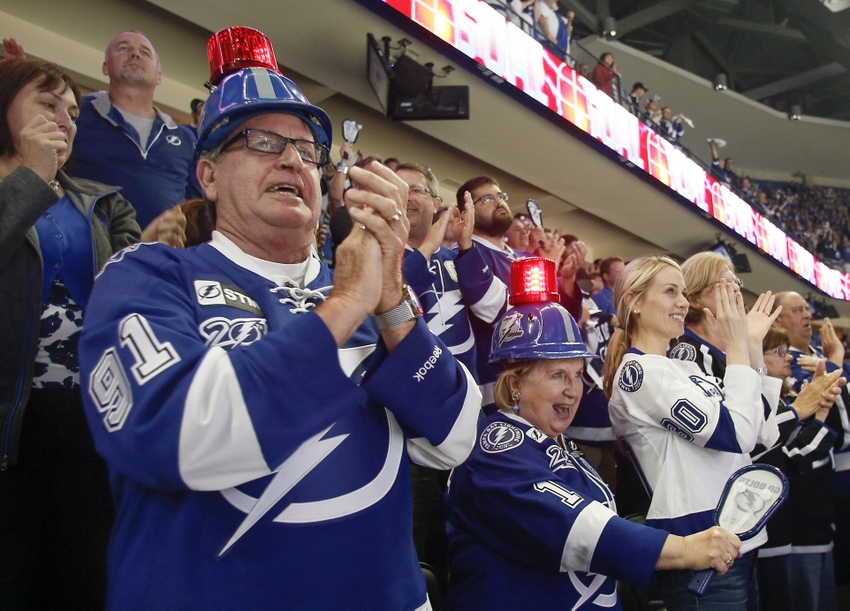 Though we are still around 20 days away from the start of the regular season, the Tampa Bay Lightning are holding their annual Fan Fest tomorrow, so here's everything you need to know before you go.
With the 2016 World Cup of Hockey already in session, it may feel like the best sport in the world is back, but in reality, the start of the NHL regular is still a few weeks away. But, for fans of the Tampa Bay Lightning, the annual Fan Fest day is right around the corner and that means you'll get to see some live action during training camp and have the chance to meet the players and take some pictures.
Starting tomorrow, Sunday, Sept. 25, fans will get a taste of what's to come this season through live training camp practices on the Amalie Arena ice and have the chance to get autographs from and interact with some of the players. In essence, it's a great to engage the fans and make them feel like they are a part of the team. And with all of the success the Lightning have had over the past few seasons, we'd expect there will be a great turnout from Bolts Nation, as always.
The doors of the arena will open at 11 a.m. to the general public and in order to gain admission to the event on Sunday, fans must present a ticket at the doors to get inside (don't worry, they're free). Season ticket members will be able to enter the arena starting at 9 a.m and have access to an exclusive 30-minute practice beginning at 10:30 a.m.
World Cup of Hockey 2016: Team USA Comes Home Empty Handed
Before the event begins, the Tampa Bay Lightning will host a few events and music on the Ford Thunder Alley plaza outside of Amalie and once the doors open to everyone, the fun will move inside, where the team will split into three separate groups and play in 30 minute sessions beginning at 11:15 a.m.
The second on-ice session begins at noon and following that, there will be a Lightning High School Hockey shootout featuring players from 16 different programs around the area.
When all of the scrimmages have ended, Tampa Bay Lightning fans will have the opportunity to get autographs and pictures (or selfies) starting at noon for the first session and 12:45 p.m. for the second session, both of which will last 45 minutes each.
Something new this year is that fans can pick up a voucher at Gate B that will allow them to get an autograph from a particular player.
However, fans are limited to just one voucher, but the team said that this will reduce wait times, which is definitely a bonus considering how long they can get.
Finally, some of the other highlights of the day include a used equipment sale located at section 128, a live broadcast from the local sports radio station, 620 WDAE, and their personalities at RumFish Grill at section 108, Lightning alumni autographs, food trucks on the plaza, and much more. Below, you can find an outline of the full schedule on Sunday.
8 AM – Ford Thunder Alley opens with interactive games and music
9 AM – Amalie Arena doors open for Season Ticket Members
10:30-11 AM – Exclusive Lightning practice for Season Ticket Members
11 AM – Doors Open to general practice at Amalie Arena
11:15-11:45 AM – Lightning Scrimmage
11:45 AM-Noon – Interview session with Jeff Vinik
Noon-12:30 PM – Lightning Scrimmage followed by High School Hockey Shootout
Noon-12:45 PM – Player Autograph Session / Selfie Station with Players
12:45-1:30 PM – Player Autograph Session / Selfie Station with Players
1:30 PM – Event Concludes
It should be a day of fun and anticipation for the upcoming season, as we are closing in on 20 days until the puck drops on a new year. And even though almost half of the regulars on the team are still up in Toronto competing in the World Cup, there will still be some fan favorites in attendance, including forwards Tyler Johnson and Alex Killorn. Don't delay and get your tickets to one of the top Tampa Bay Lightning events of the year, other than attending an actual game, of course.
More from Bolts by the Bay
This article originally appeared on