Tampa Bay Lightning F Vladislav Namestnikov Scores First Goal Of Season (Video)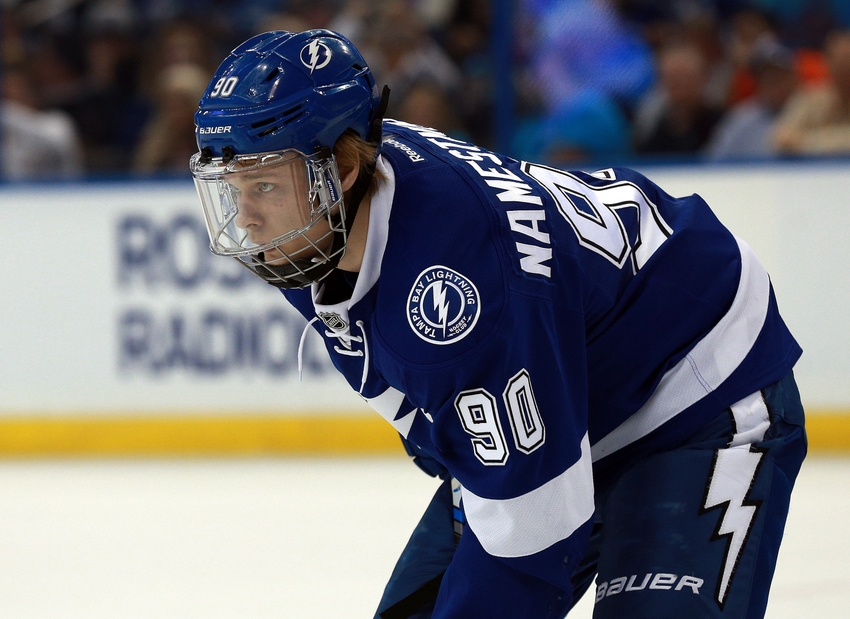 Tampa Bay Lightning forward Vladislav Namestnikov picks up his first goal of the 2016-17 season on the Power Play in the Second Period against the Senators.
The Tampa Bay Lightning dominated much of the first period, outshooting the Ottawa Senators 14-4 in the first period. Oddly enough, despite their offensive aggression, the Lightning couldn't find a way to capitalize on their attempts and, once again, have gone scoreless in the first period.
On the bright side, the Tampa Bay Lightning continued their domination of the Senators in the second period of play. This time, they would be able to make the most of their opportunities; especially on the Power Play.
It was just 2:25 into the second period when the Tampa Bay Lightning would get their first shot at the Power Play as Senators defenseman Cody Ceci would be sent to the box for two minutes for High Sticking Lightning forward Jonathan Drouin.
This would open the door for the Lightning's Power Play unit to shine. It took the whole of 11 seconds for the Tampa Bay Lightning to capitalize on their opportunity and put the puck behind Senators goaltender Craig Anderson and into the back of the net.
Lightning defenseman Anton Stralman would play a game of patty-cake with forward Tyler Johnson along the blue line, managing to keep the puck in the Lightning's offensive zone. After a couple of exchanges between Stralman and Johnson, Stralman would finally take the shot.
The puck would deflect off the stick of both Ondrej Palat and Vladislav Namestnikov as it sailed past Anderson and into the back of the net. This would be the first goal of the season for Namestnikov.
The Tampa Bay Lightning have been pretty solid on the Power Play against the Senators tonight. If the Lightning can keep the pressure on the Senators, the Bolts will kick off this road trip on the right skate.
There is plenty of hockey left to play in this game. If the Lightning wants to remain successful, they are going to have to keep the pressure on the Senators and continue to be the team we all know they are. As Lightning goaltender Ben Bishop said, staying with the system is key.
More from Bolts by the Bay
This article originally appeared on