Tampa Bay Lightning F Nikita Kucherov Signs 3-Year Deal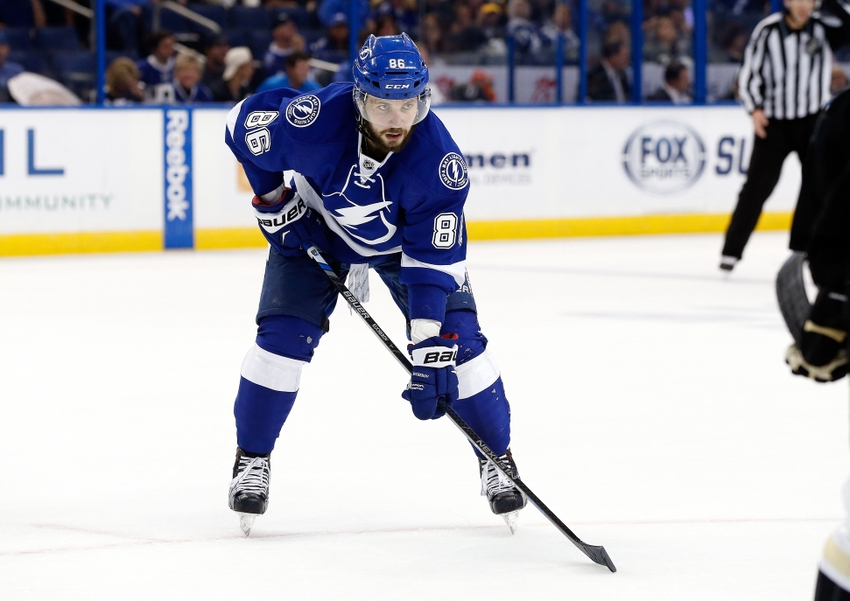 Tampa Bay Lightning F Nikita Kucherov Ends Lengthy Holdout by Signing a 3-Year Bridge Deal Worth an Estimated $14.3 Million Dollars ($4.766 million/year). With Everyone Signed and Very Little Cap Space Remaining, GM Steve Yzerman Can Shift Focus to the 2017 Crop of Free Agents (Ondrej Palat, Tyler Johnson, Jonathan Drouin, Andrej Sustr, Nikita Nesterov (again), Slater Koekkoek, and Ben Bishop (unless traded as we expect).
Reports surfaced on Monday that Tampa Bay Lightning F Nikita Kucherov was nearing a new deal with the club. The announcement was made official on Tuesday morning when we learned the Russian winger had signed a three-year bridge deal worth an estimated $14.3 million dollars total ($4.766 million/year).
It ends a lengthy holdout that stretched the entirety of the offseason. Joining Calgary's Johnny Gaudreau of recent signings, that leaves only four restricted free agents without a contract: Buffalo Sabres D Rasmus Ristolainen, Anaheim Ducks D Hampus Lindholm and F Rickard Rakell, and Winnipeg Jets D Jacob Trouba.
Tampa Bay in a Bind?
If you thought Tampa Bay was facing a cap crunch in 2015-16, just wait until you see how they attempt to juggle next year's crop of free agents. As it stands, the only money set to come off the books in 2017 is whoever Las Vegas selects, UFA Brian Boyle, and a potential trade of Ben Bishop which would free up nearly $6 million dollars/year.
That being said, G Andrei Vasilevskiy has a new deal kicking in that takes him from a $925,000 dollars to $3.5 million annually. Let's not forget stud defender Victor Hedman who goes from $4 million/year to $7.875 million for an increase of $3.875 million. So, even if TB sheds Bishop's nearly $6 million dollars annually, they still need to anticipate an extra $6.45 million for Vasilevskiy and Hedman.
It begs to ask one question. How in the world does GM Steve Yzerman expect to re-sign all of his young star players? Unless we're talking about moving a significant amount of contracts out – i.e. Jason Garrison, Anton Stralman, Braydon Coburn, Ryan Callahan (NMC), Valtteri Filppula (NMC), or Alex Killorn – the math simply doesn't support the notion that Tampa will be able to afford everyone.
Kucherov Career/Resume
Kucherov, 23, is now a three-year NHL veteran coming off his most productive campaign yet with 30 goals (66 points) in 77 games in 2015-16. A year earlier, the Russian scored 28 goals (64 points) in 82 games during his sophomore season. Nikita Kucherov has totaled 67 goals, 81 assists (148 points) in 211 career games thus far. He's also producing at a near point-per-game rate in the postseason with 22 goals, 20 assists (42 points) in 45 games.
U20 World Juniors Silver Medal – Russia (2011-12)
U20 World Juniors Bronze Medal – Russia (2012-13)
AHL Rookie of the Month – October (2013-14)
NHL Best Plus/Minus – Bud Light Trophy (2014-15)
Want your voice heard? Join the Puck Prose team!
Reaction/Analysis
Given the Lightning cap situation, this could become a common occurrence in TB negotiations to essentially lowball RFAs because they have very little to offer. It's not as though these kids have much leverage to work with given minimal experience, and GM Steve Yzerman clearly recognizes they don't have a leg to stand on. They can either sign a lousy bridge deal in hopes that money will be available in the future, or sit out/find somewhere else to play.
The only way we can prevent this RFA debacle from becoming a regular occurrence is for other GMs to step up and do their job. Now, for RFAs like Johnny Gaudreau, other teams had zero options due to the class of free agent he fell under. But for most of the others, offer sheets were a very real possibility.
Are you trying to tell me that no other team could offer Tampa Bay Lightning F Nikita Kucherov around $5 million/year? Heck, you could feel comfortable going upwards of $6 million, no? I know the compensation is outrageous for offer sheets, but even the $5-6 million dollar range are picks a team could live with if they're snagging a player of this quality.
The same should be happening all around with all of these RFAs. In a salary cap world, why does everyone insist on playing nice? (and please don't feed me this line about needing a good relationship for trades) Put the pressure on your opponent and force them into a corner to make tough decisions like matching offer sheets. If the GM and team allowed themselves to get into the position in the first place, they deserve the bad karma that comes with not locking down players early.
This article originally appeared on