Tampa Bay Lightning F Nikita Kucherov Named 2nd Star Of November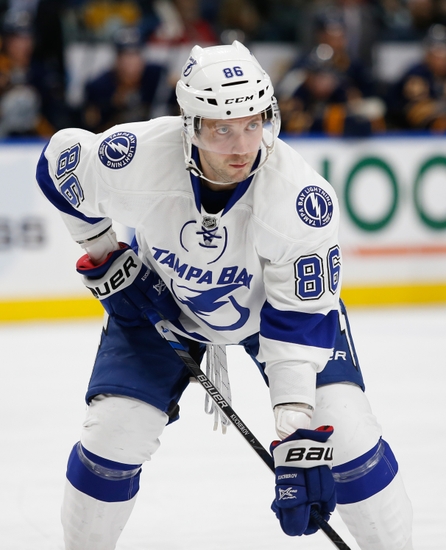 Tampa Bay Lightning forward Nikita Kucherov has been named the second star of November in the NHL.
After a wild month for the Tampa Bay Lightning, there's a bright spot following a dismal ending to November. Forward Nikita Kucherov was named one of the NHL's Three Stars of the Month following an 18-point campaign in November. This is the first time the young superstar has been given an honor like this in his career.
Previously, Kucherov was named one of the Three Stars of the Week back on Nov. 7, but to be selected as one of the three stars of the month is a great accomplishment. The 23-year-old Russia native scored 10 goals and notched eight assists in 15 games last month, while he helped lead the Lightning to an 8-6-1 record (17 points).
During that span, Kucherov registered at least a point in 10 of the 15 games, which included five multi-point performances, per the press release. Currently, he is tied for second in the NHL in points with 26 (11 goals, 15 assists) and is seventh in the league with 11 goals on the season. Kucherov will look to increase that total in the coming games.
Tampa Bay Lightning F Brian Boyle: 'I'd Love To Play Against Us Right Now.'
As we hope, he'll keep the ball rolling into this month, especially tonight, as the Tampa Bay Lightning will look to snap a three-game losing streak against the St. Louis Blues.
It's been a rough stretch for the team lately, and following a very successful five-game road trip earlier last month, when they went 4-1-0 after losing captain Steven Stamkos to injury, the Lightning has dropped the ball over the past five games.
Tampa Bay has given up four or more goals the past three games and that has lowered the team's goal differential down to plus-6, which is still respectable.
Fortunately, the Tampa Bay Lightning remains in third place in the Atlantic Division and holds a narrow two-point lead over the Boston Bruins.
A win tonight and an Ottawa Senators loss would move the team back into the second position. I'm sure Nikita Kucherov and the rest of the Lightning want to see that happen and hopefully, they'll pull out a win tonight over the Blues.
Following an interesting month for the Tampa Bay Lightning, forward Nikita Kucherov was named one of the NHL's Three Stars of the Month for November, which is great news for a team that has been struggling as of late.
Over the course of a few years, Kucherov has emerged as one of the league's top young talents and at this point, he's only getting started. There's much more to come from the young star in the coming seasons.
More from Bolts by the Bay
This article originally appeared on