Tampa Bay Lightning F J.T. Brown Expands On His Comments Against John Tortorella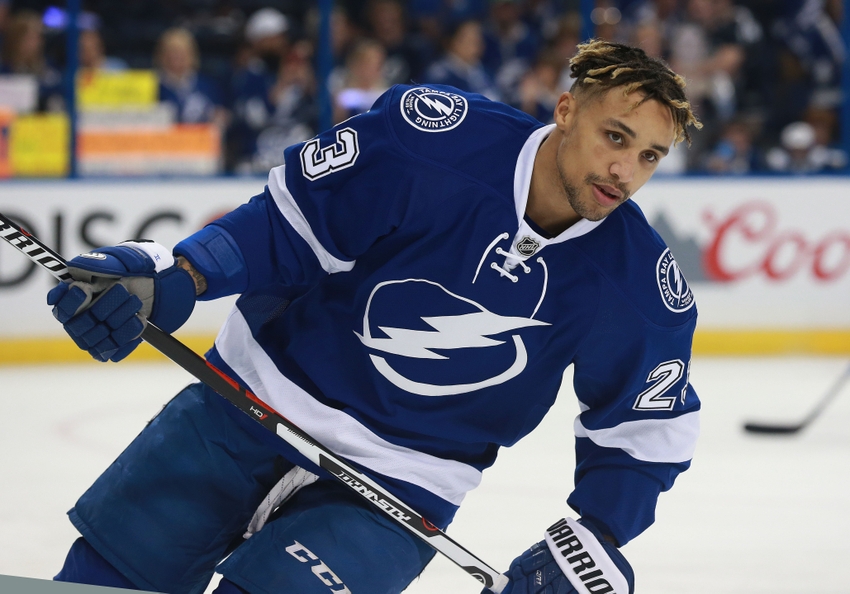 Tampa Bay Lightning forward J.T. Brown has expanded on the comment he made speaking out against Team USA Head Coach John Tortorella.
Tampa Bay Lightning forward J.T. Brown sparked an absolute firestorm on Tuesday when he posted a question to his Twitter page essentially calling out former Lightning Head Coach and current Team USA Coach John Tortorella for his stance on benching any Team USA player who refuses to stand for the National Anthem.
Unless fans have been living under a rock for the past couple of weeks, there is no doubt it is well known this entire subject got blown into the stratosphere when San Francisco 49ers quarterback Colin Kaepernick refused to stand for the National Anthem and cited his reason that he refused to stand for a flag that represents a country that "oppresses black people and people of color."
As anyone who has visited our Facebook page over the course of the last couple days can tell, Lightning fans are very split on their opinion regarding Brown's comments. Many have condemned him for speaking out against Tortorella citing his comments as un-American. At the same time, there are a few who had Brown's back.
Unfortunately, Twitter only allows a person to use 140 words to get out an entire thought. When it comes to such a hot button as this one, 140 characters is simply not enough to say everything that needs to be said. Thankfully, we now have a little more insight into the thought process that went into this tweet.
Let us preface this by saying, J.T. Brown has no plans to sit during the National Anthem at any point during the regular or postseason, so don't glare maliciously at the Lightning bench waiting for the moment to come. However, he did take the time to expand on his original comment, making his point a little clearer.
In an interview with Joe Smith of the Tampa Bay Times, Brown explained his thought process behind his tweet.
"(Tortorella) sees the situation through his reality, and I see it through mine, as a black athlete in the NHL," Brown said. "I know I'm not on the United States World Cup roster, but I have had a chance to represent my country on other occasions. My tweet was a hypothetical. What if I took a stance to promote awareness for one of the many injustices still occurring in our country and was punished despite there being no rule or law against it? My tweet was a response to that question." Brown told Smith.
Brown continued by saying how much he loves his country, but at the same time could not stand idly by and acknowledge there is still racism in the world today.
"I could have been quiet and just kept my opinion to myself, but I don't want young minorities who love the game of hockey to think that what's going on in America today is going unnoticed by the hockey community," Brown told Smith. "I love America and thank the military for protecting our freedoms, as well as law enforcement for protecting and serving our communities, but that doesn't mean I can't acknowledge that there is still racism today. I am glad my tweet provoked a discussion, because we need to start having a conversation about racism if we want to work towards a better America."
Much like we said in our previous article on the topic, we respect where Brown is coming from with his sentiment; however, he is speaking out against a person who at no time in any of his comments mentioned anything about race, ethnicity, sexual orientation, religion, or any of the other labels that separate people.
Based on the comments Brown made, his sentiment seems very genuine. As most Americans would agree, the world is not in a very good place right now and there are definitely some improvements that can be made; however, we still assert our opinion that the field of competition, no matter which sport it may be, is no place for a political agenda to be put on display.
As one would expect, John Tortorella has no intentions of backing down on his stance. If any player on Team USA elects to sit during the National Anthem, Tortorella has made it quite clear he will sit said player for the entirety of the game.
In an article by ESPN Senior Writer Scott Burnside, Tortorella expanded on his thoughts on the matter and he didn't mince words for a single second.
"It is probably the most disrespectful thing you can do as a U.S. citizen is to bring that in. Because that's our symbol. All for [expressing] yourself. That's what's so great. Everybody does. But no chance when it comes to the flag and the anthem. No chance." Coach Tortorella told Burnside.
There are always two sides to a story. It's up to each individual to take away what they will from this epic faceoff. As we mentioned before, players like J.T. Brown and Colin Kaepernick alike have the right to sit through the National Anthem should they so choose. That is their right as an American citizen.
However, at the same time, John Tortorella is the Head Coach of Team USA and as such, he has the right to bench a player for whatever reason he deems fit. Torts has already made his point loud and clear, so should any member of Team USA elect to take a stand, they will most certainly sit for the next 60 minutes.
Despite all the drama that has been cultivated over the course of the week, the one thing we know for sure is when the best and brightest of the National Hockey League come together in the spirit of competition, it is bound to be an entertaining matchup and there will be plenty of action on the ice once the international tournament kicks off on September 17th in Toronto.
More from Bolts by the Bay
This article originally appeared on