Tampa Bay Lightning D Victor Hedman Sets New Franchise Record In Assists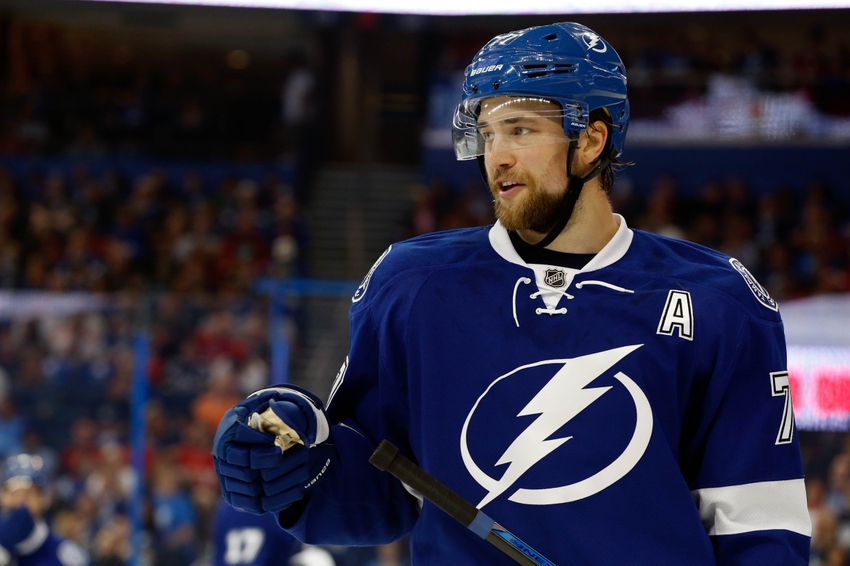 During the first period of last night's 4-1 victory over the New York Islanders, Tampa Bay Lightning defenseman Victor Hedman set a new franchise record.
While most fans focused on Nikita Kucherov's fifth goal of the season, which gave the Tampa Bay Lightning a 2-0 lead at the 11 minute mark of the first period against the New York Islanders on Thursday, defenseman Victor Hedman set a new franchise record for the most assists in team history by a blueliner on that goal.
The previous record was held by former Lightning defenseman Dan Boyle, who is now retired. Boyle's previous record sat at 187 assists before Hedman surpassed that mark last night.
With his assist on Kucherov's goal, the 25-year-old Sweden native moved into sole possession of first place all-time in franchise history with 188 assists from a defenseman. He'll look to extend his lead in the seasons and games to come.
For some perspective, Boyle accumulated 187 assists over 394 games, or five and a half seasons, with the Lightning, while it took Hedman 484 games, almost 100 more than it took Boyle to do, to surpass him.
Both defensemen either lost a season due to the lockout or only played in a half of a season for the same reason, which prevented them from adding more to those totals.
In addition, Boyle's most productive season with Tampa Bay in terms of assists came during the 2006-07 season, when he had 43 assists, which is one more than what Hedman produced in his most productive season in the same category.
However, there's no doubt how dominant the young Swede has been over the years and he has plenty of time to surpass other leaders in the assists category.
Want your voice heard? Join the Bolts by the Bay team!
Victor Hedman is now just one assist behind former Lightning forward Brian Bradley, who is sixth all-time in assists in franchise history. Though I'm positive that he will pass that mark, if he does indeed move past Bradley's spot on the list, Hedman will need 55 more assists to move into the top-5 on the list (Vinny Prospal currently holds the fifth spot).
That goal is certainly not out of reach for him, as Hedman will be with the Lightning for the next eight years after signing a massive contract extension over the summer. I'm confident that he'll continue to move up the ranks in several categories as the seasons progress.
After being drafted second overall in the 2009 NHL Entry Draft, Victor Hedman has developed into one of the league's more elite defensemen and his play on the ice and numbers on the stats sheet certainly prove that point.
He will continue to get better over the years and hopefully help lead the Tampa Bay Lightning to a Stanley Cup championship. Only time will tell when he sets a new record or passes someone on the franchise all-time list.
More from Bolts by the Bay
This article originally appeared on