Tampa Bay Lightning C Steven Stamkos Will Not Return Against Red Wings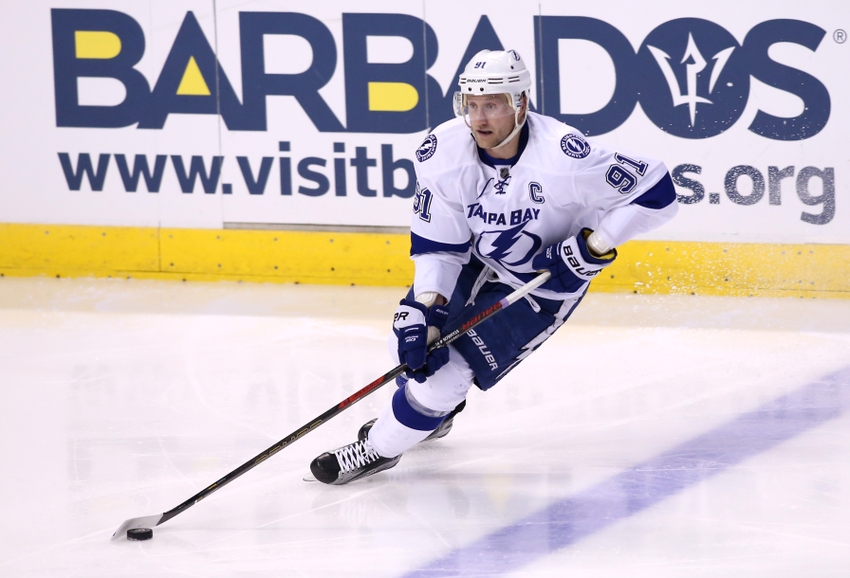 Tampa Bay Lightning captain Steven Stamkos will not return against the Detroit Red Wings after an awkward fall along the boards in the first period.
The Tampa Bay Lightning and their fans received some rather unfortunate news as the team approached the halfway point in the second period against the Detroit Red Wings at the Joe Louis Arena in Motown. Needless to say, this is not the news Lightning fans were hoping for.
As most Lightning fans know by now, Tampa Bay Lightning captain Steven Stamkos was forced to leave the game after an awkward fall along the boards seemed to cause some sort of incredible discomfort to his right leg, presumably his knee. This "injury" caused him to head to the Lightning locker room for further evaluation.
While almost every Tampa Bay Lightning fan here in the Bolts Nation hoped for the best, the best was simply not meant to be. Steven Stamkos did not take the ice with his team to kick off the second period.
New York Islanders Key to the Game: Stay Out of The Box
At just about the halfway point in the game, the team would announce that Stamkos would not be returning tonight against the Detroit Red Wings.
According to the Lightning, Steven Stamkos has sustained a Lower-Body injury as a result of the fall.
As per usual, the Lightning did not give up much information in terms of the nature and/or extent of Stamkos' injury; however, given the toughness we know lives within our captain, he must be in some serious pain for him to not make his way back to the ice with the team.
Earlier in the evening, Steven Stamkos picked up his ninth goal of the season with what could be considered a highlight reel type of goal against Red Wings netminder Petr Mrazek.
Unfortunately, the Lightning will have to fight tooth and nail to hold onto their 2-1 lead over tonight's rather froggy Red Wings team. We have a distinct feeling, the fists of fury are not done swinging just yet.
There are just 20 minutes of hockey remaining between the Tampa Bay Lightning and the Detroit Red Wings tonight at the Barclays Center. Considering how hard the team has been hit by the injury bug, they are going to have to work as one if they want to bring home the two points in Motown and keep momentum on their side.
More from Bolts by the Bay
This article originally appeared on