Tampa Bay Lightning C Steven Stamkos Leaves Game After Awkward Fall (Video)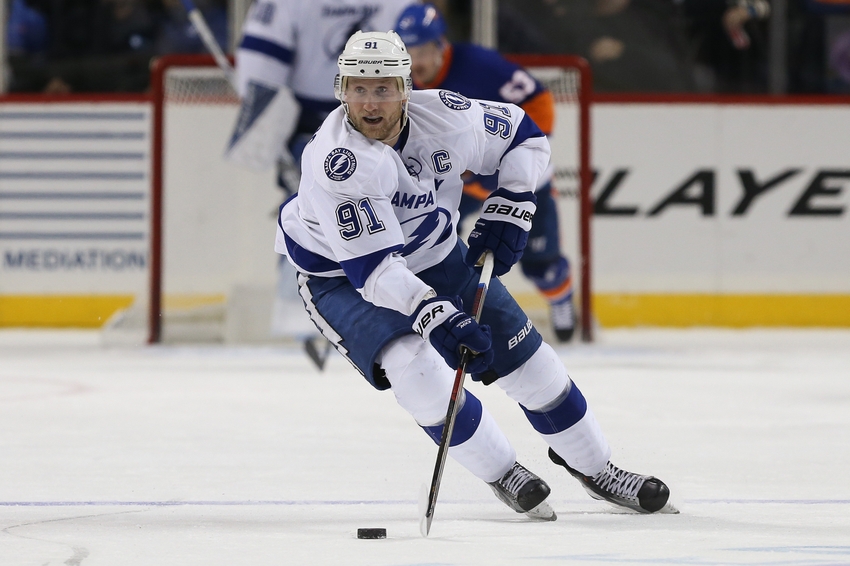 Tampa Bay Lightning captain Steven Stamkos was forced to leave the game against the Detroit Red Wings in the first period after an awkward fall brought on a potential injury.
The Tampa Bay Lightning simply can't seem to catch a break this season when it comes to injuries. Wait…allow us to take that back. The aforementioned phrase has a rather dark connotation considering the current circumstances. In any case, things have not bode well for the Bolts as of late.
Jonathan Drouin has been relegated to the sidelines since November 1st where he received the business end of an elbow to the head at the hands of New York Islanders defenseman Calvin de Haan. More recently, the Lightning find themselves without defenseman Anton Stralman as a result of an Upper-Body Injury.
Tonight, the Tampa Bay Lightning may very well be forced to add another name to the seemingly never-ending list of injured Lightning players. Making matters even worse, the aforementioned player is not the kind of player would want to head into a road trip, or any other series for that matter, without.
New York Islanders Key to the Game: Stay Out of The Box
Tampa Bay Lightning captain Steven Stamkos was forced to leave tonight's game against the Detroit Red Wings after taking a rather awkward fall along the boards. It is unknown exactly what injury Stamkos may or may not have sustained, but the one thing we're fairly certain of is it has something to do with his knee.
Stamkos was doing battle with Red Wings forward Gustav Nyquist along the boards when a hit caused him to take on awkward tumble to the ground. Stammer immediately returned to his feet in an attempt to continue the player; however, he had quite a hard time putting any weight on his right leg.
As he made his way off the ice, he seemed to favor his right knee. Once on the bench, Stamkos was evaluated by Tampa Bay Lightning Head Athletic Trainer Tom Mulligan. Unfortunately, it was only a matter of moments before Stamkos was headed down the tunnel to the locker room.
While the two incidents may not be related in any way, it would be wrong not to point out that this is the same leg Stamkos injured in the "break heard around the world" in 2013. Hopefully, whatever injury Stamkos may or may not have received tonight is nothing as severe as this, but the way he hobbled down the tunnel is certainly less than reassuring for Lightning fans.
Whether or not Steven Stamkos is able to return to the ice with his team when the second period starts will be a pretty good indication of where things are headed tonight. As we have mentioned before, the Lightning have not confirmed any sort of injury at this time, so let's all keep our fingers crossed it was just some discomfort.
More from Bolts by the Bay
This article originally appeared on