Steven Stamkos injury update: How long is Lightning star out?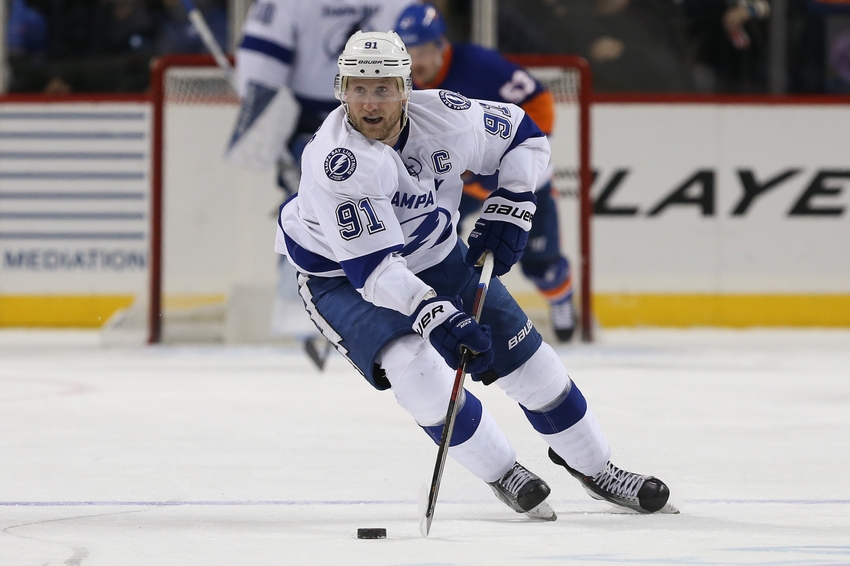 Sportsnet's Elliotte Friedman is reporting Steven Stamkos has a meniscus issue after leaving the Tampa Bay Lightning's last game.
Steven Stamkos is an extremely gifted player, but he gets bit by the injury bug far too often. In 2014, he suffered a broken tibia in a game against the Boston Bruins that forced him to miss the Olympics. Just last year, he had a blood clot issue at the end of the regular season that kept him out during the Tampa Bay Lightning's playoff run. While he came back in Game 7 of the Conference Final, he wasn't 100%, and it wasn't enough to save his team.
And now this season, in Tampa Bay's last game against the Detroit Red Wings, he had to go to the team's dressing room in the middle of the game. Like most hockey teams do, the Lightning only specified it was a "lower-body injury", although it was hard to pinpoint where exactly it occurred. He was in pretty close with Gustav Nyquist, but they didn't make any serious contact.
Now a day later, it's being reported that Stamkos has a "meniscus issue", with no word yet on how serious it is:
Regarding Steven Stamkos, word is it's a meniscus issue. But not sure how serious yet. Hopefully not very, guy deserves good news.

— Elliotte Friedman (@FriedgeHNIC) November 16, 2016
If his meniscus was torn, then he would be on the shelf for up to three months. And given his lengthy injury history, it may be even longer than that. But not even Elliotte Friedman knows the severity of this issue, or if it's fully torn.
As of now, Stamkos isn't even the team's leading scorer – that would be Nikita Kucherov. But he only trails him by a point and is absolutely vital to this team. Tampa Bay has a deep enough roster to compensate for his loss, but they need him back if they want to make a run at the Stanley Cup. He's the one that puts them over the edge.
It's clear that injuries have affected Stamkos' game. After putting up 90 points in three of his first four seasons, he has failed to record more than 72 in his last three. Having suffered so many bad breaks, Stamkos deserves to hear some good news. You'd be hard-pressed to find a more likable person in this league.
More from FanSided
This article originally appeared on