Stanley Cup Odds Update: Detroit Red Wings fall, Edmonton Oilers, Montreal Canadiens rise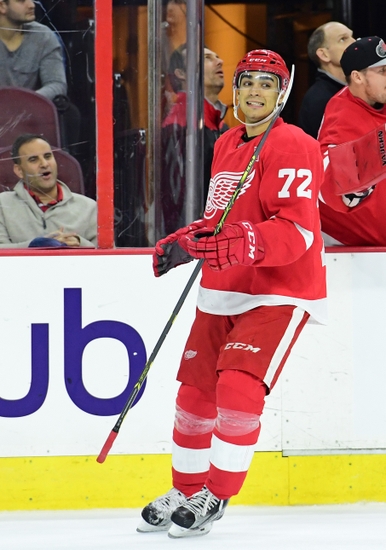 The Detroit Red Wings updated Stanley Cup odds have fallen in the latest updated version put out for November.
The Detroit Red Wings have been the ideal model so far in 2016-17 season – that is the model of inconsistency. When they lose, they seem to continue to lose and look poor at doing so. However, when they win, they win several in a row and look like a team that will threaten in the Eastern Conference come playoff time.
Detroit opened the season 0-2, then they reeled off six straight wins and had the fan base believing. Now, just one week later the Wings winning streak seems like years ago as they are currently in the mist of a five game losing streak.
Wagertalk.com reports that according to the WestGate SuperBook of Las Vegas, the future odds on the Red Wings are currently listed at 50/1. Detroit opened the season at 40/1 back in August.
Now of course the season is very young and their is still plenty of time for every team to have a great year, but the Las Vegas gamblers are starting to invest in teams they think could shock the NHL world this spring.
It seems gamblers have taken to the Edmonton Oliers as of late. The Oilers have taken in the largest amount of "Future Wagers" money this past month and it has made the odds fall dramatically.
In May, Edmonton was listed at 30-1 odds to win the 2017 Stanley Cup. Now they are all the way down to 12-1, which is a huge difference.
Two other teams getting a lot of attention after the first month of the season are the St. Louis Blues and Montreal Canadiens.
While the Blues have come out of the gate hot, the Montreal Canadiens are even hotter!
Montreal leads the entire NHL with points at 21 and are a perfect 7-0 at home as they currently sit at 10-1-1 on the season. The Canadiens opened the year at 14-1 odds to win the 2017 Stanley Cup and are currently listed at 8-1.
The Stanley Cup odds favorite is still the Chicago Blackhawks at 8-1.
Below is a list of the top five teams to win the Stanley Cup in 2017. You can click here to see the entire updated list of the 2017 Stanley Cup odds.
Chicago Blackhawks (8-1)
Washington Capitals (8-1)
Pittsburgh Penguins (8-1)
Montreal Canadiens (8-1)
St. Louis Blues (10-1)
This article originally appeared on