St. Louis Blues Winter Classic Alumni Game Has Notable Snubs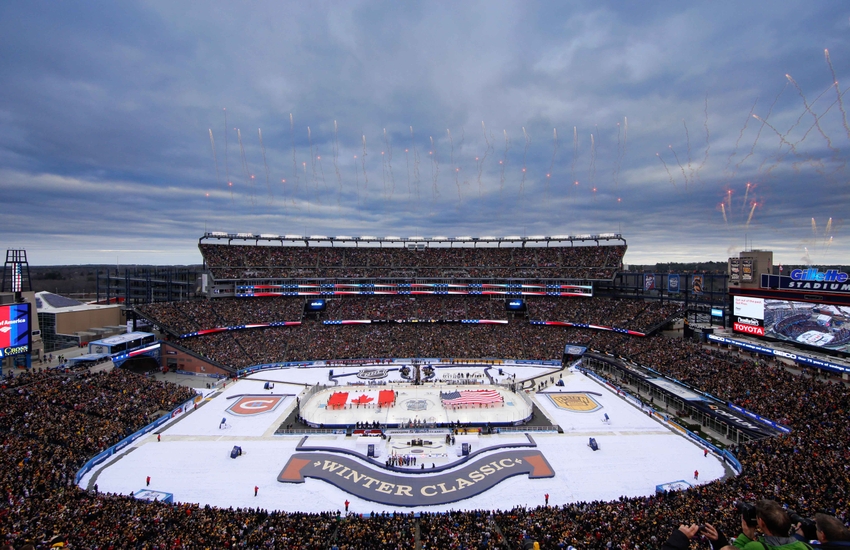 The St. Louis Blues announced their roster for the alumni festivities during the 2017 Winter Classic. It was a run down memory lane, but with age we have apparently forgotten some since there were some notable names left off.
The St. Louis Blues released the roster of their alumni that will be wearing the bluenote one more time prior to the Winter Classic. It was great to see all the faces that used to lace them up, but there were a few names that stood out by their omission.
We'll get to that in a moment, but let's first look at who was included.
Forwards
Larry Patey (#6), Keith Tkachuk (#7), Dallas Drake (#10), Adam Oates (#12), Brett Hull (#16), Gino Cavallini (#17), Scott Mellanby (#19), Bernie Federko (#24), Peter Stastny (#26), Terry Yake (#27), Kelly Chase (#39), Scott Young (#48), Pierre Turgeon (#77) and Wayne Gretzky (#99).
Defense
Al MacInnis (#2), Bruce Affleck (#4), Barret Jackman (#5), Garth Butcher (#5), Jamie Rivers (#6), Paul Cavallini (#14), Jeff Brown (#21), Bryce Salvador (#27) and Chris Pronger (#44).
Goaltenders
Mike Liut (#1), Martin Brodeur (#30), Ed Staniowski (#31) and Chris Mason (#50).
As you can see, the lineup is pretty stacked, especially up front. The top two point scorers in Blues history and three of the top five goal scorers are on this roster.
Oh, by the way, the league's all-time leading scorer is also going to wear a Blues jersey as Wayne Gretzky was talked into playing even though he had hinted the Oilers Heritage Alumni game would be his last.
The Blues are pretty good on defense as well. It never hurts when you have two Hall of Fame players guarding your blue line.
Chris Pronger was always a question mark, even though he was announced back when the Winter Classic was announced. His concussion problems made people wonder if he would be able to get out there.
Similarly, Al MacInnis' career ended due to an eye injury. It is good to know it won't prevent him from lacing them up one more time and perhaps unleashing a bomb from the point.
The goaltenders are where we enter the realm of snubs. The guys who are on the roster are fine and gave their all when they were in a Blues uniform.
Chris Mason won't go down as one of the biggest names to play between the pipes. He did almost single-handedly lead the Blues back to the playoffs in 2008.
Where is Curtis Joseph though? Cujo is second in games played and wins with the Blues.
He just played in the alumni game during the Heritage Classic for the Edmonton Oilers. He was only in Edmonton for three seasons compared to six with the Blues.
Admittedly, there hasn't been any word one way or the other about Joseph. Perhaps he was offered a spot and turned it down. He is working with the Charlotte Checkers of the AHL as a goaltending consultant.
Even so, that seems like a pretty big snub.  I would hope that he was offered something and did not feel like he could fit it in his schedule.  Perhaps since it is so close to Christmas or New Years.
Big Names
Originally, Grant Fuhr was going to be included in this list.  I knew his age and health were factors, but he is younger than other goaltenders that have played in these games.  I did not know that his knees are as bad off as they are though.
Some of the other names left off were Brian Sutter – with reason – Craig Janney and Brendan Shanahan.  Each has somewhat of a reason except Janney.
Janney's exit from St. Louis was less than cordial and widely publicized.  Still, most of that had to do with Shanahan so you would not think he is holding a grudge against the team.
He had 233 points with the Blues and only scored more with Boston in his career.
Sutter is technically included on the Blues squad.  He will be one of four coaches, which makes sense since so many think of him as a coach as opposed to a player.  Still, it is disappointing to assume that he will not, or cannot, play due to the back issues that forced him to retire in the first place.
Shanahan is disappointing because he should be out there in my opinion.  I understand he works for the Toronto Maple Leafs and they have games in and around that same time period.
You have an experienced GM and team executive in Lou Lamoriello though.  Surely he could handle the daily duties for a day or two to allow Shanny a chance to play. Perhaps the divorce, no pun intended, from the Blues is still a sour note for him.
Want your voice heard? Join the Bleedin' Blue team!
Other Notables
On a personal level, I wanted to see Scott Stevens play. His one season in St. Louis came before I was completely invested in the sport. It would have been nice to see.
That said, he is actually working and can't just take off, unlike Shanahan. As a bench coach for the Minnesota Wild, it wouldn't be in his best interest to take off and play in an alumni game that was not for the New Jersey Devils.
A name that is a bit more surprising to be left off is Tony Twist. Sure it's an exhibition and why do you need one more enforcer when Kelly Chase is playing.
Twister was one of the fan favorites and did a lot for the area as well. He had been living in the area and was even on Blues telecasts as recently as a few seasons ago. Seems a shame to not find a spot for him when Scott Mellanby is on the roster – no offense to Mellanby, who is much better offensively.
Also a bit puzzling is Jamal Mayers.  It's not as though he set the world on fire, but there were solid rumors that he might play half the game with each team.  He could still be on Chicago's roster, but Broduer's inclusion is the only one that would make less sense than that since Mayers only played a season and a quarter with Chicago.
A name somewhat out of right field, that had been included in our guesses to the roster, is Wayne Babych. He is living in Canada, so it might have been harder to get him down here, but he has taken part in alumni games in the past.
Last but not least, or perhaps he is, is Reed Low. Low should be nowhere near this game if Twister is not, but the reason it is a bit of a snub is he is on the executive board for the Blues Alumni Association. If that doesn't get you consideration, I'm not sure what will.
Summary
All in all, this is a pretty good roster. We can pick things apart like those that go after the final little scraps of meat off a Thanksgiving turkey, but for most fans it's a bit of what is the point.
The team has Brett Hull, we have Gretzky. We have Bernie and Oates. The defense is solid, though Jackman will be relied on the most and might have been the least skilled offensively during his career.
It's all just for fun. These guys are going to go out there, try not to get hurt, put on a show and have fun.
That doesn't mean we can't wonder why certain names are not there. Each of us has a favorite or someone we thought would be a certainty.
Joseph will stick out to most. Truth is, we don't know who was asked and didn't want to play.
So, maybe there were no snubs. It's more fun to say snub though.
More from Bleedin' Blue
This article originally appeared on