St. Louis Blues Vladimir Sobotka Forced To Stay In KHL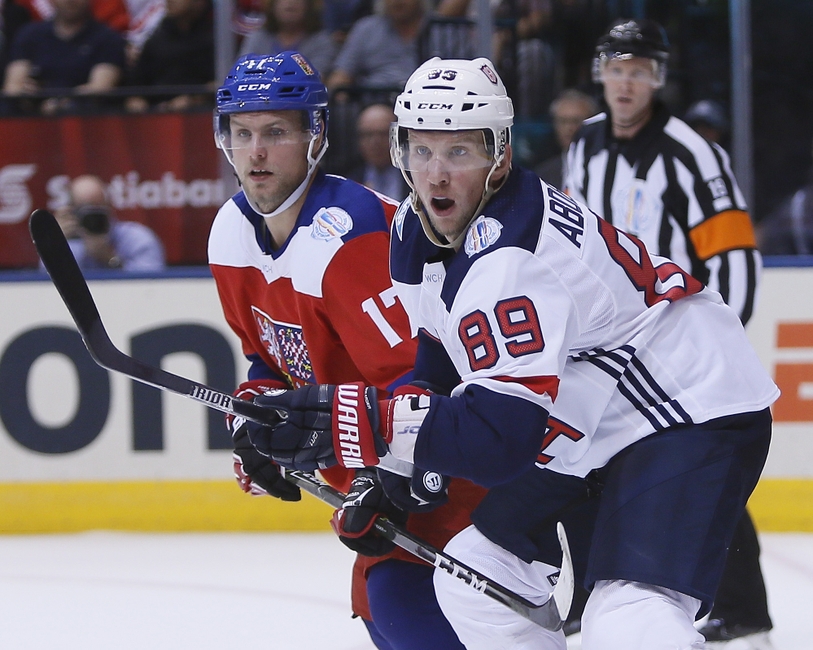 Vladimir Sobotka is all but assured to return to the KHL. Despite what people want to say, he is being forced to not play for the St. Louis Blues.
Ok, let's get things out of the way first. Vladimir Sobotka is not coming back to the St. Louis Blues.
That much is clear. What apparently is not clear is why so many people have a fairly vicious hatred of him.
Fan Sentiment
Any quick scan of social media, Twitter in particular, and you are bombarded with thoughts of "good riddance" and worse. It is quite puzzling.
Sobotka is not worth the effort we've all had to invest in him. He's a very hard working player with a bit of offensive ability, but he was never a goal scorer and never a game changer.
He was a decent third-line player and a very good fourth-line player. He did all he could within his power to help the Blues win while he was here.
Perhaps he got a big head or perhaps his agent got into his head. Sobotka wanted more money and was presented with just that by the KHL and left.
Apparently, that's a terrible thing. Even though most of modern society seeks out opportunities to earn the most money that they can, Sobotka is a villain for doing just that.
Was he smart to do so? Depends on your point of view.
His bank account says he is smart to have taken the KHL deal. However, given whispers of corruption and player safety issues in Russia, along with the league's desire to keep anyone from leaving without a steep price tag and Sobotka is paying the price.
Sobotka doesn't need pity. He made his bed and now must sleep in it.
However, this ridiculous notion that he screwed the Blues or that Armstrong was a fool to believe Sobotka was coming is just stupid.
People in the know like Jeremy Rutherford, Darren Pang and others have said that Sobotka had every intention of playing with the Blues in 2016-17. The KHL is not going to allow it.
Rather, they would allow it if he bought out the rest of his own contract. Again, apparently Sobotka is being selfish for not doing just that.
The buyout for Sobotka appears to be 2/3rds of his KHL deal,($4m) so that means he is playing in NHL for basically free. @A_Kalnins

— Darren R Pang (@Panger40) September 27, 2016
I'm sorry, but if anyone thinks it makes sense for the man to play for free, then you need your head checked. Regardless of what the figure is – the $4 million reported by Pang or the close to $3 million by others – Sobotka would not be earning any money from the Blues. It would be going straight to Omsk and the KHL.
If you don't want Sobotka on the Blues, that's fine. If you think this entire story has been overblown, the majority of people agree. Even though it has given me something to write about, I'm quite tired of the saga as well.
The vitriol spewed toward the man is just amazing though. There are those with their head screwed on and thinking straight.
And I think this is fair. He bolted because he thought he was underpaid, then signed a contract elsewhere, so honor it #stlblues https://t.co/Xza14CQHlk

— A. Weisenfeld (@aweisen123) September 27, 2016
There are too many that just aren't using their brains.
In Armstrong we trust, huh? #stlblues

— Indomitable Paul (@aPaulitical) September 27, 2016
ArmWeak got played, what a disgrace #stlblues https://t.co/r0xPmiCUPD

— Uncommitted Mexican (@JDandTurkelton) September 27, 2016
At this point can we just release him? Forgot about a trade. Let's just cut ties and move on. Sheesh. #stlblues https://t.co/pXJUjIQWjf

— Eric Fair (@fair_eric) September 27, 2016
@jprutherford can #stlblues just terminate his NHL contract making him a UFA or do they wait on him yet again?

— Blues Hockey Podcast (@BluesHockeyNHL) September 27, 2016
Release him? Don't trade him? What kind of business are you running when you seek out no compensation for an asset, regardless of how little you might think of him personally?
Regardless of what any of us feel about him as a player, he's a cost controlled asset. There is something to be said for knowing what you have and how much you have to pay for it.
Again, I'm not saying anyone should feel sorry for Sobotka. He put himself in this position.
The KHL is very difficult to deal with as they see themselves as on the same level with the NHL and do all they can to make people stay. Perhaps this will be a lesson for future people who seek a quick payoff from the league.
If true (Russian media, after all) & out clause wasn't illusory, should be warning to NHLers who see KHL as greener pastures. #stlblues https://t.co/fXxum8TiXP

— Dawn Ruez (@dmr_tweets) September 27, 2016
Looking Forward
Sobotka's absence will present plenty of opportunity for other players. There is now a guaranteed spot at center open for someone to fill.
Who fills it is up to the players in training camp right now. The coaching staff will have plenty of choices.
People on the main roster have already been discussed for a center role. Patrik Berglund, Robby Fabbri, Jaden Schwartz and Dmitrij Jaskin are all getting a look at the middle spot.
It also gives an extra chance to younger guys or players on tryout contracts. Yan Stastny might have more of a chance now – probably not, but who knows – or perhaps more of a look will be given to Ivan Barbashev.
You could also argue the Blues might give a different look to one of the wingers. If one of the main roster guys fills the center role, you could see someone like T.J. Galiardi or Ty Rattie benefit by slipping into a spot on the side.
There is also the slim possibility the money could be given to Kevin Shattenkirk. Don't hold out hope for that, but there is a true $3 million now freed up.
Bottom line is the Blues are no worse off now than they were before. Many of us were under the assumption Sobotka would be playing, but now that he is not it doesn't affect the team too much.
Guys are going to step up. The Blues have not needed Sobotka the past couple years and there are enough players vying for spots to fill his again this year.
The only actual bad thing is now we can begin Sobotka-watch 2017. With his KHL deal over following this season, we might go through all this again next summer.
This article originally appeared on