St. Louis Blues Prominent In Another Wild Summer Hockey Day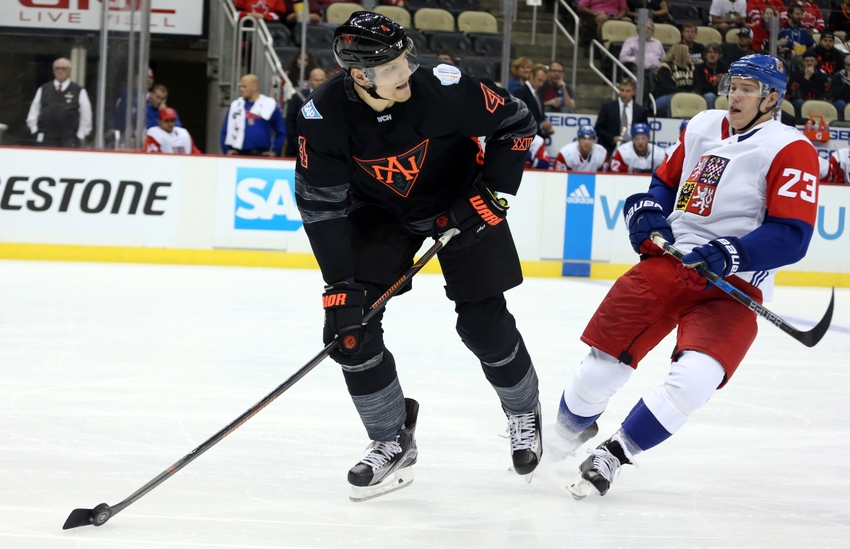 We have not even started the NHL season and it is becoming difficult not to get excited about the St. Louis Blues. They have showed up quite well and it is only the summer.
It's been quite a week of hockey and the NHL is not even going yet. The St. Louis Blues have been prominently involved in it all.
The prospects got things off to a bang earlier with a win against the Chicago Blackhawks. Things have not gone as well since then.
Prospect Tournament
We've said all along that results aren't as important as individual performances up in Traverse City. That doesn't mean that the Blues finishing 1-2 in round robin play isn't disappointing.
They fell 2-1 to the Detroit Red Wings on the final day of pool play.
Only a few min left in the 2nd for Blues v Detroit. Blues down 2-1,Barbashev w/the lone goal.Fitzpatrick in net #stlblues

— Josh Epstein (@joshyhockey_) September 20, 2016
At least the Blues roughed up their old foe a bit.
@KevinTansey93 at #NHLProspects tourney in #TraverseCity #Michigan #stlblues #letsgoTech #Clarksonhockey pic.twitter.com/VMCnZDHAKV

— michael tansey (@tancommedia) September 20, 2016
The Blues will now face the Dallas Stars prospects. The two divisonal rivals will play for fifth-place in the annual tournament.
That game will take place on Tuesday, September 20. Fans can watch via the FoxSportsGo app on your phone or online.
World Cup
The results have not always gone the way for the St. Louis Blues involved, but they have been doing their best for their teams.
Team Russia was in desperate need of a win after falling, in lackluster fashion, to Sweden the night before. Vladimir Tarasenko did his part to lead his squad.
He ended up with a goal and an assist. His goal would prove to be the game winner, though at the time it put his team up by a score of 4-1.
Regardless of whether he knew it would become a factor or not, it was a hell of a goal.
Vladimir Tarasenko is good at hockey. #stlblues pic.twitter.com/ZzB5ErRVnN

— Cristiano Simonetta (@CMS_74_) September 20, 2016
The reaction to it was just as good.
Tarasenko did that against his #stlblues teammate Parayko.

— Matt Winthrop (@matt_winthrop) September 20, 2016
Vladimir Tarasenko. What a beaut. #STLBlues #WCH2016

— Sammy Stava (@StavaonSTL) September 20, 2016
Tarasenko makes it 4-1. Vladdy…you sneaky little skater. #stlblues #WCH2016

— Nicholas Hand (@Nick_Hand) September 20, 2016
Russia scores! #Tarasenkshow #WCH2016 #StlBlues pic.twitter.com/aUVKG7zHr3

— Tina Barrett (@TinaBlueAngel) September 20, 2016
Team North America and our very own Colton Parayko continued to impress though. As mentioned, they refused to give up and got the game within one.
Parayko assisted on the final goal of the night, giving him three points to lead the tournament.
Parayko is tied for the tourney lead in pts. right now (3 helpers). It won't stay that way but it's great to see! #STLBlues #WCH2016

— Mike Poepping (@pep30) September 20, 2016
Parayko's top play is also giving the Blues plenty of options as far as their own lineup goes. We'll go further in depth into that idea in the next couple days.
As far as the other games went, it was the little guy with gumption getting in on the action. Vladimir Sobotka got his first point of the tournament in a losing effort.
Sobotka set up the game-tying goal from Martin Hanzal midway through the third period. However, Team Europe would be the victor in OT.
The loss, though giving a point to Team Czech Republic, all but eliminates them. They would need something pretty special against Team USA later in the tournament and get some help.
So far, so good as far as the Blues are concerned. Yes, there have been a couple injury scares, but overall everyone is playing at a very high level given the date on the calendar.
Some would say it's all going according to plan. I say it's just nice to see all our boys on their toes so early.
As long as we come out of this thing healthy, the only other thing we can complain about is burnout. One thing at a time though.
This article originally appeared on