St. Louis Blues Opposition: The Montreal Canadiens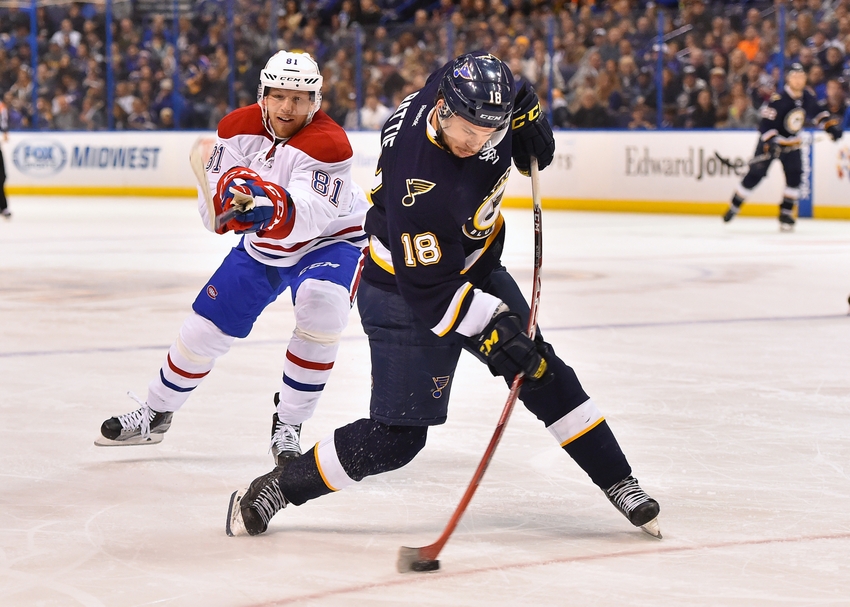 Continuing our look at the teams the St. Louis Blues will face this season, we move north of the border. It's time to look at Les Habitants.
The Montreal Canadiens got off to a hot start in 2015-16, a record-breaking start in fact. Then it all came crashing down.
Montreal looked unbeatable in the first month or so of the season. They looked like a legitimate Stanley Cup contender in the Eastern Conference.
Carey Price was finally stepping into his own game and making even the most negative Canadiens fans forget about their past. Then, he got injured.
Their star goaltender tweaked his knee in a late-October game against the New York Islanders. The team went 5-2-2 during that stretch, but Price reinjured his MCL in a game against the New York Rangers in November.
That's when it all fell apart. Mike Condon, who had played reasonably well in that first stint, was not the man to lead the team out of their funk.
When Condon took over in the nets, Montreal seemed to give up in a sense. Soon after the switch, the Habs lost nine games in a row in which Condon started or featured in.
That is something that cannot happen going forward. Price is one of the top goaltenders in the league and not easily replaced. If your entire season is built around him, though, then the team is built on shaky foundations.
Goaltenders get injured. It's becoming more and more commonplace with the athletic strain and stretch they put on themselves. Montreal must be able to contend with or without Price, at least to a certain extent.
The Canadiens are hoping they have padded their roster enough to keep winning. Winning now is what they must do based on offseason moves.
Key Additions
The Canadiens made one of, if not the biggest move of the summer. They sent uber-popular defenseman, P.K. Subban to the Nashville Predators in exchange for Shea Weber.
In the short term, it is actually a pretty good deal for all involved. As time goes on, though, Montreal is not going to look as good for making the trade unless they win right away.
Weber is 31, with a lot of time left on his current deal. Subban is 27 and just now entering the prime of his career, which is scary since he's already had three straight 50-plus point seasons.
Weber is no slouch though. He had the same number of points (51) as Subban last season and had more goals (20).
At worst, the trade is a wash right now. In the short term, Montreal may have got the better piece.
Subban is a great player, but offense tends to be the best part of his game. Weber is a little bit better defensively and looks for his points when the team has already gained the zone as opposed to joining on the break.
The problem is Weber's age. He isn't old, but he'll need less ice time to recover. He already saw a minute less of ice time, on average, last season.
Outside of the blockbuster deal, Montreal was quite active elsewhere. They traded two second round draft picks for Andrew Shaw.
Blues fans know Shaw all too well. He's the kind of player, when in his right mind, that is hard nosed, talented and tough to deal with. The problem with him is when he's not in his right mind, he is a detriment to his own team.
Alexander Radulov was also brought in. He is another player, when in the right frame of mind, that can be dangerous.
However, he's a bit flaky. Like the Blues' Vladimir Sobotka, Radulov could not decide if he wanted to be in the NHL or stay in Russia and kept his team (then the Nashville Predators) on the hook.
Montreal also brought in veteran goaltender, Al Montoya. Montoya will provide, at worst, the insurance they need and a competitor to push Condon. At best, he'll automatically be the backup and give the Canadiens a more reliable choice if injuries become a concern.
Key Losses
Obviously Subban is the biggest name here. Weber is still an All-Star caliber player, but Subban is younger, faster and – outside of shot power – perhaps stronger.
Subban was also about as entrenched in the community as any non-French player has ever been. Like Chris Pronger had to deal with when Brendan Shanahan left, Weber will have to deal with the fact of who he was traded for.
Tom Gilbert is also gone. On the surface, it would seem as though Montreal's blueline was thinning, but Gilbert only played in 45 games last season. He also never approached his level of play from Florida or Edmonton.
Montreal also sent Lars Eller packing in a salary cap deal. Eller was beginning to come into his own, becoming a solid second or third line player and averaging in the teens for goals. However, the team needed space to give Shaw his oversized contract and Eller bit the dust.
Canadiens Outlook
Montreal should almost be a lock for the playoffs, as long as they stay relatively healthy. Yes, that caveat is true of many teams, but the Candiens in particular.
They have the talent. Price is a superstar stud when on his game.
The Canadiens return two 30 goal scorers and Radulov has the talent to be a third. Weber, at least for this season, should not fall off Subban's offensive numbers either.
Defending and goaltending will be the keys. Montoya is a veteran but has not played in more than 31 games in a season, so any injury to Price could be just as devastating.
All that said, the Canadiens should contend for a top three spot in the Atlantic. We've seen teams like Florida make huge jumps and fall to earth *coughAvalanchecough*. Detroit had a rather mediocre year and still got in.
It will be there for the Canadiens' taking.
Blues Games
The Blues and Montreal have a storied past, even if it is one Blues fans don't want to think about. The two teams met twice in the Stanley Cup Finals in the Blues' first two years of existence.
Unfortunately, we all know that the Canadiens took both. In fact, the Blues have a win percentage below 36% both on the home and road against Montreal.
The overall series record is 32-86-22. Not exactly something you'd write home about.
The teams split their series last season. St. Louis won 4-3 on home ice. They got blanked 3-0 in Montreal.
The teams renew their rivalry, if you want to call it that, on Tuesday, December 6 in St. Louis. The return game is on Saturday, February 11.
The games against Montreal come at advantageous times for both teams. Just prior to the holidays and then in the winter doldrums is the perfect time for cross-conference games.
You can go all out without the fear of losing points within the conference. The Blues will need to step up their game against a potentially sharp Price and a former divisional foe in Weber.
This article originally appeared on