St. Louis Blues Opposition: The Buffalo Sabres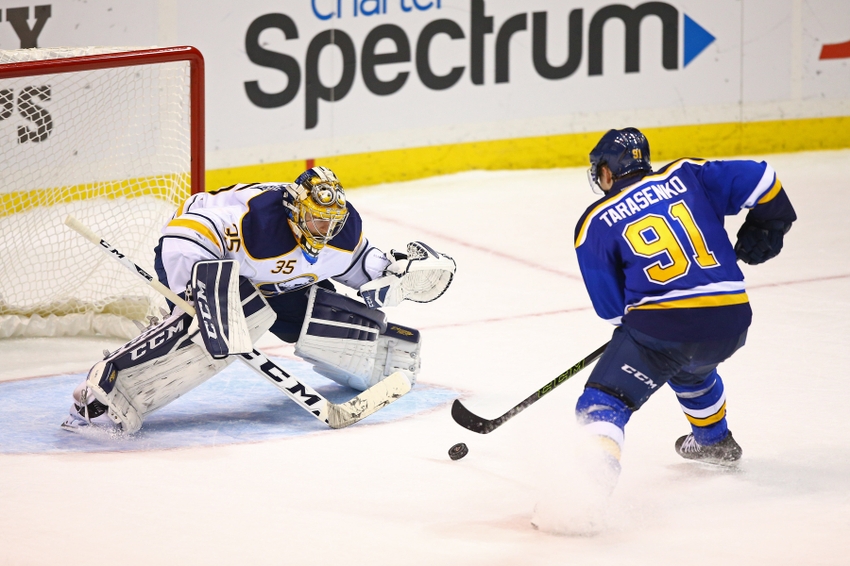 Pushing further east, it's now time to look at more St. Louis Blues opponents from the opposite conference. The Buffalo Sabres are up next.
The Buffalo Sabres are one of those teams in a similar situation to the St. Louis Blues, but have entered into the doldrums in recent years. Like St. Louis, Buffalo is a considered a small market, surrounded by larger markets that get more publicity.
Lost on the current ranks of Sabres is the fact that this team has featured in the conference finals within the last ten years. Last year's team had 81 points on the season and they had 89 as recently as 2011-12.
However, sandwiched between those were some extremely lean years. Buffalo's biggest problem over that time has been a lack of consistency.
The Sabres were the model of consistency for years. Lindy Ruff was behind the bench for parts of 15 seasons.
During that time, the franchise made the conference finals four times and the Stanley Cup Finals once. They also always knew who their goaltender was.
The team started off with Dominic Hasek, used Martin Biron as a stop-gap and relied heavily on Ryan Miller after that. Now, the team has raced through several netminders and a handful of coaches as well.
The Sabres experimented with Ted Nolan, hoping to recapture his early success with the team in the mid-90's. Now, they are hoping Dan Bylsma will bring some of the magic he turned out in Pittsburgh to the Queen City.
Bylsma's biggest obstacle this season will likely be turnover. While Buffalo still has some good, young talent, they could have at least eight new faces on the team.
Some of those will be draft picks or minor league players and some will be new to the franchise. It's going to be interesting to see how they all mesh.
Key Additions
The Sabres were pretty involved in all aspects of the summer. They added some pretty big name free agents and mixed in some savvy draft picks as well.
Buffalo spent their eighth overall pick in the draft on Alexander Nylander. Nylander is an exciting prospect from Sweden, who played a season junior hockey in the OHL.
It seems the Sabres expect Nylander to make the team out of camp since they currently list him on their roster. It is hard to project him at a professional level though.
He put up really good, but not gaudy numbers in the OHL (28 goals, 75 points in 57 games, 12 points in the playoffs). He was also a solid scorer for Team Sweden, scoring 13 points in 10 games in the World Junior Championships.
However, we've seen guys put up triple-digit points in juniors and struggle with the pro game. Nylander is in a good spot though since he will have the high profile Jack Eichel to take the spotlight off him.
In free agency, Bufflo made some shrewd moves. They added Kyle Okposo and Dmitry Kulikov.
Kulikov is a particularly interesting signing. He fits the Sabres' current organizational movement with a mix of youth and experience.
He's also a solid mix in terms of playing style. Kulikov isn't a top end defensive scorer, but he puts up decent points, can move the puck and also get physical when it is necessary.
Okoposo may face less national scrutiny in Buffalo, but could get more from the locals. He's put up solid numbers in his eight seasons, but might need to improve on his goal numbers to justify the large contract the Sabres gave to him.
The Sabres also brought in Anders Nilsson as goaltending insurance. No offense to the young man, but if he ends up being a major player with Buffalo, they may be in trouble.
Key Losses
Most of Buffalo's losses won't hurt too much. Unless he is brought back at a reduced price or even a player try out deal, David Legwand is gone. A few other unnoticeable names are off the roster as well.
The only names that pop are Mark Pysyk and Chad Johnson. Pysyk only played in 55 games and defensive defenseman are easier to come by – likely what they brought in Justin Falk for.
Johnson is more of a loss. He put up decent numbers on a mediocre team (.920 save %, 2.36 GAA).
Was he going to be the next Hasek or Miller? Very unlikely, but at least the Sabres would have a better handle on that position than their current staff.
Sabres Outlook
I'll be honest. I'm not completely sure where the Sabres are likely to finish.
They have an interesting mix of talent. They have a very young roster. Only four of their current roster players are older than 30.
They're placing a lot of responsibility on some young guys. Eichel gave just a taste of his potential last season.
The Sabres need as much, if not more from him. They need repeat performances from Ryan O'Reily and Brian Gionta.
The Sabres have to have all their young players have as good or increased performances with very few set backs. They need some very young goaltenders to come into their own fast too.
Linus Ullmark is likely to start the season in the AHL, so the job is all but handed to 25 year old Robin Lehner. Lehner hasn't played in more than 36 games in a season yet.
Young teams are hard to predict though. Bylsma has experience working with a young Pittsburgh team and getting good results. He'll need to work that again with this current Buffalo group.
With the names they added and the bevvy of young talent, the Sabres could make the leap up to a playoff spot. However, it doesn't always work out to gel in that first year, so they could very well miss the playoffs again.
If I had to venture a guess, I would say Buffalo will miss. It won't be for lack of talent, but there might be too many teams to leap over.
Blues Games
Unlike the other two teams we've covered so far, the two games against Buffalo are quite spread apart.
The first game will be played in St. Louis on Tuesday, November 15. The Blues will go out east to Buffalo in February on Saturday the 8th.
St. Louis has the edge in the overall series 57-47-13. Each team has the edge on their home ice over the course of team history.
The Blues will be hoping their luck from last season holds up. St. Louis took down Buffalo in both games last season, 3-2 at home and 2-1 on the road.
St. Louis hasn't lost to Buffalo since 2010. That could end this season with Bufflo looking re-energized.
St. Louis is where Buffalo wants to be. It'll be up to the Blues to hold them off a little longer.
More from Bleedin' Blue
This article originally appeared on