St. Louis Blues Opposition: The Boston Bruins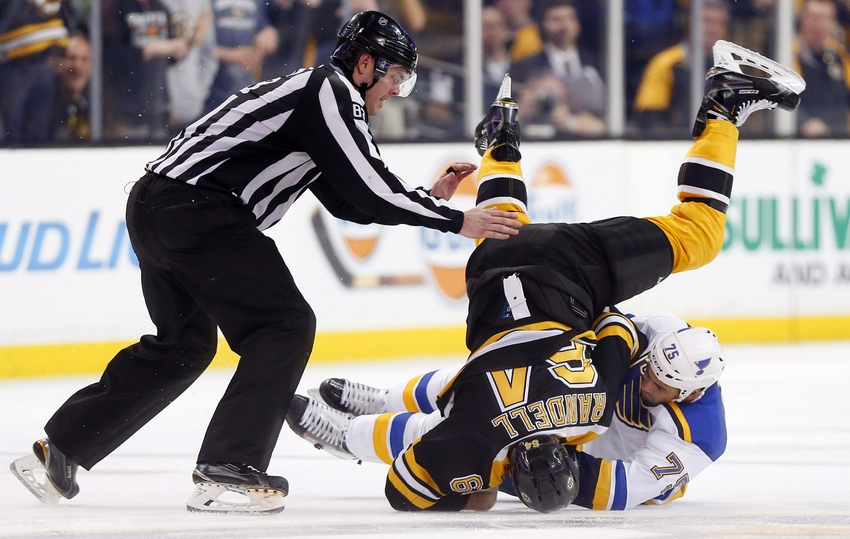 The St. Louis Blues have taken care of business against the Boston Bruins in recent times. However, for a team we don't see much of, we're forced to relive an historic moment all too often with Boston in it.
The Boston Bruins are one of the NHL's original teams and have looked down on the St. Louis Blues from the beginning. They have a long and storied past with a historical list of players to wear the B almost as impressive as the historical notoriety of the city itself.
Recent times have been a little more hit or miss for the franchise. They won a Stanley Cup in 2010-11 and went to the finals again two seasons later.
Unfortunately for Boston fans, they're very up and down. One season they can look like world beaters and the next they don't even make it to the playoffs.
Such was the case in 2015-16. Like we have seen with the Blues at times, Boston could not defend their home ice.
The Bruins were a game under .500 in the Garden last season. Their impressive road record could not sustain them enough to make it to the second season.
The Bruins could not get the big wins when they needed them either. They went 3-6-1 in their last ten games and missed a playoff berth by three points.
Boston's problems were quite deep despite having a pretty potent offense. The Bruins blew several chances to earn their own spot at the end of the year and deserved to miss.
Now, 2016-17 is a new season. However, whether they have actually improved or not remains to be seen.
Key Additions
This is the one that hurts St. Louis Blues fans the most. David Backes is now wearing the black and yellow of Boston instead of blue and gold of St. Louis.
The move itself caused a great deal of controversy. Blues fans felt like they lost a son when Backes left and were upset. Bruins fans are reasonably happy with the addition of some old school grit and talent.
The people in the middle were rather unimpressed. Mainly, the cost of the contract was the cause of consternation.
Backes was given a five-year deal with a no-movement clause, worth $6 million per season. Though Backes will always give 100%, his production was the lowest since his second season. Most analysts are not predicting his numbers to go back up as his contract progresses.
Perhaps less travel in the east will cause less fatigue and strain. Likely Backes might have a season or two where he is worth the money, but not by the end of the contract.
The Bruins also picked up Anton Khudobin. It's not a very notable signing, but Khudobin will likely be the backup unless something happens in camp.
The Bruins seem weary of giving a full-time promotion to Malcom Subban. He will likely see NHL time this year, but it would seem that Khudobin will see his most games in two years.
Key Losses
Backes is going to be depended on for production because the Bruins will be without Loui Eriksson. Eriksson never became what Boston signed until he was in his contract year.
He averaged 42 points his first two years and then scored 30 goals and 63 points in his contract season. Whether he would have continued that production or not is unknown, but Backes is not likely to score 30 goals so the swap is not like for like.
Similar to when the Blues traded T.J. Oshie, Bruins fans will probably feel they did not get the best of Eriksson to warrant giving up Tyler Seguin. Only Seguin's current injury woes ease that pain.
Also gone from the B's are Chris Kelly, Brett Connolly and deadline acquisition, Lee Stempniak.
Kelly is not a loss. He barely featured for the Bruins last season and wasn't much of a factor the previous year.
Connolly is an interesting move. From a production standpoint, there is no great loss.
However, for an aging team, it's never wise to lose younger players. Connolly also fit the Bruins style quite well, as a bottom six type player.
Stempniak is Stempniak. You're not going to get a lot of flash and style, but he always seems to find a way to get the job done even as his age has gone up.
Bruins Outlook
The Bruins took a defensive prospect with the 14th overall pick, so don't expect to see much of Charlie McAvoy. Boston will always be tough, but they need a lot of things to go right for them that did not the prior season.
They're very talented offensively. They had three 30-plus goal scorers and eight players with 40 or more points.
Keeping the pucks out will be the issue. John Michael-Liles was given a very team friendly contract and the Bruins are hoping his veteran presence will help out the prospects they are likely to use during the season.
Boston allowed 230 goals last season. That's 10 fewer than they scored, but only Dallas was a playoff team out of any teams allowing that many goals.
Keeping Tuukka Rask healthy will be key. Neither Khubodin nor any of the other Bruins goaltenders are capable of carrying any significant load, so any injury to Rask likely spells doom for the B's.
For whatever reason, I think Boston will sneak into the playoffs this year. Logic dictates the opposite.
Rask didn't have a bad year and they missed the playoffs. Eriksson's goal production is not going to be matched by Backes. The defense is thin and needing come-back performances from guys in their late 30's and also guys like Adam McQuaid to step back up.
Still, Boston is one of those teams that almost always finds a way to get it done and just did not in 2015-16. Add to that Philly not doing anything and I think those two swap places.
Blues Games
The Blues have split the season series with Boston the last two years. That's fine, in and of itself, but they need to reverse last season's order.
The Blues lost at home, 6-5 (it wasn't that close), and won on the road 2-0. Since my wife is a Bruins fan, attending that home game was not all that fun.
No shame to her. I've made her into as much of a Blues fan as anyone, but she still roots for the B's too. I just don't deal with losses very well when with a fan of another team.
It doesn't help that I've always had some resentment against the Bruins. They're normally one of those eastern teams you don't mind, but when that blasted photo of Bobby Orr flying comes up every year it makes one sick.
It's a fantastic image and worthy of the place in hockey's annals it has. However, since it was against the Blues, it gets tiring.
Boston has the edge in the series 50-71-18, but the Blues have been superior over the last three decades. The only bad thing is the Blues only have a 49.1 winning percentage at home.
The Blues will travel to Beantown for a nationally televised game on Tuesday, November 22. NBCSN picked up both contests as they will also show the return match at St. Louis on Tuesday, January 10.
It will be odd seeing Backes in another sweater for the first time in person. However, he is the type of player that will make it easy to dislike him rather quickly.
The dislike won't be for more than those contests, but he won't pull punches. It's time for the Blues to win at home against Boston so I can have a measure of revenge at home.
This article originally appeared on