St. Louis Blues Off And Running Despite Big Names Missing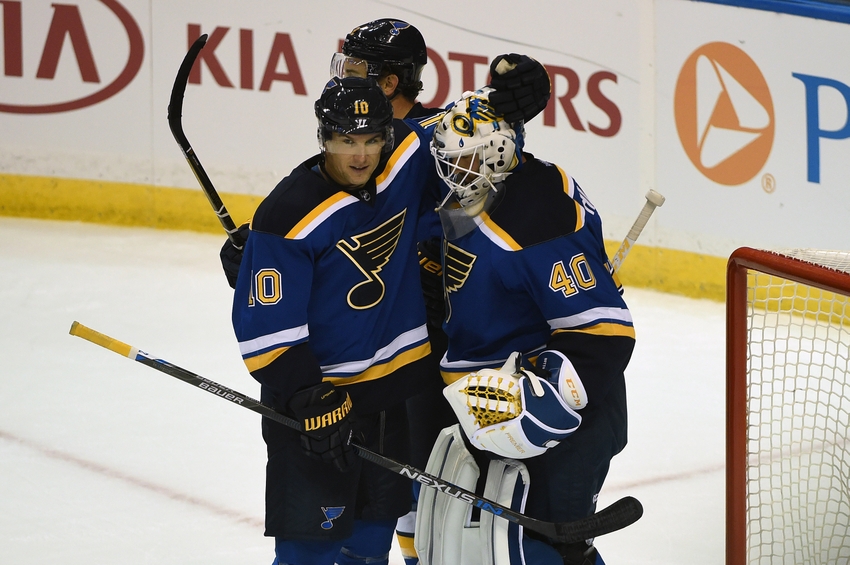 The time that hardcore St. Louis Blues fans were waiting for has arrived. The first preseason games are in the books.
It's been a fun time watching the World Cup of Hockey. The St. Louis Blues have done quite well in it and some of the big guys are still involved.
Vladimir Tarasenko is done, but has not made it back to St. Louis yet. Patrik Berglund will be joining soon after Team Sweden was surprisingly eliminated. Jay Bouwmeester and Alex Pietrangelo will be gone awhile longer with Team Canada playing in the final.
So, the Blues have a good opportunity to give their prospects and PTO players a good look. With one preseason game down, those very players got some good exposure.
The Blues were taking on the Columbus Blue Jackets in a split squad double header. One game took place in St. Louis and the other in Columbus. The Blues had good showings at both.
Despite missing some of their key offensive players, the Blues popped in quite a few goals.
Home Game
This one got off to a rockier start. Columbus scored the first goal with Scott Hartnell putting one in the back of the net not halfway through the first period.
The Blues got some offense of their own though. Hartnell added a second goal in the second period, but he was matched the entire way by Kevin Shattenkirk.
Shattenkirk looked like a man determined to either get a juicy deal from the Blues or someone else. He scored two goals of his own, one in the first and one in the second to answer Hartnell's. He also assisted on the team's third as well.
Goal #2 for #22! #stlblues pic.twitter.com/uurBbuaLra

— St. Louis Blues (@StLouisBlues) September 25, 2016
The Blues would add four more goals and Columbus could only find one more. You can see the full boxscore here.
St. Louis got some good play from their prospects as well, though this team had more NHL players in it. Kenny Agostino impressed with two goals and Sam Blais chipped one in as well (along with three assists) to end things.
Welcome to the #stlblues, @kennyagostino! pic.twitter.com/TpFcPSQUds

— St. Louis Blues (@StLouisBlues) September 25, 2016
It was only the first preseason game, but things looked positive. Robby Fabbri seemed reasonably comfortable at center and won all of his faceoffs.
Of course, the Jake Allen haters are out already. Allen played two periods and allowed three goals on 16 shots. Not the greatest start in history, but Shattenkirk was the only defensemen that is likely to see significant time with the Blues in front of him.
Nobody earned a spot based on this one performance, but there were some to raise some eyebrows. That's all you can do at this point in the year, if you're fighting for a spot.
Road Game
This game was all St. Louis from the start. The Blues took a 2-0 lead in the first period and never looked back from there.
Backhand pass from Yan, Galiardi goes five-hole. That's how the Blues went up 1-0. #stlblues pic.twitter.com/wA4X9XHvZr

— St. Louis Blues (@StLouisBlues) September 25, 2016
T.J. Galiardi went to work on making his case to earn his spot. Playing on a tryout contract, he scored the initial goal of the game.
This was the kind of game that even much maligned Magnus Paajarvi was getting involved in the action. He set up the team's second goal.
Nifty moves from Paajarvi, niftier redirect from Rattie. That's how we do it. #stlblues pic.twitter.com/gKotJFFL7y

— St. Louis Blues (@StLouisBlues) September 25, 2016
Kyle Broadziak made a case to pick up more significant time, perhaps on special teams, with his goal. There is definitely a spot for someone to fill in front of the net with the players the team lost.
Brodzy isn't gonna miss from there. #stlblues pic.twitter.com/b0WRACoR75

— St. Louis Blues (@StLouisBlues) September 26, 2016
The Blues just kept on the gas the entire game and it was good to see. Even more promising was the amount of players that are either role guys or looking to latch on with the Blues playing well.
Landon Ferraro, who we'll call Chicken Parm Jr., dishes over to Eric Nystrom, who puts a cherry on top. #stlblues pic.twitter.com/dCuIiJFC7j

— St. Louis Blues (@StLouisBlues) September 26, 2016
The Blues' social media might be jumping the gun a little on the Chicken Parm Jr. name, but Landon Ferraro is definitely a player to watch out for. He will likely start in the AHL, but he could be a good fill in player when injuries strike.
Jordan Kyrou also got on the score sheet, which looks good on the Blues for drafting him.  Boxscore.
Overview of Day 1
It's been a solid opening to camp and preseason for the Blues. They've had a lot of guys step up in the early going.
There still does not seem to be anyone making the push that we saw from Joel Edmundson or Colton Parayko, but there is time. The guys who might make that push have put their best foot forward in the early going.
Right now, all that can be said is that nobody has crossed their name off the list after one game. Sure, there were lots of goals and good performances, but nobody earned a spot. It's one preseason game – technically two, but only one for each player so…you know.
For us fans, it's just good to be talking about actual on-ice stuff for the Blues. Predictions and trade talk are all fun, but nothing beats the actual games.
So, just soak it in and enjoy it. Buckle up for a long season and hopefully an even shorter summer next year.
This article originally appeared on