St. Louis Blues: NHL Central Weekly Review (3rd Week Of November)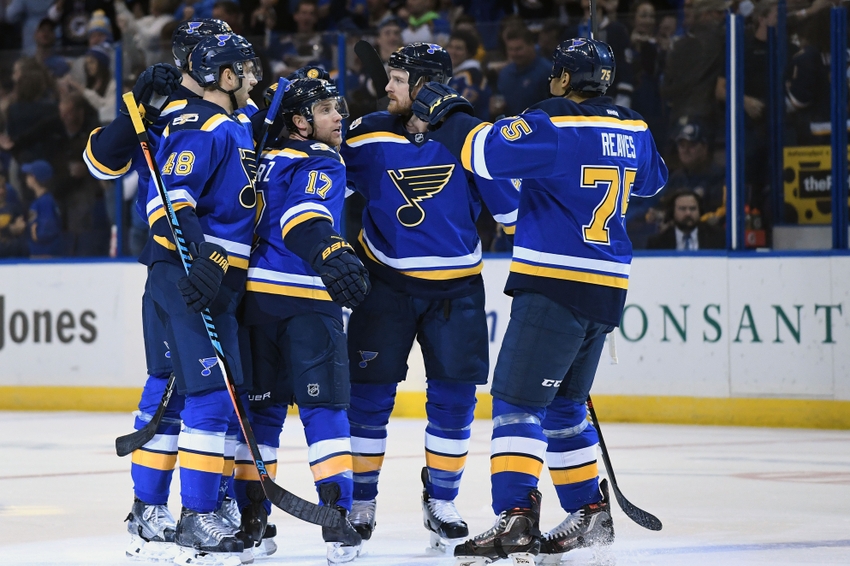 The NHL Central division has long been seen as the best and/or toughest division in hockey, if not sports. This season, it's been a rather crazy ride for everyone involved so far. There are plenty of chinks in everyone's armor now.
What a difference a week makes. Last week I, and almost everyone else, was acting like a regular Nostradamus and prophesying the end.
It was going to be the end for Ken Hitchcock. He had run his course in St. Louis and it was either Mike Yeo's turn or the team should blow up the entire staff and start anew.
It was going to be the end for one or more players. Doug Armstrong had to make a deal to shake up this team or the season would be lost.
There wasn't this much talk of doom and darkness since we were introduced to the Emperor in Return of the Jedi. Only seven days later and it seems like we're all peachy.

The truth may still be somewhere in the middle. It feels a lot less oppressive to be a Blues fan after their last three games than it did the week prior though.
Ok, maybe you throw out the week's opening win. The Blues haven't lost to the Sabres this decade, so a 4-1 win isn't quite as impressive as you'd like.
After all, the Blues had just beaten Colorado 5-1 not long before. After that, it was some good stuff though.
The Blues gained a measure of revenge against the team that kept them from reaching the finals. The 3-2 win over San Jose was pretty nice, even if there were too many penalties and the same things that went wrong during the losses.
Finally, you wrap up the week with a divisional win and I don't care who it is against, that's good. Keeping Nashville on their rear is an especially nice touch, especially since they had just defeated the Blues by the same score of 3-1 nine days prior.
The Blues haven't solved their issues completely. They're too reliant on the special teams at the moment.
Not only are they spending too much time in the box, but it is the kinds of penalties taken that is frustrating. Fortunately, the goaltending took a definite step in the right direction.
Now, it's up to these guys to carry those things onto the road.
Blues Weekly Stats
Vladimir Tarasenko – 1G 1A 2P
Kyle Brodziak – 2G 0A 2P
Jaden Schwartz – 3G 1A 4P
Robby Fabbri – 1G 2A 3P
David Perron – 2G 1A 3P
Ryan Reaves – 0G 1A 1P
Dmitrij Jaskin – 0G 1A 1P
Paul Stastny – 0G 1A 1P
Kevin Shattenkirk – 0G 2A 2P
Colton Parayko – 0G 2A 2P
Jay Bouwmeester – 0G 1A 1P
Alex Pietrangelo – 0G 1A 1P
Jake Allen – 81 saves/86 shots, .942 save percentage, 1.67 goals against
View from the Midwest Division Recap
Looking Forward
The Blues head east for a couple away games this week. They'll have a home game to put a period on the week on Saturday.
St. Louis is going to be seeing some familiar faces as well, at least potentially. I say potentially because Lars Ellar and TJ Oshie was scratches for the Washington Capitals over the weekend.
The Blues don't face Washington until Wednesday, so they could return to the lineup for all we know. Prior to that, it'll be the old captain facing his former team for the first time.
Both teams have had enough time to settle in. Both seem to be fine from the deal.
Emotions might be high for David Backes. Perhaps not as high as they are sure to be when he visits in January, but it is easier to quantify how it might affect one man as opposed to an entire team.
It should be a good game as both teams are on the same plane. Then St. Louis caps off the week with a home game against the Minnesota Wild.
All of these are winnable games. The first two will be great barometers of how much this team has changed.
Is it just home ice that lifts them up? Or, can they carry over the simple, positive play onto the road and keep this going?
It's up to the players now.
More from Bleedin' Blue
This article originally appeared on